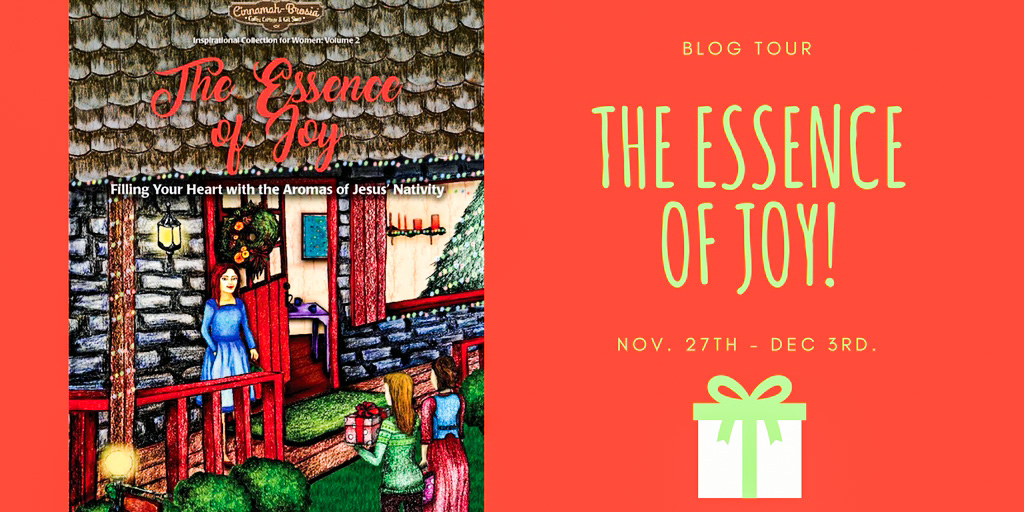 A Must Read! In The Essence of Joy, Lynn Watson intertwines Scripture with
the uses of oils and spices mentioned in the Bible. I was left with a feeling of wonder,
a new way of looking at God's word. The book is educational, entertaining, and
uplifting. There's history, fun-facts, even recipes. The author brings devotionals to a
new level, giving biblical insight to the problems modern women encounter today.
The Essence of Joy is perfect for both bible study groups and those who are just
starting out on their spiritual journey.
—Jeri McBryde, Eight-Time Contributing Author to Chicken Soup for the Soul
About The Book:
The scents of Christmas invite our imaginations into the holiday season. What
emotions flood your heart when the holiday aromas waft your way?
Did you know:
• Many favorite holiday scents like cinnamon, citrus, and cinnamon are found in the
Bible?
• There is a rich heart connection attached to many of the plant essences found in
Scripture?
• Myrrh is such an important essence, we can follow its trail from Genesis to
Revelation with many significant stops along the way?
• Women of the Bible have personal encounters with God bringing aromas of His
love and joy into their lives?
• Palm branches are an important part of Biblical celebrations beginning in Genesis
and ending in the ultimate beach party around the Crystal Sea? (Christmas at the
beach, anyone?)
In The Essence of Joy you'll meet women of the Bible and contemporary women
like you and me who will encourage you to discover the refreshing essence of a life
lived in the presence of Jesus. Let JOY fill your heart with the aromas of His nativity.
Julie's Review:
This is a fresh take on celebrating the Christmas season by digging deeper into the smells of the nativity season. There are several aspects to each scent, from a fictional story, to suggestions on what to diffuse, bake, listen to. There are also history facts and craft suggestions, too.
I really enjoyed the Essence of Joy because this was a part of Christmas I never thought about before. Beyond the original three gifts, there is also cedar, cinnamon, fig, and more. My favorite part was the "droplets," learning the history behind each scent. The fictional aspect was a bit confusing to me, because I did not realize it continued the stories first set up in The Essence of Courage. At the end of this book was a summary of characters, it might have helped to have that in the beginning. I also found some minor editing errors, but it did not detract from the wonderful message of this book.
If you're looking for something new to discover this Christmas, I highly recommend The Essence of Joy.
About The Author:
Lynn Watson combines many years' experience in women's ministry, love of
essential oils, and her passion for God's word to bring her readers freshly inspired
encouragement for their walk with Jesus. Her devotional, The Essence of Courage,
was recognized as a 'must read' by regional publishing industry leaders. Married
since 1973, Lynn and Steve have filled their Bartlett, Tennessee home with
handmade treasures and lots of love for family, especially their five beautiful (of
course) grandchildren. Aromas of freshly baked bread often fill Lynn's kitchen.
Jasmine, her tuxedo kitty, enjoys sleeping in Lynn's lap while she writes.
Check out this beautiful Book Trailer! https://youtu.be/ZT5_uGmptZM
Lynn's Official Website: http://lynnuwatson.com/
Amazon & Social Media Links:
Amazon: https://www.amazon.com/Essence-Joy-Cinnamah-Brosias-InspirationalCollection/dp/069296391X
Facebook:https://www.facebook.com//lynnuwatsonwriter
Twitter: https://twitter.com/lynnuwatson
Pinterest: https://www.pinterest.com/lynnuwatson/
I received a .pdf of this book in exchance for an honest review.
From Julie:

This is an excerpt from Katheryn Maddox Haddad's Star Song, Book 1 of her 8-book series "THEY MET JESUS". Look for places where you can "talk" to the characters.
"Mary…" Gabriel grows more serious. "Mary, you are a very favored lady, for the Lord is with you and has decided to wonderfully bless you in a special way."
Silence. What is he talking about?
He continues.
"Very soon now, you will become pregnant and have a baby boy."
"Well, very soon now I will be married. But a boy? How can you know that?" she responds, momentarily forgetting her fear.
Gabriel reassures her. "Remember, Mary, I'm an angel. God has told me everything. Furthermore, you are to call your baby Jesus."
"Jesus? But my husband will be Joseph. I plan to name my first son Joseph."
Gabriel continues as though she has not responded. "He shall be very great and shall be called the Son of God."
The words grab hold of her heart and will not let go. Son of God…of God…of God…
Mary's mouth opens, but in speechlessness. She does not understand.
Oh, Mary. Listen to what he says. Really and truly listen.
The angel continues. "He shall govern this nation forever; his kingship shall never end!"
His words echo through her mind and are trapped there in a confused abyss. She sits on a bench by the wall, her trembling hands grasping its edges.
"The child will not belong to Joseph. You will become pregnant miraculously before you are married. Remember the prophet Isaiah saying a virgin will bear the Son of God?"
Indeed, Mary does remember. Her father had been talking about it just the day before.
Gabriel continues. "And when I said his nation would never end, I was quoting from the prophet Daniel. Daniel even predicted exactly when he would be born. His birth year, Mary, is next year. Do you have a scripture scroll? I will show you."
Mary, he's offering you proof now. He's helping you believe.
He quotes from Daniel.  "Pay attention! It will be 49 years—that's seven weeks' times seven days in a week—plus 434 years from the time the command is given to rebuild Jerusalem until the crowned One comes!'"
"That's a total of 483 years," he explains. "Mary, it has been 452 years since our capital city was rebuilt. The descendant of David is due to be born next year and become priest-king when all priests are eligible—at age 30. That will be the 483rd year."
Grasp what he's telling you, Mary. Can you do it?
Mary tries with all her heart to believe him.
He has proven himself with scripture, with the Word of God. The final proof is yet to be given.
"But I'm a virgin. How can I have the baby? How can I conceive?"
Okay, Mary. Can you handle it? Can you comprehend what he's about to tell you? Try, Mary. Really try. Don't let the moment slip by, Mary. It's. dynamic. It's spiritual.
Gabriel remains seated and smiling. He stands now, and walks slowly toward Mary, then kneels in front of her so he can look into her eyes. Full of excitement, he whispers as though telling a special secret.
"The Holy Spirit shall come upon you!"
"The Holy Spirit? The Holy Spirit helped David write his psalms." Then, thoughtfully, she adds, "He does other things too?"
Gabriel's exhilaration swells. His words trip over each other in excitement.
"Mary, the power of God will overshadow you."
Come on, Mary. You're almost there. Don't stop now.
"Therefore," Gabriel continues, "the baby born to you will be thoroughly celestial."
"Celestial?" she manages to say.
What is happening?
Hang on to your seat, now, Mary. Here comes the rest of it. You didn't get it when he told you before. Grasp it now.
"Your baby will…your baby, Mary, will be the Son of God!"
That's it. That's the final thing you've got to believe. Do you believe it, Mary? Can you? Try hard, Mary.
Divine truth descends to her mind. Dazzles her soul. Ignites her spirit. "I want to believe you. Somehow I do believe."
Day dawns in the mind, soul and spirit of Mary. And of Mankind.
…. Yes. It is night. But Satan has been silenced. Now it is indeed silent night. Indeed, holy night. The dawn comes. And with it all that is calm and all that is bright.
Katheryn Haddad was born in the cold north, but now lives in Arizona where she does not have to shovel sunshine. She enjoys hot weather, palm trees and cacti in her yard, and a computer with the letters worn off.
With a bachelor's degree in English, Bible and social science from Harding University and part of a master's degree in Bible, including Greek, from the Harding Graduate School of Theology, she also has a master's degree in management and human relations from Abilene University.
Her newspaper column appeared for several years in newspapers in Texas and North Carolina ~ Little Known Facts About the Bible ~ and she has written for numerous Christian publications.
Currently she teaches English over the internet every morning, using the Bible as a text book. Most of her students are Muslims. She has taught some 6000 thus far, and has former students, now Christians, in hiding in Afghanistan, Iran, Iraq, Yemen, Somalia, Jordan, Uzbekistan, and Palestine. "They are my heroes" she declares.
She is a member of American Christian Fiction Writers, Christian Writers of the West, and is also an energetic public speaker who can touch the heart of audiences.
Website: http://inspirationsbykatheryn.com
To purchase STAR SONG, purchase HERE.