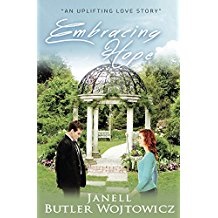 Character Interview – Drew McKinley
I'm visiting with Drew McKinley about how God transforms people to serve and glorify Him. Drew has a heart-wrenching yet inspirational story that people who are hurting need to hear. Drew, please share how God transformed you into the man He could use for His purposes?
Drew: I'm going to start with a verse that sums up what I and two others have experienced. Roman 12:2, 'Do not conform to the pattern of this world, but be transformed by the renewing of your mind. Then you will be able to test and approve what God's will is—His good, pleasing and perfect will.'" I know some have heard that verse so often that it has become passé, but believe me, eventually they'll find personal application and comfort in it.
How has your life exemplified this verse?
Drew: At one time I focused on what the world wanted me to be, not on what God wanted me to be. He had to knock me upside the head to renew my mind. And how He did that was painful—excruciating actually.
Yes, I understand you lost your wife.
Drew (sad smile): Tragically, suddenly, seemingly without reason. The anger I felt toward God … I'm surprised He didn't strike be down with lightning based on my thoughts, words, and behavior. I had never faced tragedy in my 30 years. Life was almost perfect. (Chuckle) Except for a slightly over-bearing father. I attended a prestigious college; married a beautiful, talented, Christian woman; and had a lucrative career at a renown Christian university. But in one moment all that meant nothing.
How did God transform your mind? It sounds like before her death there was some, well, based on what I've heard about you, I'll be blunt: conceit.
Drew: Your bluntness is accurate. And after her death came hopelessness, and even hatred.
Wow, I understand hopelessness, but hatred?
Drew (pulling his hand through his hair): Raw hatred. I hated God. I hated people who had hurt me and those I loved. I hated myself.
How did you overcome that hatred and hopelessness?
Drew: Through three people. First and most importantly, God. Despite my feelings, thoughts and actions, He never abandoned me, and He had every reason to wash His hands of me. But in His grace and mercy, He opened my eyes to others who were hurting; who needed guidance; who needed forgiveness. Second, God placed a wonderful woman in my life who had been through her own loss and hopelessness. She was strong, compassionate and insightful, and she showed me how to go after hope, not just sit around waiting for life to get better. Then God plopped an arrogant young man in my path who tried my patience, disappointed me, and even broke my heart. God was adamant that I forgive him. That was the hardest thing I ever had to do, even harder than grieving my wife. But in the end, God used them to renew my mind—my heart. I acknowledge that everything the three of us went through—everything—is what transformed us for God's purposes and His glory.
What you've learned is something all of us can apply to the times when we lose hope or fall into the trap of what the world wants us to be. What do you say to encourage them?
Drew: Even though it may seem impossible at the time and against everything you feel, God will take you safely through the storms. Yes, it'll hurt and you'll have questions and doubts, but the healing will come from the Lord if you seek Him. The answers can be found in the Bible and through the power of the Holy Spirit. And don't be afraid to seek out help, whether it's a pastor, close friend, mentor, or a counselor, which is what I did. I'll close with one of my favorite verses, also found in Romans, 15:13: "May the God of hope fill you with all joy and peace as you trust in Him, so that you may overflow with hope by the power of the Holy Spirit."
About Embracing Hope
Christian college dean Drew McKinley mourns his dead wife and still wears his wedding ring. He stumbles on a desperate journey to understand God's motives for her tragic death. Crossing his perilous path is Allison, a graduate student and new employee in the dean's office. Even as she deals with financial hardships, she recognizes Drew's unresolved grief from her own loss. Putting up a roadblock is Chris Whitney, the handsome but egotistical student senate president. He carries the secret burden of a dysfunctional family and a below-the-surface temper. The road Drew must navigate is fraught with career upheaval, a reawakening heart, substance and domestic abuse, a violent assault, and the struggle for forgiveness and restoration. Will Drew finish his journey to embrace the hope God offers, the love Allison shares, and the guidance Chris needs, or will he turn his back on all three with catastrophic consequences?
Author Bio
Janell Butler Wojtowicz, born and raised on an Iowa farm, was one of those kids who loved to write the dreaded "What I did on summer vacation" essay. It's no surprise that she has spent her entire 30-year career in writing, including newspaper journalism, Christian higher education and nonprofit public relations, and local government public information. Much of her writing has been the "people stories" of trial, tragedy and triumph, which are reflected in her debut novel, "Embracing Hope." Janell is a freelance writer/editor, and a member of American Christian Fiction Writers and Romance Writers of America. She and her husband, Frank, live in New Brighton, Minnesota. She has two step-sons, a step-daughter-in-law and three step-granddaughters.
Links
Twitter – @janellwoj
Blog – http://janellwoj.wordpress.com
Author Facebook – www.Facebook.com/janellbwoj
Goodreads – https://www.goodreads.com/author/show/16046310.Janell_Butler_Wojtowicz
Amazon – https://www.amazon.com/Embracing-Hope-Janell-Butler-Wojtowicz/dp/1988422043/ref=sr_1_1?s=books&ie=UTF8&qid=1479298376&sr=1-1&keywords=janell+butlerSmashwords – https://www.smashwords.com/books/view/682248
Barnes Noble Nook – http://www.barnesandnoble.com/w/embracing-hope-janell-butler-wojtowicz/1125151446?ean=2940153857114
kobo – https://www.kobo.com/us/en/ebook/embracing-hope-1
Smashwords – https://www.smashwords.com/books/view/682248
Tags: author, character interview, Character Interview: Embracing Hope by Janell Butler Wojtowicz, contemporary romance, Drew McKinley, Embracing Hope, guest blogger, Julie Arduini
About Me:

Wife. Mom. Author. Reader. Blogger. Amateur nature photographer. Chocolate eater. Encouraging you to surrender the good, the bad, and---maybe one day---the chocolate.

Find me across social media @JulieArduini, and follow me on my Amazon Author Page.

Where Else You Can Find Me

Step Into the Light Blog Talk Radio Show


Contributor: Jasmine's Place

Contributor: Patient Worthy

iRun4
Rare Mom

Every Other Wednesday: Christians Read

Surrendering Time Series & Recent Releases

Join the Fun

My Instagram

Member

Archives