Have you ever found yourself considering those people you might not always show thankfulness for? Naturally when we begin to think about people we are thankful for, we usually begin our list with family and close friends. And we should be thankful for those people.
How about that teacher who has helped your child fit into a new school? Or maybe that teacher has shown your little student that learning can be fun. I'm talking about the teacher who encourages your child when she thinks she just can't do something.
In case you can't tell, I feel teachers are unsung heroes. I was a teacher years ago and now work as an assistant. I have watched teachers dry tears from kids' eyes. I've seen teachers work miracles with kids struggling with behavior issues or learning problems. I've witnessed a teacher giving from her own lunch because a mother forgot to send lunch or money. Many teachers arrive much earlier than their appointed time and most stay much later than they are required. They lug home heavy book bags filled with papers to grade and lessons to plan.
It is sad to me that teachers don't seem to get the respect they are due. Look at it this way. Teachers deal with any and all body fluids and slurp down vitamin C to ward off becoming sick. They have to be nurses when children expend those body fluids. They have to deal with bloody knees and elbows and noses. They have to deal with bad attitudes, fidgety bodies, and mouths that just won't turn off. All while trying to educate.
Recently I went to an appointment with my mother when she visited her orthopedic doctor. His condescending attitude made me bite my tongue. I was thinking – It's because of a teacher who put up with you and taught you to read, write, and study science and math, that you are able to stand there today. I wanted to say – "You're welcome!"
I suppose I say all of this to nudge you to pray for teachers and give them respect for what they do. Let's face it. You wouldn't be where you are today without those teachers you had growing up. You wouldn't be able to read this.
If you get the opportunity, why not thank a teacher. You'd be amazed at what a simple card and a chocolate bar would mean.
My latest release is a children's chapter book. The main character, Chloe, got me to thinking about teachers. She is pretty devastated when she has to move right in the middle of her kindergarten year. But she soon comes to love her new teacher, Mrs. Potts. Chloe even characterizes her teacher as being like Mary Poppins. Chloe's momma says, "You mean she is practically perfect in every way?" Chloe quickly replies that Mrs. Potts is like the really big word used in the movie which she shortens to super-frog-alicious.
Do you know a super-frog-alicious teacher? Let them know.
Paula Mowery has always been an avid reader of Christian fiction, especially romances of all sub-genres. She holds a Master of Education and taught English/Language Arts in public school and then came home to educate her own daughter, first through twelfth grades. She teaches at writing conferences such as the Blue Ridge Mountains Christian Writers Conference. TAG, Tomorrow's Author Guild, is a pilot program she is currently creating in which she teaches and designs writing lessons to encourage young writers as well as assisting teachers with writing instruction.
Paula is a published author in Christian fiction. One reviewer stated that her writing "thunders with emotion." Her novella, Be The Blessing, won the 2014 Selah Award. Her story, The Prayer Shawl, from the book, Legacy and Love, was a finalist in The Carolyn Readers' Choice Awards from North Texas Romance Writers of America. Her devotions have also been included in several devotional anthologies. Connect with her on her blog, www.paulamowery.blogspot.com.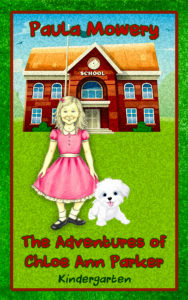 THE ADVENTURES OF CHLOE ANN PARKER
Chloe Ann Parker is in kindergarten but must move to a new school right in the middle of the year. Not only does she have to get used to a new teacher and make new friends, but she has to try to get along with her grumpy neighbor, Mrs. Smith. Chloe has the opportunity to become a real hero, learn responsibility, and learn some valuable lessons in this kindergarten adventure.