Surrender issues?  Sorry, Julie, but surrendering chocolate is easy for me—not that I have given it up completely. If only that were true! Life issues . . . now that's a different matter.
The first time I had to go in for surgery, I tried to bargain with the doctor for a way to remain awake. I wanted drugs to keep away the pain, just didn't want to be zonked out. Even for this insomniac, being totally out of it, not IN CONTROL—I shudder even now to think about it. Of course, I lost and they put me out, but I was told in the recovery room that I woke up faster than anyone they'd ever had in there. No surprise to me. But it has continued to surprise nurses and doctors in subsequent years and other surgeries. Probably not a good thing. I've seen those reports where people have awakened in the middle of procedures. Yikes!
            Now, surrendering to God with my writing is the only way I can write. Everything I do, from start to finish, is entirely dependent on what He wants me to do. I accept that. I've learned to stop and listen—even though it's really hard sometimes. And, as with my latest book, not to fight Him when He has a purpose in mind. He told me it was time to stop preaching to the choir, that there would be some controversy over Portrait of Jenny, but He was here with me and I needed to trust Him. So I listened and obeyed.
In the middle of April, my husband lost his job—it wasn't something we were prepared for. Who is? He'd been laid off nearly six years before, and that was one of the most frightening things we'd gone through.  No savings, a lot of debt, and with my health issues, no help from my quarter—but we kept our eyes on God and we got through with a little help from family and friends. The job he got paid a LOT less than what he'd been making before, but after 14 months, we were thankful for it. Now, here we were again, in our sixties—not as much debt, a little savings, but not nearly enough.
After six weeks and no bites, we had a decision to make—continue looking only in the area where we lived, or for him to branch out and apply to different areas of the country. All I could think about were my children and grandchildren, and wonder how I could move when sometimes it was hard for me to get from one place to another in our house. But hubby was sure God was calling us to not just trust Him to provide, but to surrender our will to His. These last few weeks have been some of the hardest in our life—my life. While the resumes and applications have gone out all over the country, my fears grew—so did my waistline! Phone interviews from one end of the country to another, a face-to-face two and a half hours away that lasted only twenty minutes! But in that prep time, in that quiet time, I've tried to surrender, tried to turn it completely over to God. To say, "Your will, not mine." I'm still learning.
And hubby is still looking for that one job with God's stamp on it.
Romantic mystery/suspense Portrait of Jenny is the newest book of 2010 ACFW Carol Award winning author, Alice K. Arenz. A member of American Christian Fiction Writers, her first three novels were honored by two finals and one win in ACFW's Carol Award: cozy mysteries The Case of the Bouncing Grandma (a 2009 finalist), The Case of the Mystified M.D., (2010 winner), and mystery/suspense Mirrored Image (a 2011 finalist), all re-released by Forget Me Not Romances, a division of Winged Publications. Last August, An American Gothic, also a romantic mystery/suspense, was released by Forget Me Not Romances.
Visit her at her website www.akawriter.com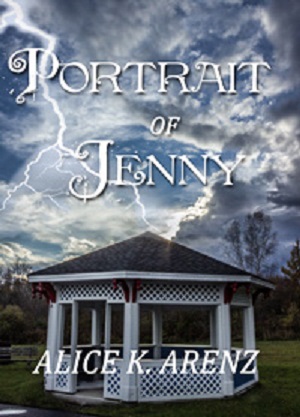 Not even a beautiful woman can save Richard Tanner from his past.
 Following an explosive—and public—argument with his ex-girlfriend, artist Richard Tanner races into a rainstorm, gripped by a powerful migraine. He wanders to the gazebo in University Park, where he meets the beautiful and mysterious Jenny—a brief encounter that leaves an indelible impression on his mind—and in his paintings.
When Detective Jack Hargrave accuses Richard of the brutal assault on his ex, he finds himself confronting demons of a past he doesn't remember. A time when little Richie Tanner walked into University Park whole, was beaten and left to die…a time that may hold the key to his future.
Disclaimer: Although Portrait of Jenny contains a Christian message, there is profanity.
Purchase PORTRAIT OF JENNY here.