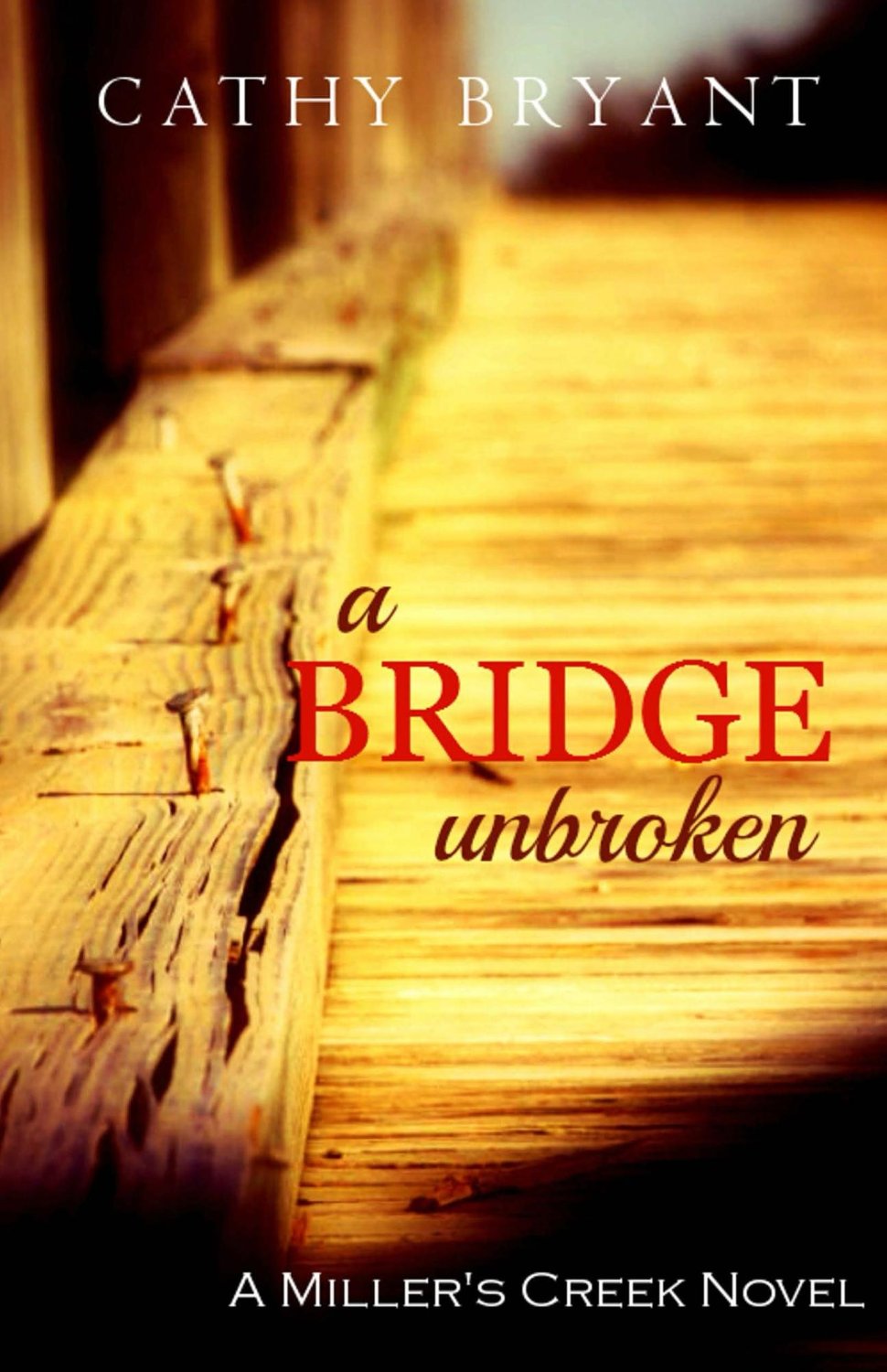 The results of the Clash are IN. Drum roll please….
And the winner is….
A Bridge Unbroken
a Miller's Creek Novel
by Cathy Bryant
And a big congrats also to our other participants. Thank you for playing!
Read what COTT voters had to say about Cathy Bryant's newest book!
Each one just gets better, Cathy Bryant!!
Cathy Bryant is a wonderful author. Her books have great characters and are filled with suspense and great spiritual depth. I just read A Bridge Unbroken and it didn't disappoint.
Cathy Bryant is fast becoming my very favorite author! Her books are so well written and keep me so engrossed in the story line, it is hard to put down. Definitely a
winner!!
About the book:
Letting go to build a bridge…
Dakota Kelly wants her painful past to disappear. Her plan to start afresh is derailed when she co-inherits her late grandfather's farm with Chance Johnson, the man responsible for the scars on her heart. But Chance isn't the only ghost from the past. Someone else is out to get her and will stop
at nothing to get what he wants. Will Chance and Dakota lay aside their grudges to restore the old farmhouse and bridge, or will evil forces sabotage their attempts at forgiveness?
* * *
THE STORY BEHIND THESTORY OF "A
BRIDGE UNBROKEN"
by Cathy Bryant
The question I get asked most often as an author is:"What's the story behind this particular story?" For A Bridge Unbroken, a Christian romanticsuspense and the latest Miller's Creek novel, the inspiration came from three very specific areas.
1. Home Renovation
My hubby and I seem to have a penchant for buyingfixer-uppers. Usually I enjoy the process, but this time? Not so much.
We moved to the Santa Fe, New Mexico area in the spring of2013 for my husband's work as a pastor of praise and worship. Since I'm acountry girl at heart and like to have my critters–in this case, chickens,rabbits, and a 75-pound German Shepherd who thinks she's a Chihuahua–we founda cabin in the lovely
Sangre de Cristo mountains. To keep it short, let me justsay that this house has been the fixer-upper of all fixer-uppers. While we'veaccomplished the most difficult tasks, like kitchen
and bathroom fixes, westill have a long way to go. (You can see pics
HERE
.)
So when I took time off from the renovation to write
A Bridge Unbroken,
I knew a houserenovation would be part of the storyline. In the story the heroine, afrightened runaway on the run from an abusive boyfriend, co-inherits herlate-grandfather's farm and dilapidated farmhouse with a man responsible for scarson her heart. Unusual conditions are attached to the inheritance, and the twomust work together to renovate the farmhouse. (You can watch the book trailer
HERE
and read a sample chapter
HERE
.)
2. Writing
I love to write–to plot out scenes, develop characters, andwrangle with words until I find just the right one. I also love interactingwith reader friends. My career as a writer had hit an all-time high and my booksales followed suit…
…until we moved to our remote mountain location where ittook us months to get internet service.
I made weekly trips to McDonald's to try to stay on top ofthings, but it wasn't enough. I watched in dismay as my book sales plummeted.To make matters worse, I had no time for writing because of the homerenovation.
It was a natural leap to make Dakota (the heroine of A Bridge Unbroken) a writer. I couldliterally feel her angst at needing to keep her writing career afloat whilerenovating a
broken-down heap of a farmhouse. Yeah, that was easy to write.
3. Forgiveness
When I began praying about the spiritual theme of the story,the answer that came immediately was forgiveness. Quite frankly, I wasn'telated. I often struggle with forgiving others. I've always been verysensitive, the kind who wears my heart on my sleeve. And anytime you leave yourheart on your sleeve for any length of time, someone will come along who thinksit's their job to rip into it.
Then something interesting happened. Everywhere I looked Ifound messages of forgiveness–a devotional magazine, my scripture reading forthe day, a social media post–they were everywhere! I delved into scripture,quickly reminded of things I'd known since childhood, but had chosen tooverlook. Things like: forgiveness isn't an option or a suggestion, forgivenessis an act of the will, forgiveness is an act of obedience, and more.
I realized during this process that much of the world'steaching on forgiveness had crept into my belief system. And I wasn't alone!Friends had many of the same ideas, none of which were anywhere in God's Word.
Worldlymessages like: forgiveness is something you do for yourself, forgive andforget, and forgive if…
I'm always amazed at how much the Lord teaches me through mywriting. Between penning
A BridgeUnbroken

and its companion Bible study,
TheFragrance of Crushed Violets
, God managed to get me back on track inthe matter of forgiveness.
So to answer the question of the story behind this story, itall boils down to three things: home renovation, writing, and most importantly,forgiveness.
Cathy Bryant is the author of the popular
Miller'sCreek Novels
,
set in the fictional back-roadscountry town of Miller's Creek, Texas…where folks are friendly, the iced tea issweet, and Mama Beth's front porch beckons. Her passion is to tellheart-stirring stories about God's life-changing grace. A native Texan, Cathycurrently resides in the beautiful Sangre de Cristo mountains of northern
NewMexico with her minister husband of over thirty years. When she's not spinningtales about the fine folks of Miller's Creek, you can find her rummagingthrough thrift stores, hiking through the wilderness, or up to her elbows inyet another home improvement project in the mountain cabin she calls home. Youcan find more about Cathy and her books at
CatBryant.com
.Cathy also likes to interact with reader friends in the following places:
Tags: A Bridge Unbroken, author, Cathy Bryant, clash, COTT, fiction, Julie Arduini
About Me:

Wife. Mom. Author. Reader. Blogger. Amateur nature photographer. Chocolate eater. Encouraging you to surrender the good, the bad, and---maybe one day---the chocolate.

Find me across social media @JulieArduini, and follow me on my Amazon Author Page.

Where Else You Can Find Me

Step Into the Light Blog Talk Radio Show


Contributor: Jasmine's Place

Contributor: Patient Worthy

iRun4
Rare Mom

Every Other Wednesday: Christians Read

Surrendering Time Series & Recent Releases

Join the Fun

Member

Archives