Book Description:

Regina Beswick was born to be a princess.

But she's content to be a small-town girl, running a classic auto restoration shop, unaware a secret destiny awaits her. One that will leap from the pages of her grandmother's hand-painted book of fairytales.

Tanner Burkhardt is the stoic Minister of Culture for the Grand Duchy of Hessenberg. When he is tasked to retrieve the long-lost princess, he must overcome his fear of failure in order to secure his nation's future—and his own.

Yet lurking in the political shadows is a fierce opponent with sinister plans to abolish the throne forever. Overwhelmed with opposition, Regina must decide if she's destined to restore old cars or an ancient nation. Together—with a little divine intervention—Regina and Tanner discover the truth of her heritage and the healing power of true love.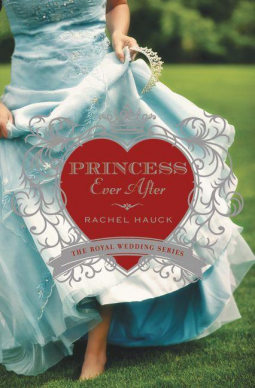 Rachel Hauck fills a need with Princess Ever After that I didn't even realize I had. As I turned the pages and watched an average girl with overalls and a passion for cars learn she's an heir to a kingdom, it hit me how even in my 40's, I still swoon with a princess story.
I remarked earlier this week at Christians Read that Disney had made millions off the princess concept, and I was just as taken with Reggie's story as I was growing up watching Cinderella. Maybe more so, because Rachel created great tension. Reggie loves the car restoration business and they need her. Her country needs her. She longs for love but has a potential frog in her life, and along comes Tanner, who is a natural fit even in this new life of Reggie's, as much as the slipper fit Cinderella. But the stresses build, and like a great royal story, there's a villain who wants the kingdom,
In short, Princess Ever After has all the elements of a great royal story I believe women still believe in, and dream about. I rooted for Reggie and I think you will, too. I hope you take some time out and give yourself the royal treatment of time to enjoy Princess Ever After.
Purchase a copy: http://ow.ly/tk6Wt
I received a copy of Princess Ever After from the publisher in exchange for an honest review.