Before we begin, I'm looking for people to share why they are thankful. I'll use it next month for the monthlong thankful event. Care to share? More info here.
When I was a new Christian, I mean baby brand new, I was at a church that had a cross up front. Like most churches do. But this cross was lit every time someone asked Jesus into their lives and one of the attendees prayed with that person or somehow was utilized by God in the event.
Years later, I get it. I was so new I should have been discipled and not out trying to win people to Jesus. Because I was clueless and offensive without meaning to be. But I'm a visual person and the pressure I put on myself to be part of that cross being lit was excruciating.
I also learned the church was especially strong in evangelism. I was not. It doesn't mean I don't care about sharing Jesus or that I don't do it, it's that I realized God doesn't often use me for the end result.
I'm a seed planter.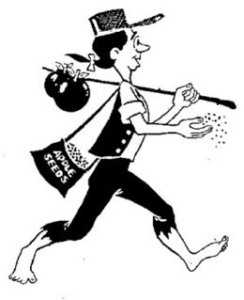 God uses me for those first conversations that gets people thinking, but most of the time they aren't ready to make a commitment. I can't force that. I do what I feel the Holy Spirit is asking me to do and no more. Anything more is on my own strength and a huge failure in the end. I also tend to be the encourager for the evangelist who needs a simple truth God has for them. But rarely am I the one that gets to see the salvation prayer.
And it took me years to be okay with that.
I've been frustrated lately because I feel like a lot of situations I was involved with by God's design got no where. No fruit. No changed lives that I could see. Then I felt that gentle nudge from the Holy Spirit remind me I dropped the seeds. Someone else will come along and water. And someone else will harvest.
I don't know why I'm sharing, but I feel like someone out there is beating themselves up because they were obedient and didn't see anything come of it. Take heart and keep spreading seeds.