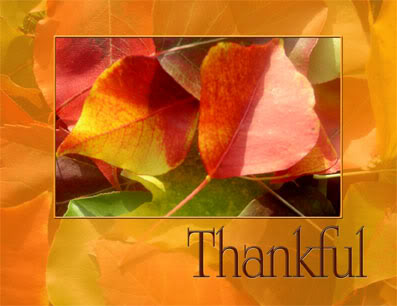 Heart Overflowing with Gratitude
by Tracy Ruckman
My heart overflows with gratitude this year for so many reasons. Yes, it's been another difficult year – broken relationships, financial struggles, health concerns, new work schedules, new school schedules, dealing with mental illness of loved ones, death of loved ones, car troubles, watching the world get darker by the second.
But in the midst of all those negatives, God has been ever-present and has poured out His blessings and wonders in many of those same areas: restored relationships, financial blessings, health improvements, new babies, awesome professors, incredible new opportunities, new friends. And about six months ago, we also overcame a mighty oppression that had haunted us for years, and the difference is extreme.
This year, we've watched countless Christians shine brightly for the Kingdom in so many different ways. Personally, I've watched our authors shine through the opportunities provided them – watched and listened as they've shared their personal walks with Jesus with a dying world. And then on a worldwide scale, we've all watched Christians summon every ounce of courage to proclaim the name of Jesus in the face of horrifying death at the hands of evil.

As I was writing this post, one specific word was repeated over the few days this document sat on my laptop and this word is what gets us through all the bad days, all the horror, all the darkness. The message of this single word is powerful and life-changing – the word OVERCOME. We can overcome the darkness because JESUS has overcome the WORLD. He told us that Himself in John 16:33. Jesus is the VICTOR, and those of us who follow Him are victors, too, regardless of whatever our current circumstances may be. Jesus won the war, which means if we follow Him, we win, too.
I'm thankful for a Savior who loves us so much that He died so that we might spend eternity – ETERNITY – with Him. An eternity spent in worship and praise. An eternity without pain, sorrow, tears, or heartbreak of any sort.
I'm thankful He gives us all second chances (and most times, many more!) to follow Him, to tell others about Him, to serve Him. I'm thankful to know that He is indeed the Victor, and that as His follower, I am, too. That knowledge helps me get through the painful days.
We can let the darkness of the world invade our lives or we can focus instead on the Light – shining Jesus' Light for others who may be lost or wandering. This year, I'm especially grateful for His Light, which shines for all eternity.
Tags: authors, Christians, Heart Overflowing with Gratitude by Tracy Ruckman, Julie Arduini, publisher, Tracy Ruckman, victory, Write Integrity Press
Julie's Note:
It's my pleasure to introduce Tracy Ruckman, Write Integrity Press and Pix N Pens publisher. I'm thankful Tracy took a leap of faith with me and my writing this year.
Passion
"a strong feeling of enthusiasm or excitement

for something or about doing something."
(Merriam-Webster)
This year, I'm thankful for passion – that I'm a passionate person thankful to be doing what I'm passionate about, surrounded by people who are passionate about what they do.
I recently had a conversation with someone and asked if she were passionate about her chosen line of work. She replied that she had no time to be passionate about anything because she was raising kids. I understand – child-rearing demands our all 24/7. But her comment saddened me because I've been in jobs where I had no passion for them, and it affected the other areas of my life. Perhaps if she were passionate about her line of work, the passion would flood her home life, her marriage, her entire outlook in such a way that she would be refueled, recharged daily, rather than drained.
In his letter to the Colossians, Paul discusses living a Christian life, how we are to live our lives when Jesus is our Lord and Savior. He writes, "Whatever you do, do it enthusiastically, as something done for the Lord and not for men" (v. 23). I'm guilty of not always living out this verse – I think back to two particular jobs I held where I did not give my all and wonder if I had, would I have enjoyed them more? Was I doing the work for man, and not for the Lord? In both of the jobs, that was the case – I lost my focus in my determination to provide for my family, and it stripped my passion.
This year, I'm thankful to be passionate about all I'm doing. As a publisher, I love our authors, I love our books, I love our teamwork, I love our mission, I love the growth we are experiencing, I love the creativity I get to use and that I get to witness on a daily basis. I'm passionate about helping our authors grow and stretch themselves, and passionate about the world discovering their incredible talent.
As a student seeking my MFA, I love writing creatively again (as opposed to the four years of academic writing I did while earning my bachelor's degree), I love learning how to craft screenplays, I love learning how my classmates craft their own. I'm thankful for the opportunity to learn and to grow, and for the possibilities all of this provides for my family's future.
What are you passionate about? Are you doing it? If not, are there steps you can take to get there?
Tracy Ruckman is wife to Prince Charming, mom to two grown sons, servant to a spoiled rotten doggy, full-time student, and a traditional book publisher (www.WriteIntegrity.com and www.PixNPens.com). In her spare time, she likes to squeeze in sleep, showers, cooking, and even occasional jaunts out into the public (usually the grocery store, farmers market, or writer's conference) as time allows. She'd love to connect with you on Facebook and Twitter.
Tags: author, Colossians, guest blogger, Julie Arduini, love your job, mom, passion, publisher, student, thankful, Tracy Ruckman, wife, work
About Me:

Wife. Mom. Author. Reader. Blogger. Amateur nature photographer. Chocolate eater. Encouraging you to surrender the good, the bad, and---maybe one day---the chocolate.

Find me across social media @JulieArduini, and follow me on my Amazon Author Page.

Where Else You Can Find Me

Step Into the Light Blog Talk Radio Show


Contributor: Jasmine's Place

Contributor: Patient Worthy

iRun4
Rare Mom

Every Other Wednesday: Christians Read

Surrendering Time Series & Recent Releases

Join the Fun

My Instagram

iBloom Resources

Member

Archives