BOOK DESCRIPTION
After losing her parents in a car accident and her sister to a house fire, Christy Reed has been mired in grief. Life is finally starting to feel normal again when an envelope arrives in the mail–addressed in her sister's handwriting. And the note inside claims she is still alive.

FBI Special Agent Lance McGregor, a former Delta Force operator, is assigned to reopen the case, but he's coming up with more questions than answers. If Ginny Reed is still alive–who is the woman buried in her grave? Where is Ginny? And is Christy a pawn in a twisted cat-and-mouse game–or the target of a sinister plot? As he digs deeper, one thing becomes clear: whoever is behind the bizarre ruse has a deadly agenda.

Bestselling author and two-time Christy Award finalist Irene Hannon warms readers' hearts as they root for a romance between Lance and Christy, but she pulls out all the stops as this high-stakes thriller chills to the bone in a race to the finish.
Romantic suspense doesn't get any better than when it's penned by Irene Hannon. THIN ICE is no exception. It contains a plot I haven't seen, a former ice skater who has lost her parents, and not long after, her sister in a terrible fire. But now she's receiving notes in her sister's handwriting. Is she alive? What's going on?
The chemistry between Lance and Christy isn't forced and makes for easy reading. The mystery behind who is sending the notes makes the reading hard because I couldn't stop. I can usually figure the plot out, and in THIN ICE, I couldn't. Frustrating? Nope. Those make for the best reads.
If you're looking for a well crafted mystery with top notch characters, THIN ICE is a perfect choice this winter.
To purchase THIN ICE, click here.
I received THIN ICE from the publisher in exchange for an honest review.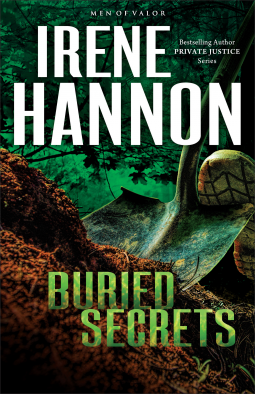 Book Description:
After seven years as a Chicago homicide detective, Lisa Grant has hit a wall. Ready for a kinder, gentler life, she takes a job as a small-town police chief. But the discovery of a human skeleton by a construction crew at the edge of town taxes the resources of her department. A call for assistance brings detective Mac McGregor, an ex-Navy SEAL, to her doorstep. As they work to solve the mystery behind the unmarked grave, danger begins to shadow them. Someone doesn't want this dead person telling any tales–and will stop at nothing to make certain a life-shattering secret stays buried.

Master storyteller Irene Hannon is back with an exciting new series featuring former special forces operatives now in the thick of the action in civilian life. Hannon is at the top of her game in this can't-put-it-down thriller that will have readers up until the wee hours devouring every page.
Irene Hannon is a favorite romantic suspense author and Buried Secrets doesn't disappoint. Lisa is a rural police chief with a health issue she feels she has managed. Mac is a detective getting used to life after being a SEAL. They make a good team as they investigate a mystery a couple decades old. Suddenly bodies are piling up and they have to figure it out before there's another murder.
I not only enjoyed Mac and Lisa, I enjoyed Mac's brothers as well. They were strong supporting characters. The villain was chilling and the methods used were not only cunning, but creative. It made for a fast page turner.
To purchase Buried Secrets, click here.
I received Buried Secrets from the publisher in exchange for an honest review.