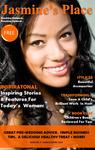 Part of the writing life is having a tagline. A sentence or a phrase that captures your message/style/genre.
Here are some examples:
June Foster: Where God Has the Answers
Brandilyn Collins: Don't Forget to Breathe
Karen Kingsbury: Life-Changing Fiction
Mary DeMuth: Your Life Uncaged
Maureen Lang: Engaging the Mind. Renewing the Soul.
I love hearing how authors create their taglines. Mine represents everything about me.
My writing life.
Speaking.
Facilitating Bible studies.
Mentoring.
General ministry.
Jasmine's Place is a fairly new, free, inspirational e-zine for women, and after the last issue where I shared a short story, they asked if they could interview me regarding my tagline.
The new issue is out, and the whole e-zine looks fantastic.
If you want to know why I'm surrendering the good, the bad, and—maybe one day—the chocolate, read here.
P.S.
It would be great if you subscribe and let other women know about this uplifting resource.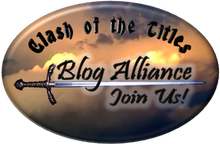 *guest post by April W Gardner
"I often cry when I am in prayer for my children. When eternity breaks through the here and now and the only request left in me is please, God, bring my children into the Kingdom." -Michelle Massaro
*****
It's my immense pleasure to introduce a lovely woman to you today, and offer an opportunity to get to know her! Michelle Massaro is my right arm at Clash of the Titles. I'd be lost without her, but she's so much more than just assistant editor at COTT.
Michelle married her high school honey, Mike, and they now have four amazing children. They are passionate Creationists and attend Living Truth Christian Fellowship in Corona, CA where they have taught Jr High studies and where Michelle is involved in the worship ministry. Michelle is also a homeschooling parent and an aspiring author of contemporary Christian fiction. She loves coffee, peanut butter M&M's, and new eyeshadow. Her blog hosts weekly Story Improvs, where readers are encouraged to jump in and add to the plot. Above all, she is a follower of Christ Jesus, unashamed to stand upon the Word of God from beginning to end.
Michelle, I love your blog's sub-header. It says "Follow my journey toward publication. Laugh, cry, point and stare– it's all good. I'll leave a trail so that you, my fellow author, may have a straighter path to finding your own elusive publishing contract. Adventure awaits. Let's travel together…" 


Like they say in court, you've opened up a line of questioning. So! 
Regarding laughter…
Every time I watch Forget Paris, I laugh hysterically over Ellen driving down the road with a pigeon stuck to her head. Which movie makes you laugh hardest? 
Michelle: Wow. This was tough because I don't belly-laugh often enough at all. But one movie that comes to mind is Meet The Parents. Some might be offended because there is some inappropriateness in there, but I can't help it. It's funny! There are so many quotes that get me going. Greg's prayer at the dinner table for one: "and we thank you oh sweet sweet Lord of Hosts…for the …smorgasboard you have so aptly lain at our table this day and each day..by day…day by day by day…".  LOL, I'm laughing just remembering all the hysterical lines from that movie!
You have me laughing, too! Visualizing Greg milking a cat… LOL
Regarding tears…
You and I are women. We're allowed to cry anytime, anywhere. It's our prerogative. I cried yesterday at the sight of traffic stopping for children exiting a school bus. It's a touching scene–the world coming to a halt to protect our little ones. When was the last time you cried, and what was it over?
Michelle: It is a touching scene! (Thank you! I feel better now.) I cry all the time. Seriously. Usually nobody is around to see but I probably shed at least a couple tears nearly every day. I often cry when I am in prayer for my children. When eternity breaks through the here and now and the only request left in me is please, God, bring my children into the Kingdom. But I also cry over physical weaknesses, regrets, longings, and even Disney movies. In elementary school I bawled over the movie Annie and begged my mom to adopt some orphans. Today I teared up watching a scene from Mulan (when she resolves to take her father's place in war), and my eyes stung listening to pianist Yiruma's Kiss The Rain for the first time.
Raise your hand if you teared up during that little speech! Must move on to happier thoughts before I drip on the keyboard.
Regarding pointing and staring…
Our lives are so much more exposed now with Facebook, blogs, Twitter, and all the rest. It seems we can hardly say or do anything privately any more, which can be a blessing. And a curse. What's the funniest social networking faux pas you've committed to date?
Michelle: This was hard too. (Great questions, April!) The closest thing would be when a secular writer I know posted about her new release on Facebook. She had some trouble with Amazon tagging because of the somewhat offensive cover image and turned to her FB friends for input on its appropriateness. I commented with a gentle opinion on why I thought Amazon might have tagged it the way they did, hoping to speak for the conservatives out there without being abrasive. What I hadn't considered, was that by commenting, her book image would appear on my wall in my "recent activities" and moments later my MOM left a scathing comment below mine asking why on earth I was posting this image. I messaged her privately to adamantly explain that I wasn't the poster, I was weighing in on the matter. I deleted my comment and told my mom she should do the same because obviously it was then going to be on her wall too. Oy vey! Lucky for me, the incident was small-scale and rather private. I suppose I've gotten off easy so far. But it's never easy being "caught" by Mom.
That's too funny! Mom's are great at catching us with our hands in the cookie jar, no matter our age! 
Tell us about that trail you're leaving for other writers. What was the last thing you posted about on Fiction Fridays?
Michelle: I've always posted things I learn and experiences I gain whether that's contest feedback, craft techniques, social networking (alot of that with COTT), or opportunities to pursue. I sometimes use Fiction Fridays for hosting Story Improvs where readers get involved and write a story together one line at a time. Last week I posted an update on where I've been and what I expect in 2012 and I ended with a story prompt. This one is a little different than the Improvs. In this one, I challenged readers to take the prompt and expand it on their own blog, then send me the link. I don't know how many will join the challenge and play the game, but it would be fun to see what different authors do with the same prompt. Wanna play? You can check it out right now: http://michellemassaro.blogspot.com/2012/02/fiction-friday.html
Oh! Sounds like fun. Y'all make sure you head over there and jump in on the action. You've been with COTT since the beginning as a vital staff member, but looking through the eyes of a reader/voter (which you also are!), which part of COTT do you enjoy the most?
Michelle: I'd have to say I most enjoy getting that slice of a story I've often never heard of, and then getting to hear how it came together from the author. It's more personal and more focused than scanning amazon for sample chapters. And I can vote! Most of us love having a say in things and I'm no exception, lol. Being able to interact with the authors of the books I'm voting for makes me feel like I'm stepping into an elite circle of friends and as a reader, that's huge.
I heartily agree! Thanks, Michelle, for being so gracious to open your world to us for a little peek. It's been a blast! And now you must excuse me while I go dig through my DVDs for Meet the Parents. LOL
Michelle: April, thank you so much for this opportunity. I value your friendship and admire your work so much. I'm truly honored to be a part of Clash of the Titles.
We couldn't do it without ya!


Readers, do you have a question for Michelle? And don't forget, you can still comment on the Almost Kiss clash going on right now at Clash of the Titles!
Ah, the weekend. It's a busy one for us. It's for a good reason, so let me share.
Eight years ago tomorrow I watched my husband hold our daughter for the first time. It was a surreal planned c-section: the surgeon had music play and Bryan Adams "Everything I do, I Do it for You" was in the background. The doctor was a large man who confessed he sweats a lot so he donned a mask the others said made him like Darth Vader.
No matter, he delivered a daughter we had long waited for.
She struggled a few months later and for the rest of her first year. We nearly lost her. She had delays that professionals warned me would most likely put her in the category of retardation.
Those professionals always forget one thing before they come into contact with me.
They don't know my God like I do.
I knew when she was in the womb that God promised she would be an overcomer. He doesn't lie. She isn't in any category but incoming second grader. Her medical team is down to pediatrician and endocrinologist.  She doesn't just talk, she sings. If a person can be a color she is glittery pink. If you need her defined by one word, it's joy.
Removed from those dark days I now see that God didn't cause those times, but He DID allow them. Not only did He heal our daughter, He grew my faith. I am not the same person I was. I guess to take the cliche, we are new and improved.  But out of all it, God uses her and me as a mom advocate to show the professionals who the true Professional is.
And in the end, I have faith they will know my God like we do.
That makes me happy.
Another thing that makes me happy is when someone wants to know more about what I do. Jeff Rivera, Founder and Editor-in-Chief of The Gatekeepers Post interviewed me. I share basic tips on adding speaker to your writing resume. Would you please read and pass the link on? That would make me…happy.