Welcome to the 12 Pearls of Christmas blog series!
Merry Christmas from Pearl Girls™! We hope you enjoy these Christmas "Pearls of Wisdom" from the authors who were so kind to donate their time and talents! If you miss a few posts, you'll be able go back through and read them on this blog throughout the next few days.
We're giving away a pearl necklace in celebration of the holidays, as well as some items from the contributors! Enter now below! The winner will be announced on January 2, 2014, at the Pearl Girls blog.
If you are unfamiliar with Pearl Girls™, please visit www.pearlgirls.info and see what we're all about. In short, we exist to support the work of charities that help women and children in the US and around the globe. Consider purchasing a copy of Mother of Pearl, Pearl Girls: Encountering Grit, Experiencing Grace, or one of the Pearl Girls products (all GREAT gifts!) to help support Pearl Girls.
***
Do You Hear What I Hear?
by Cynthia Ruchti
To shepherds? Really, God? You crafted a birth announcement that was delivered first to shepherds? The story's become so familiar to us, so easy for us to visualize because of all the Christmas pageants we've witnessed over the years—all the fourth-grade boys in plaid robes with a homemade shepherd staff, carrying a cloth lamb from the toy department that plays "Jesus Loves Me" if you pull the ring where an umbilical cord should be.
Theologians speculate the reason for shepherds as the audience for the holy pronouncement could be as intricate as a genetic retracing of the Baby's heritage back through history to King David, who started his career as a shepherd.
Or it could have been simpler than that. Maybe shepherds were the only ones listening that night.
"Nearby shepherds were living in the fields, guarding their sheep at night," Luke 2:8, CEB. The biblical story tells us that the shepherds weren't sleeping but were on guard, watching, when the news about Jesus came to them.
Distractions were few. Hills, sheep, other shepherds, a low fire, and a wide expanse of sky overhead—a dark sky that held the same stars night after night, until this one.
I wonder if any of the shepherds brought their families to the fields. I wonder if in the tent was a hardworking woman nearing the end of an exhausting day. She'd barely gotten the evening meal cleaned up when she had to start thinking about what her family and the other shepherds would need for breakfast. Soak the grains. Check the progress on the sheep's milk cheese. And try to get those kids to settle down.
"Stop annoying your brother. Caleb! Last warning. Josh, get your fingers out of your sister's ears. Turn down that video game. You can't listen to the radio and watch TV at the same time. Turn one of them off. Better yet, both of them! Who's singing? What's that sound? Do you hear what I hear?"
What noise do I need to turn off in my life in order to hear the first notes of the angel's song?
Another noisy Christmas party. Another trip to the department store for stocking stuffers. Another round of Christmas CDs. Another Christmas special on TV. Another Facebook post to share—the true meaning of Christmas. A text about the practice time for the Christmas program at church. Another phone call about travel plans. Brain waves clanking into each other, making a cacophony of noise.
Shutting down one layer at a time. Unplugging. Keeping even "Silent Night" low so I can silence my night and hear the downbeat of "Glory to God in the highest."
***
Cynthia Ruchti is an author and speaker who tells stories of Hope-that-glows-in-the-dark through her novels and novellas, devotions, nonfiction, and through speaking events for women and writers. Of seven books on the shelves currently, her latest releases are the novel When the Morning Glory Blooms (Abingdon Press Fiction), the nonfiction Ragged Hope: Surviving the Fallout of Other People's Choices (Abingdon Press Christian Living), and several dozen of the devotions in Mornings With Jesus 2014 (Guideposts). Spring of 2014 will see the release of another novel—All My Belongings, also from Abingdon Press Fiction. You can connect with her at www.cynthiaruchti.com or on Facebook.
a Rafflecopter giveaway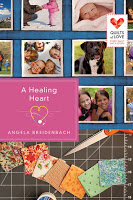 Beach trips, mountain jaunts and lazy days in the swing on the front porch. Tis the season to enjoy a great read outdoors. Clash of the Titles's got five brand new April releases to recommend. It'll be difficult to choose from these three romances, a mystery with suspense, and women's fiction. The stories tell of a woman who falls in love with an Army veteran with PTSD; a kidnapped doctor accused of murder; a woman yearning for a family; a lady with a heart attack and spiritually broken heart; and three unwed mothers from three different eras. All will tug at your heart. But please select the one you most want to get lost in. Then vote for it below.
Cindy Waymire, a college senior in search for a topic for an upcoming sociology paper, finds more than a topic when she meets Army veteran and college freshman Danny Flynn outside the student union. An undeniable attraction to this troubled veteran leads her on a difficult and winding path that brings her to a crossroads—get into a relationship with a man who has serious mental health problems or turn her back on one of the best men she's ever met.

Dr. Matt Newman escapes from kidnappers only to land in the ICU then awaken to find the police are convinced he's a killer, and he's still a target. Can attorney Sandra Murray and he find the truth before it's too late?
Terri Hayes owns a thriving Day Care but hungers for a child of her own  while  writer Steve Evans has all the family he needs. Will harsh words and sneaky plans drive them further apart, or does God have another plan?

What would you do if the one man who can help is the one man you can't trust? A heart attack has stopped workaholic Mara Keegan in her tracks, but Mara's heart needs to be healed in more ways than one—will Joel Ryan help her or take all she has left?
Three women from three different eras face the aftermath of unwed pregnancies, desperate for hope. Can it be found in the memoirs of Anna, who ran a home for unwed Moms in the 1890's, or is there no link to their cries for help and their source of hope?
Welcome to Pearl Girls™ Mother of Pearl Mother's Day blog series—a nine-day celebration of moms and mothering. Each day will feature a new post by some of today's best writers (Tricia Goyer, Lisa Takeuchi Cullen, Beth Vogt, Lesli Westfall, and more). I hope you'll join us each day for another unique perspective on Mother's Day.
AND . . . do enter the contest for a chance to win a beautiful handcrafted pearl necklace and a JOYN India bag. Enter at the bottom of this post. The contest runs 5/4-5/13, and the winner will be announced on 5/14. Contest is only open to U.S. residents.
If you are unfamiliar with Pearl Girls™, please visit www.pearlgirls.info, subscribe to our blog, and see what we're all about. In short, we exist to support the work of charities that help women and children in the US and around the globe. Consider purchasing a copy of Mother of Pearl: Luminous Lessons and Iridescent Faith to help support Pearl Girls™.
And to all you MOMS out there, Happy Mother's Day!
~
Water Spot Mothering by Cynthia Ruchti
For years, a friend and I met weekly for prayer and Bible study. More than twenty years older, Jackie often prayed for her high school children while I prayed for my toddler children who were supposed to be napping.
As any mother will attest, when we get serious about praying for our children, we can find plenty to pray about.
Jackie and I often laid our Bibles in front of us, open on the table. The day I learned the meaning of water spot mothering, Jackie and I had prayed intensely for our children and their wide variety of crises—large and small. We prayed about their uncertain futures and the certainty that God loved them even more than we did. Tears formed, unbidden, as we poured our hearts out to God.
A series of whispers from the stairway told me my children had found dozens of ways to bypass their naps. But they'd grown to respect the time I prayed with my friend. Even at their young ages, they waited patiently for the "Amen" before interrupting.
When Jackie left and life pulled me into other things, my Bible remained open on the dining room table. I walked through the room a short time later to find my four-year-old daughter Amy kneeling on a chair, tenderly flipping through the pages of my Bible. I knew she was unable to read more than the simplest words on the page, so I asked, "Amy, what are you doing, honey?"
Her answer resonates now, decades later. She said, "I'm looking for the tears."
She knew I'd prayed for her. Finding the water spots, the tear stains, meant something to her young heart. She wanted to see evidence that my prayers for her had moved me to tears.
How triple true that would be through her teen years! We were just getting started on the water spot mothering concept.
I've relived that scene many times since that afternoon. My daughter bent over my Bible, her tiny hands turning the pages reverently, her eyes searching for a wrinkle in the page, looking for the assurance that I cared so deeply, prayed so fervently, and wasn't afraid to let the tears fall on the sustaining resource for parenting and all of life—God's Word.
Water spot mothering. Praying with the Bible open. Letting the tears fall on the pages.
I wear the picture of my daughter kneeling on the chair, bent over my Bible, close to my heart, like a silver locket I click open to remind me of my primary responsibility as her mom…even now.
###
Cynthia Ruchti tells stories of Hope-that-glows-in-the-dark through her fiction, nonfiction, and speaking events for women or for writers. Her recent release—the novel, When the Morning Glory Blooms, observes the heart-and-faith journeys of three eras of unwed moms. Her July release—the nonfiction book Ragged Hope: Surviving the Fallout of Other People's Choices—touches on life circumstances that send us to tear-hemmed prayer for those we love. Connect with her at www.cynthiaruchti.com, Facebook, Twitter, or other network spots.