Never Alone
Keep your life free from love of money, and be content with what you have, for he has said, "I will never leave you nor forsake you." Hebrews 13:5 (ESV)
As Christians we have so much to be thankful for but for me personally I am most grateful to serve a God who promises to always be with me.
Because this life and everything in it is temporary; things break or get lost, wealth can be fleeting and people leave (by either death or choice). Life's fabric can feel like it's fraying around us and we are clinging to find the one string that is safe to hold on to . . . only to sense it slowly slipping through our fingers as well.
But, He will never fail. He cannot lie. And so we can with confidence say, He will never leave us.
That is the core of my thankfulness. The Creator of the universe who reaches down and says to me, "Daughter, I am here. Come sit at my feet as I whisper into your ear and gently touch your soul with my love." His Spirit fills me, invites me, and pursues me.
When family and friends fail, when the storms of life roll over me, when money is scarce and my accuser says to me, "You have no hope," I will not despair. For I know I am not alone. In Him and with Him I have a hope and a love that is eternal.
Take the whole world, but give me Jesus. He is my All in all. Anything else is just gravy. Speaking of gravy, pass the turkey…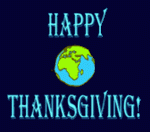 Lori Dixon ~ Speaker/Writer/Servant of Christ   Contact www.LovingKindnessMinistries.ca
BIO
Lori Dixon is an award winning Canadian writer and speaker with over 200 articles published, many of which are archived in the National Library of Canada. Her passion is bringing Truth to women, speaking in love and seeing lives transformed through the power of the Word. She does so in humorous ways, using props and practical applications. Follow her ramblings which vary from humorous to hard hitting at www.LovingKindnessMinistries.ca or email her at LoriDixon2010@gmail.com to say hello. 100% of her speaking fees for 2013 go to support the local ministry of Engedi Refuge; a safe home restoring the lives of sex traffic victims.