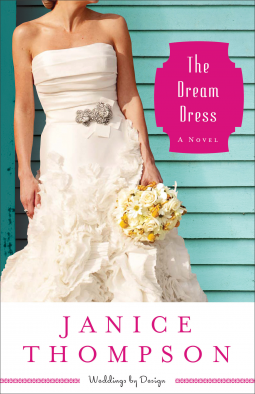 Book Description:

A seamstress at a swanky bridal boutique, Gabi Delgado dreams of doing more than ripping out seams and fitting dresses to doe-eyed brides. She wants to see her own dress designs gracing the young women of Texas. When Jordan Spencer, the editor of Texas Bride magazine visits the shop to do a feature, Gabi is devastated to lose her job in his very influential presence. Convinced she'll never get her dreams off the ground now, Gabi needs lots of encouragement–especially from her friend Bella Neeley–to take a chance and start her business. And as she gets to know Jordan, she discovers that she may have to take a chance on love as well. Could it be that she'll have to design her own wedding dress soon?
As always, Janice Thompson delivers fun, laughter, and romance as she takes readers back to Galveston, Texas, to spend more time with their favorite quirky characters along with fabulous new ones.
The Dream Dress contained everything I love in a book. As always, there was humor through rich characters you wish could be your friends. There is romance, and in this case, Jordan is so romantic, he is swoon-worthy. There are the people you root for like Mimi-Carmen, Gabi, Jordan, Scarlett and Bella. There are the people you want to smack, like Demetri. And as only Janice Thompson can, she blends it all beautifully, complete with stories from the Bible that perfectly complement the story without being preachy.
The Dream Dress is a winner because I think a lot of readers can relate to Gabi. Childhood was less than ideal. Rejection is strong enough that she keeps her dreams to herself. A perfect man? They go out with everyone else, but not her. The Dream Dress takes the reader through Gabi's journey, and what I love is this can be our experience too. Gabi learns to trust. Forgive. Find friends. Love. A purpose that makes her want to get up every morning.
As a fan of the Weddings by Design, I loved "seeing" Bella and Scarlett again. Gabi keeps up and shines in their company. But I believe The Dream Dress stands on its own. But for your sake, find everything of Janice Thompson's, especially the Bella and Wedding books and enjoy.
To purchase The Dream Dress, click here.
I received The Dream Dress from NetGalley/publisher in exchange for an honest review.
One dress. Four women. An amazing destiny.
I'm thrilled to be one of the first stops in Rachel Hauck's blog tour for her latest release, The Wedding Dress.
Charlotte Malone is getting married. Yet all is not settled in the heart of Birmingham's chic bridal boutique owner. Charlotte can dress any bride to perfection-except herself. When she discovers a vintage mint-condition wedding gown in a battered old trunk, Charlotte embarks on a passionate journey to discover the women who wore the gown before her.

Emily in 1912. Mary in 1939. And Hillary in 1968. Each woman teaches Charlotte something about love in her own unique way. Woven within the threads of the beautiful hundred-year-old gown is the truth about Charlotte's heritage, the power of faith, and the beauty of finding true love. 
I really enjoyed The Wedding Dress. I felt like I was getting two books in one, and that both were fulfilling reads. Reading Emily, Mary and Hillary's stories were fascinating looks at how women have gained respect in society for their work, convictions, and choices. I loved reading about the designer of the dress, Taffy Hayes. She was an African American designer that based on skin color, didn't receive a lot of wedding dress work. Emily bucked the system and caused quite the scandal by insisting Taffy's dress stay.
But that wasn't the only fascinating aspect of history. Hillary's story includes love, loss, and war. Embedding her story into Charlotte's contemporary, Rachel also delivered a great faith journey for the ladies that had to trust God, whether for the first time or after deep hurts.
Then there is Charlotte's story. I loved how she insisted the dress was for her to find the bride, no matter how many people insisted it was her dress to wear. Her wounded feelings were real and the conflict in her story was believable. The only part of this book I struggled a little with was the little man in purple. He kind of threw me off, and I think the story could have stood just fine without that element. But still, what a beautiful book. I really enjoyed it, and I think you will, too.
About Rachel Hauck:
Rachel Hauck is the bestselling author of Carol Award winner Sweet Caroline, and RITA Finalist Love Starts With Elle, and of the critically acclaimed fiction collaboration with multi-platinum country artist Sara Evans, The Songbird Novels.
She lives in sunny, though sometimes hurricane plagued, central Florida with her husband and their ornery pets.
Visit http://rachelhauck.com for more about Rachel and her books, and to follow her on Facebook and Twitter.
What is "true" beauty? Join the conversation at Rachel's Author Chat Party Event Page. On the eventing of 4/19 we'll gather to talk about inner and outer beauty and share moments of beauty in our lives.
In the meantime, celebrate with Rachel by entering her True Beauty Giveaway!
One "beautiful" winner will receive:
A $200 Visa Cash Card (Treat yourself to a spa day or weekend get-away!)
The Wedding Dress (by Rachel Hauck)
Enter today by clicking one of the icons below. But hurry, the giveaway ends 4/18/12. Winner will be announced at Rachel's "True Beauty" Facebook Party on  4/19. Rachel will be hosting an evening of beauty (inner/outer) chat, fun trivia, laughter, and encouragement – bring your friends! She'll also be giving away some GREAT prizes: gift certificates, books, and a Book Club Prize Pack! (Ten copies of the book for your small group or book club and a live chat with Rachel via Skype.)
So grab a few of your friends and your copy of The Wedding Dress and join Rachel on the evening of April 19th for an evening of fun.
Don't miss a moment of the fun. RSVP TODAY and tell your friends via FACEBOOK or TWITTER and increase your chances of winning. Hope to see you on the 19!
Please visit the other bloggers signed up for this tour by clicking here.
Purchase The Wedding Dress here.
I received this book from the publisher and Litfuse Publicity Group in exchange for an honest review.