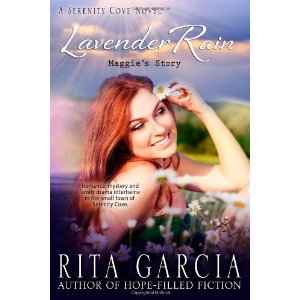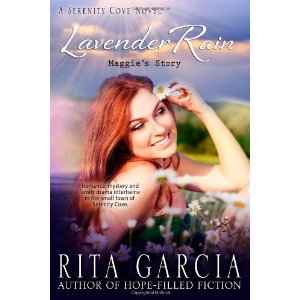 It was a pleasant surprise to learn Rita Garcia was returning to Serenity Cove with her third novel in the series, Lavender Rain. This is Maggie's story and although sometimes a series grows stale, that is not the case with Lavender Rain. If anything, I think this might be the strongest book in the series, and that's saying a lot because I really enjoyed the first two.
Rita takes us through Maggie's journey where she has Pastor Jim waiting on an answer to his proposal, but her former flame, Nick Callahan returns. She's missing her mom. And then Maggie finds a lump.
I read Lavender Rain in one sitting because I was captivated by Maggie and the conflict surrounding her. Rita developed a strong heroine here who has to learn medical terms and options and face the side effects and unexpected head on. Yet, Maggie is human and Rita does an excellent job bringing Maggie's fears to the surface. I loved the verse the book started with. It was just the right touch.
I won't give any spoilers but I hope she has a fourth book planned. I'd love for Maggie's journey to continue.
As she's done with the other Serenity Cove novels, there are a plethora of folks sprinkled throughout that are more than characters. They feel like neighbors.
This is a book full of conflict, romance, friends, and faith.
I hope you plan to pick up a copy of Lavender Rain and join Serenity Cove today.
To purchase Lavender Rain, click here.
I received a copy of Lavender Rain from the author as a gift. There was no expectation expressed that I review it. That was my choice and pleasure.
Welcome to the 12 Pearls of Christmas blog series!
 Merry Christmas from Pear lGirls™! We hope you enjoy these Christmas "Pearls of Wisdom" from the authors who were so kind to donate their time and talents! If you miss a few posts, you'll be able go back through and read them on this blog throughout the next few days.
We're giving away a pearl necklace in celebration of the holidays, as well as some items (books, a gift pack, music CDs) from the contributors! Enter now on Facebook or at the Pearl Girl sblog. The winner will announced on January 2, 2013 at the Pearl Girls blog.
If you are unfamiliar with Pearl Girls™, please visit www.pearlgirls.info and see what we're all about. In short, we exist to support the work of charities that help women and children in the US and around the globe. Consider purchasing a copy of Mother of Pearl,  Pearl Girls: Encountering Grit, Experiencing Grace or one of the Pearl Girls products (all GREAT gifts!) to help support Pearl Girls.
***
A Mistletoe Medley
 By Margaret McSweeney
 "You have breast cancer."  Those four words my doctor said the week of Mother's Day 2012 have forever changed my life. Mere months after my fiftieth birthday, I encountered this unexpected "lump in the road" and ventured through a major detour after reaching my half-century mark.
Through this "grit," God has covered me with His amazing grace! At the same time of my diagnosis, two books released: Mother of Pearl: Luminous Lessons and Iridescent Faith along with Aftermath: Growing in Grace Through Grief. During this Christmas season, I rejoice that my cancer was caught and treated at an early stage. After six weeks of "daily radiance" (AKA radiation therapy), I started my daily dose of Tamoxifen to help battle any potential cells that might cause a recurrence. Thank you for your continued thoughts and prayers.
While writing Aftermath and sharing my journey of grief as an adult orphan, I experienced several "hugs from heaven" as I discovered family letters, journals, and even a video in which my mother shares her faith. This is a mistletoe medley from my mother's heart:
Each Christmas season my father used to go down into the woods behind our home and bring us back some mistletoe. It was a present that my sister and I loved. We'd tie it with bright ribbons and would hang it over several doorways in the house.
 It was always fun of course for a Christmas party, but it came to mean more than that to us. It seemed to become a symbol of the meaning of Christmas: Love, God's love for the world that prompted Him to send Christ to become our Savior. Somehow it seemed to enhance our love for each other as a family. And we found ourselves stepping under the mistletoe to give someone a hug or to plant a kiss on someone's cheek and say, "I love you."
 I thought of these mistletoe Christmases during my mother's losing battle with cancer.  I penned my thoughts like this:
Illness, you ugly parasite!
Like mistletoe, you've entrenched yourself upon my body!
As you bloom and grow, you feed upon my strength.
I shall fight!
Battalions stand by to help!
My doctor's scalpel will sever you.
Modern medicine will shrivel you.
You shall fall to the ground,
And I shall stand again strong and well.
But what if I cannot conquer you?
If you are with me still
As my constant, inevitable companion,
I pray that God will help me
Learn to live with you in peace
And somehow discover how you, my enemy—
Like mistletoe at Christmas—
Can serve some useful purpose.
There are times when we cannot rid our lives of things that hurt such as pain or grief, loss, illness, sorrow. Sometimes they're with us as our inevitable companions and we must learn to make peace with them.
Those are the times when we can ask God through Christ to help us transform the loneliness, the pain, the grief, the loss-symbolically into something that can serve a useful purpose in our lives.
May you feel an extra "hug from heaven" this Christmas season from the loving arms of our Heavenly Father.  God is present, and He knows your name!
*Text quoted from Aftermath (New Hope, 2012) by Margaret McSweeney, pp 114-115
**
Margaret McSweeney is a well-published author and freelance writer for the 411 Voices and the Daily Herald, the largest suburban Chicago newspaper. She is the author of Aftermath, A Mother's Heart Knows and Go Back and Be Happy. She is also the founder of Pearl Girls™ and the general editor of the Pearl Girls™ books; Mother of Pearl and Pearl Girls: Encountering Grit, Experiencing Grace. All proceeds from the sales of the Pearl Girls™ books go to charity. For the past five years, she has served on the board of directors for WINGS, an organization that helps abused women and their children get a new start in life. Margaret would love to meet you too. Follow her on twitter or friend her on facebook. You can also keep up with Margaret at Kitchen Chat or the Pearl Girls blog. Margaret lives with her husband and two daughters in the Chicago suburbs.
This is really going to sound strange, but I'm thankful for breast cancer.
Yes, you read that right.
Three years ago, I had the shock of my life. What I thought was an inflamed milk duct was diagnosed as breast cancer.
I've always been a Christian, I was raised in a Christian home and accepted Christ as my Savior when I was nine. I was in church, Sunday morning, Sunday night and Wednesday night. My parents had Bible studies in the home. I grew up immersed in Bible.
So, it might come as no surprise to find out I married a pastor. 
Well, being married to a pastor doesn't mean that you take the time needed for devotions, praise and worship, or the necessary things that make you grow as a Christian. I have five children. I homeschool.  I was busy in the church. My life was spent constantly going and doing for others. I told the doctor I didn't have time for cancer!  He just looked at me.
Well, treatment is one of those things you have to make time for. And during those long hours sitting at the chemo room, I took my iPod shuffle, preloaded with praise and worship music.  I spent my time praying and studying God's word. And as a result, I developed a habit of spending time with the Lord. My own personal time with the One who loves me more than anyone else.
As for the times spent in recovery from chemo? Well, I had no time. My recovery from chemo time was spent catching up on homeschooling, church stuff, family stuff—all those things that didn't get done when I was at the chemo room.  The doctor commented that I breezed through chemo surprisingly well. That I was on the strongest, harshest chemo available, and I had virtually no side-effects (other than losing my hair.)  I told him it was all God.
That was three years ago. Today I still make time for detailed study in the word.  If I get busy and can't spend time with God, I miss it and my day is incomplete.  So, I thank God for breast cancer. For getting me back on the time I needed to spend with God.
What is something you're thankful for?
Laura Hilton, her husband, Steve, and their five children make their home in Horseshoe Bend, Arkansas. She is a pastor's wife, a stay-at-home mom and home-schools three of her children. Her two oldest children are homeschool graduates and are in college.  Laura is also a breast cancer survivor.
Her publishing credits include Hot Chocolate and Shadows of the Past from Treble Heart Books; a devotional in a compilation from Zondervan; and the first book "Patchwork Dreams" in her Amish of Seymour series from
Whitaker House released in April 2011, the second book, "A Harvest of Hearts" in September 2011, and Promised to Another in April 2012. Laura has her business degree from Ozarka and is a member of American Christian Fiction Writers. Laura is a professional book reviewer for the Christian market, with over a thousand book reviews published at various online review sites.