Thankful for My Relationships by B.J. Bassett
I am thankful for my relationships—with my husband,  my children, and with friends. The most important relationship I am grateful for is the one I have with my Heavenly Father.
He put a desire in my heart as a little girl to seek him. My family moved a lot and my parents did not attend church, so if a neighbor didn't take me to Sunday school, I walked to a neighborhood church. I was always welcomed in those places of worship. When I was a teenager, I accepted Jesus as my personal Savior and my relationship with my precious Lord has grown and flourished these many years. I have the joy and peace that only comes from knowing Him. I am thankful for all my relationships—especially the one I have with my Daddy God.
BIO:
B.J. Bassett encourages others as an author, teacher and speaker.
Her books include a historical novel Lily; A Touch of Grace—The G.R.A.C.E. Ministries Story, and coauthor of My Time with God which sold 55,000 copies while in print. Her recently released contemporary romance, Gillian's Heart, is now available.
She teaches writing workshops at Umpqua Community College in Roseburg, Oregon and at writer's conference. As a speaker for Stonecroft Ministries, she tells her story of rejection and acceptance, not only in life, but as a writer as well. She also offers book talks, including discussion questions and shares the journey—from the seed of an idea to a publisher book.
She enjoys reading, jigsaw puzzles, knitting, munching warm scones oozing with butter and strawberry jam and sipping earl grey tea. A native Californian, she now lives with her husband of 57 years in Roseburg, Oregon.
About Gillian's Heart:
Gillian Grant, abandoned by her alcoholic parents, is raised by her grandmother in a beach house in California.

As a tribute to Gram's memory, Gillian restores the house and hires Dusty to help her. Dusty shares the apartment above the garage with Gillian's childhood friend, Josh.

Gillian and Dusty have nothing in common, except the restoration of the house. Gillian suffers from anorexia and is in denial. While she has a strong faith in God, Dusty is an unbeliever.

Betsy, Gillian's mother, returns and announces the house was left to her, not Gillian, and she plans to sell it.

Gillian always dreamed of her wedding in her grandmother's garden overlooking the Pacific. Will there be a wedding? Who will capture Gillian's heart—stable Josh or can she trust Dusty, a new Christian, who has kept secrets from her? And who holds the deed to the house?

To purchase Gillian's Heart, click here.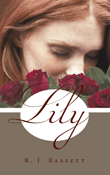 Book Description
California, 1900—Nestled in the foothills of the northern California coast, the town of Laurel Springs is home to high-spirited Lily Blair, the daughter of Rev. William Blair. Lily delights in being spoiled by her grandmother and father, and even though she lost her mother to childbirth, she glories in life itself and continuously pushes the bounds of propriety.

Having her every whim indulged as a child leads to a tough road as an adult. Lily falls in love with James Conti and wants to marry him, but James heads off to fight in the Great War, leaving Lily alone and heartbroken. When her father wants to send her off to boarding school, Lily makes yet another rash decision and marries a man she does not love.

In the ensuing years, Lily endures hardship and loss, a sharp detour from the pampered existence she once enjoyed. Yet as Lily struggles to cope with these unexpected changes, she discovers just how powerful God's love and forgiveness can be. But will it be enough to get her through the darkest days yet to come? 

Full of vivid historical detail, Lily is an emotional coming-of-age story that celebrates the strength of the human spirit.
I was intrigued by Lily immediately because B.J. Bassett did something that is considered a risk when writing a heroine: she created a character that is hard to like. Thing is, right away we understand why Lily acts the way she does, she gets away with it for good reason from her Father. And although Lily's choices had me shocked more than once throughout the book, I kept reading.
Why?
Because I couldn't stand not knowing if things were going to change in her life.
B.J. painted a hard but necessary story against a beautiful historical backdrop to show how deep redemption flows. You name it, and Lily either considered it, or did it. But a lot of her choices made her do a little thinking, and she has compassion for others. Not everyone, but it's there.
And just when you think all hope is lost, Lily sees the light.
I'm not giving more than that, because I want you to read it. The story flows at a good pace and I found the characters well-developed. I especially enjoyed James.
There are a couple words that readers might find offensive, but I believe they were put there to show the desperation of the people and their circumstances. Because bottom line, Lily is surrounded by Biblical truth, and redemption through Christ is clearly offered.
I think this is a great story for anyone who loves historicals, romance, and especially anyone who feels their choices makes them too lost or far gone for forgiveness.
I received Lily from the author in exchange for an honest review.