From Julie:

This is an excerpt from Katheryn Maddox Haddad's Star Song, Book 1 of her 8-book series "THEY MET JESUS". Look for places where you can "talk" to the characters.
"Mary…" Gabriel grows more serious. "Mary, you are a very favored lady, for the Lord is with you and has decided to wonderfully bless you in a special way."
Silence. What is he talking about?
He continues.
"Very soon now, you will become pregnant and have a baby boy."
"Well, very soon now I will be married. But a boy? How can you know that?" she responds, momentarily forgetting her fear.
Gabriel reassures her. "Remember, Mary, I'm an angel. God has told me everything. Furthermore, you are to call your baby Jesus."
"Jesus? But my husband will be Joseph. I plan to name my first son Joseph."
Gabriel continues as though she has not responded. "He shall be very great and shall be called the Son of God."
The words grab hold of her heart and will not let go. Son of God…of God…of God…
Mary's mouth opens, but in speechlessness. She does not understand.
Oh, Mary. Listen to what he says. Really and truly listen.
The angel continues. "He shall govern this nation forever; his kingship shall never end!"
His words echo through her mind and are trapped there in a confused abyss. She sits on a bench by the wall, her trembling hands grasping its edges.
"The child will not belong to Joseph. You will become pregnant miraculously before you are married. Remember the prophet Isaiah saying a virgin will bear the Son of God?"
Indeed, Mary does remember. Her father had been talking about it just the day before.
Gabriel continues. "And when I said his nation would never end, I was quoting from the prophet Daniel. Daniel even predicted exactly when he would be born. His birth year, Mary, is next year. Do you have a scripture scroll? I will show you."
Mary, he's offering you proof now. He's helping you believe.
He quotes from Daniel.  "Pay attention! It will be 49 years—that's seven weeks' times seven days in a week—plus 434 years from the time the command is given to rebuild Jerusalem until the crowned One comes!'"
"That's a total of 483 years," he explains. "Mary, it has been 452 years since our capital city was rebuilt. The descendant of David is due to be born next year and become priest-king when all priests are eligible—at age 30. That will be the 483rd year."
Grasp what he's telling you, Mary. Can you do it?
Mary tries with all her heart to believe him.
He has proven himself with scripture, with the Word of God. The final proof is yet to be given.
"But I'm a virgin. How can I have the baby? How can I conceive?"
Okay, Mary. Can you handle it? Can you comprehend what he's about to tell you? Try, Mary. Really try. Don't let the moment slip by, Mary. It's. dynamic. It's spiritual.
Gabriel remains seated and smiling. He stands now, and walks slowly toward Mary, then kneels in front of her so he can look into her eyes. Full of excitement, he whispers as though telling a special secret.
"The Holy Spirit shall come upon you!"
"The Holy Spirit? The Holy Spirit helped David write his psalms." Then, thoughtfully, she adds, "He does other things too?"
Gabriel's exhilaration swells. His words trip over each other in excitement.
"Mary, the power of God will overshadow you."
Come on, Mary. You're almost there. Don't stop now.
"Therefore," Gabriel continues, "the baby born to you will be thoroughly celestial."
"Celestial?" she manages to say.
What is happening?
Hang on to your seat, now, Mary. Here comes the rest of it. You didn't get it when he told you before. Grasp it now.
"Your baby will…your baby, Mary, will be the Son of God!"
That's it. That's the final thing you've got to believe. Do you believe it, Mary? Can you? Try hard, Mary.
Divine truth descends to her mind. Dazzles her soul. Ignites her spirit. "I want to believe you. Somehow I do believe."
Day dawns in the mind, soul and spirit of Mary. And of Mankind.
…. Yes. It is night. But Satan has been silenced. Now it is indeed silent night. Indeed, holy night. The dawn comes. And with it all that is calm and all that is bright.
Katheryn Haddad was born in the cold north, but now lives in Arizona where she does not have to shovel sunshine. She enjoys hot weather, palm trees and cacti in her yard, and a computer with the letters worn off.
With a bachelor's degree in English, Bible and social science from Harding University and part of a master's degree in Bible, including Greek, from the Harding Graduate School of Theology, she also has a master's degree in management and human relations from Abilene University.
Her newspaper column appeared for several years in newspapers in Texas and North Carolina ~ Little Known Facts About the Bible ~ and she has written for numerous Christian publications.
Currently she teaches English over the internet every morning, using the Bible as a text book. Most of her students are Muslims. She has taught some 6000 thus far, and has former students, now Christians, in hiding in Afghanistan, Iran, Iraq, Yemen, Somalia, Jordan, Uzbekistan, and Palestine. "They are my heroes" she declares.
She is a member of American Christian Fiction Writers, Christian Writers of the West, and is also an energetic public speaker who can touch the heart of audiences.
Website: http://inspirationsbykatheryn.com
To purchase STAR SONG, purchase HERE.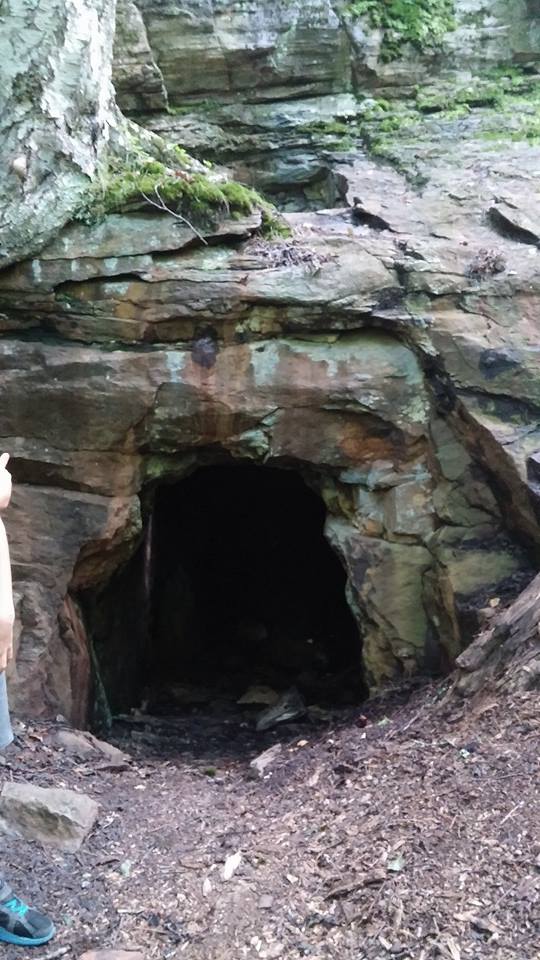 Every time I see a cave, I think of the empty tomb.
I think about Jesus.
What were His first thoughts as He looked and saw the linens?
The angels as they received that assignment and positioned themselves?
The guards, when the cave started to shake?
Mary, when she realized the tomb was empty?
The questions consume me as much as the curiosity of a cave.
What about you? If you're not familiar with the story, read a chapter a day from John in the Bible.
And don't be afraid to ask questions.
This is the Kunjamuk Cave in Speculator, NY, the area I based my contemporary romance, Entrusted, on. Photo credit by CT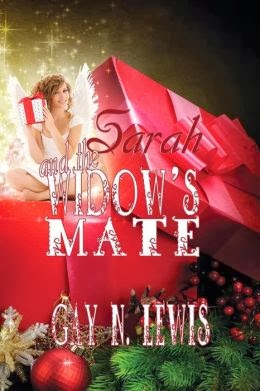 Comparable to Lucy Ricardo, Sarah from today's featured
novel finds herself in madcap situations—most of them of her own making! A salad
toss of "I Love Lucy," "I Dream of Jeanie," and "Touched by an Angel," "Sarah
and the Widow's Mate" is sure to tickly your funny bone.
Below, you'll find COTT's giveaway, and if you happen to
stop by 
Friday, January 19, you'll still have a chance to enter!
"Sarah and the Widow's Mate"
by Gay N. Lewis
About "Sarah and the Widow's Mate"
Widow Beth Marsh is not only beautiful, but wealthy enough to buy a third-world country. When she enters the dating arena to find companionship, two men profess an interest in her…but is it Beth they want, or are they out to harm her and get her money?


Watching from the Heavenlies, the Superiors dispatch Heaven's Little Love Angel to Houston during the Christmas holidays. Sarah's mission is to help the lady determine which of her suitors is the genuine article. Is black-haired Bryan Wingate the real deal? Or is good-looking Charles Chadwick the honest companion?


When Beth invites human-disguised Sarah to attend a wedding, the delighted angel looks forward to an opportunity to wear a beautiful formal gown, and maybe—at long last—red stilettos! But Sarah's mission becomes deadly serious when she discovers Beth's life is in danger. If Sarah fails in her mission, Tomas, the Warrior Angel, will intercede. Determined to keep her human charge safe from gold diggers and save Tomas the trouble, the petite angel steps up her efforts.


But Sarah wouldn't be Sarah without a few bungles along the way….
Fan Reviews
* "What makes this book so much fun is that the story is told from the perspective of the match-making angel, Sarah. She's not the staid, stern angelic presence you might expect. No, Sarah is full of fun, and her zany exploits add a dimension of humor to the mystery and romance of "Sarah and the Widow's Mate." Beth Marsh's predicament clearly demonstrates that money isn't everything. The images of Beth's palatial home and the Christmas decorations add richness to the narrative. Although this is one of the "Sarah" series of Gay Lewis's books, this one–like the others–can be enjoyed as a stand-alone work. I loved Sarah's third trip to earth!"

* "Sarah is so adorable you want to hug her, but watch out for those wings! With a little support from her angel friends and a few embarrassing moments (This is Sarah-we expect embarrassing moments) she is able to unravel a plot and help Beth find her true love. This is a delightful story; I loved it!"

* "I enjoyed this book very much!! Ms. Lewis writes in a unique style. The ending surprised me, but I liked it. There were sections where I laughed out loud. I've bought several of these books and have given them as gifts."


About the Author
A native Texan, Gay lives in a small town west of Houston. Gay has always been involved with artistic ventures.  Two videos she produced were sold in US and international markets—
The Canadian Rockies
, English and Japanese translations, and 
Psalms from the Mountains
.
As a pastor's wife, she has written, produced, and photographed many programs, and her Faith Features have been published in various church periodicals.
Teaching an adult Bible study every Sunday morning is Gay's joy, and she is often called upon for speaking engagements.  When needed, she plays the piano and serves as worship leader in her husband's church. 
Gay writes about a petite angel who comes to earth to romantically link humans, but this is no ordinary angel. Sarah is dyslexic, can't read maps, and is often lost. She is the Lucy Ricardo from The Heavenlies and creates one humorous disaster after another.  Sarah and the Widow's Mate is the third in the series.  It follows Sarah: A Mission of Love, and Sarah: Laney's Angel. 
Connect with Gay at these locations