March 2017 New Releases
More in-depth descriptions of these books can be found on the ACFW Fiction Finder website.
Contemporary Romance:
Reunion at Crane Lake
by
Robin Bayne
— Colt's memory is returning after the accident that ended his career. Now he wants to take over his family's inn, but he'll have to partner with his former fiancée to be able to afford it. He'll need forgiveness to make that happen. Tia's goal is clear: to return the inn to its former grandeur. And she'll even work with Colt to do so. But like the inn, their relationship needs a lot of work. He broke her heart…can she ever trust him again? (Contemporary Romance from White Rose Publishing [Pelican])

Hope by Fay Lamb — She's a starving artist facing a serious illness; he's the doctor who's her only hope of survival. If only she hadn't caused his sister to die. (Contemporary Romance from Write Integrity Press)

Muffins & Moonbeams by Elizabeth Maddrey — Malachi Baxter is happy to hide in the background and manage the business-end of the family bakery. He'd much rather live in the online world of computer games where he can explore the galaxy and no one has to know he's deaf. Ursula Franks designs websites during the day and spends her evenings battling alien races online where relationships are easy and uncomplicated. When she agrees to design a website for the local Community Supported Bakery, she has no idea that Malachi is the real man behind her online persona's best friend and her own secret crush.As the two work together on the website, they uncover an attraction, but will they be able to put aside past hurt and insecurity to find love? (Contemporary Romance, Independently Published)

Then Came You: A Bradford Sisters Novella by Becky Wade — Garner Bradford, heir to the troubled Bradford Shipping empire, doesn't know much about babies. But he's going to have to learn fast because he's just become a single father to his newborn daughter. Career girl Kathleen Burke is wholly uninterested in settling down. She has big dreams, and none of them include Garner and his small hometown in Washington State. Yet she can't seem to get her handsome boss out of her head or her heart…. (Romance Novella, Independently Published)
General:
When the Bough Breaks
by
Ane Mulligan
— Her dream job has a Catch 22—and time's running outRookie lobbyist Sienna O'Shea is determined to make a name for herself in New York's capitol city and use that influence to gain easier access to her birth records. For years she's searched for her birth mother, but when she's handed her first assignment—to lobby support for the permanent sealing of all adoption records—her worlds collide. Swept up into the intrigue of backroom politics, falling in love was not on Sienna's agenda, but the candidate for Lt. Governor runs a formidable campaign to make her his first lady. When an investigative reporter discovers foreign money infiltrating political campaigns, the trail leads to Sienna's inner circle. (General, Independently Published)

The Memory of You by Catherine West — Thirteen years ago, Natalie lost a part of herself when her twin sister died. Will traveling back to the family winery finally put the memory to rest, or will it completely destroy her? (General from HarperCollins Christian Publishing [Thomas Nelson and Zondervan])
Cozy Mystery:
Murder Is No Accident
by
A. H. Gabhart
— When murder comes to call at a stately Victorian house, the town of Hidden Springs looks to Deputy Sheriff Michael Keane to solve the crime before anyone else dies. (Cozy Mystery from Revell [Baker])
Historical Romance:
A Rocky Mountain Romance
by
Misty M. Beller
— When Zeche takes shelter from a blizzard in a remote cabin, he doesn't expect to find a beautiful woman and her father, a disturbed Civil War veteran. Zeche's instincts tell him Greta is endangered and he should stay and protect her, but his own presence aggravates her father's condition. With a dangerous snowstorm outside and growing hostilities inside, can he find a way to keep them all safe from harm? Or will it be to the detriment of his heart? (Historical Romance, Independently Published)

A Stolen Heart by Amanda Cabot — From afar, Cimarron Creek seems like an idyllic town tucked in the Texas Hill Country. But when former schoolteacher Lydia Crawford steps onto its dusty streets in 1880, she finds a town with a deep-seated resentment of Northerners–like her. Lydia won't let that get her down, though. All will be well when she's reunited with her fiancé. But when she discovers he has disappeared–and that he left behind a pregnant wife–Lydia is at a loss about what to do next. The handsome sheriff urges her to trust him, but can she trust anyone in this town where secrets are as prevalent as bluebonnets in spring? (Historical Romance from Revell [Baker])

My Heart Belongs in the Superstition Mountains: Carmela's Quandary by Susan Page Davis — Experience the Wild West as Carmela seeks freedom of body and soul. Forced for years by her uncle to pose as a survivor of an Indian kidnapping so he can profit on the speaker circuit, she longs to end the lies. On a stagecoach in Arizona Territory, Carmela and her uncle are fellow passengers with a deputy US marshal and his handcuffed prisoner. When the stage is attacked, will Carmela's wish come true, or will she forever be branded by her past? (Historical Romance from Barbour Publishing)

Desert Moon & Honor Bound by Susan Page Davis and Colleen L. Reece — Enjoy an Old West romance adventure from author Susan Page Davis. Julia Newman looked forward to moving home to Arizona, then she got word that her mother has died and Julie's stagecoach is robbed. If that wasn't enough, the first person she sees in town is Adam Scott—the man she always loved but could never have—and now he is accusing her brother of criminal activity. Also includes a bonus historical romance, Honor Bound by Colleen L. Reece. (Historical Romance from Barbour Publishing)

Her Motherhood Wish by Keli Gwyn — En route to the Double T Orphanage to work on its expansion, carpenter Chip Evans and Caroline Hunt discover two orphaned children—and become their caregivers. But Chip's determined not to let himself get too attached to the children who just lost their widowed father…or to the lovely woman helping him care for them. Especially since Callie and the little ones just don't fit into his detailed plans for the future. Callie can't help but fall in love with the orphans, and despite her better judgment, she's falling for Chip, too. Her dreams of being a wife and mother were not quite like this. But Callie believes a plan bigger than Chip's brought them all together…and now she just has to help him see it, too. (Historical Romance from Love Inspired [Harlequin])

The Planter's Daughter by Michelle Shocklee — When her father's Texas cotton plantation faces bankruptcy, Adella must choose between the man who can her family's land and the man who can save her! (Historical Romance from Lighthouse Publishing of the Carolinas)

When Tides Turn by Sarah Sundin — When Quintessa Beaumont learns the US Navy has established the WAVES program for women, she enlists, eager to throw off her frivolous ways and contribute to the war effort. Lt. Dan Avery employs his skills in antisubmarine warfare to fight U-boats at the peak of the Battle of the Atlantic, but the last thing he wants to see on his radar is fun-loving Tess. As Dan and Tess work together in Boston, the changes in Tess challenge his notions–and his heart. (Historical Romance from Revell [Baker])
Medical Suspense:
Dcotor's Dilemma
by
Richard L. Mabry M.D.
— Young surgeon Tyler Gentry thought the offer to join the Hall Group of surgeons offered the answer to his problems, but things changed when he received a 3 AM phone call that told him such a move would be hazardous to his health. (Medical Suspense, Independently Published)
Romantic Suspense:
Her Baby's Protector
by
Margaret Daley
and
Susan Sleeman
—
Saved by the Lawman
by Margaret Daley: As an unknown assailant attempts to kidnap family-court judge Kate Forster's infant son, police officer Chase Walker thwarts the attack—and vows to keep the pair safe. But who will protect the ex-marine's heart when the widowed mother and her little boy make him long for a permanent spot in their family?
Saved by the SEAL
by Susan Sleeman: The tragedy that killed Bree Hatfield's best friends–and left her with custody of their young daughter–has been ruled an accident. But Bree knows it was murder. Scared and alone, she turns to her ex-boyfriend, navy SEAL Clint Reed, who'll risk everything to protect baby Ella and the woman he never stopped loving. (Romantic Suspense from Love Inspired [Harlequin])

Agent-in-Training by Terri Reed — FBI intern Zara Fielding and her K-9 partner, Radar, stumble across a robbery gone wrong and put themselves in the criminals' crosshairs. Her childhood friend FBI computer guru Dylan O'Leary works for the secretive FBI unit she longs to join, and he vows not to let anything happen to her. As they work to stay one step ahead of the bad guys, new feelings ignite. When she goes missing, it's only Dylan–and Radar–who can track her down. Will they arrive in time to save her and the future she and Dylan have started dreaming about? (Romantic Suspense from Love Inspired [Harlequin])
Speculative Romance/Fantasy:
Ingrid's Engagement
by
Kristen Reed
— When King Viggo marches through the kingdom of Schlagefilde in a relentless quest for retribution against its wicked king, the Count of Anselm attempts to make peace with him. As the two strike a deal that will protect the people of Anselm, the King of Villriket becomes enthralled with a portrait of the Count's oldest daughter, Ingrid. The vengeful king vows that he will leave Edmund's county in peace if he will allow him to marry Ingrid. To prevent her father from incurring the sovereign's wrath, the young lady hastily agrees and enters into an unforeseen engagement with the grim ruler. Ingrid's Engagement tells the enchanting tale of a beautiful young woman who softens the hardened heart of a beastly king with nothing more than her quiet wisdom and gentle spirit. (Speculative Romance/Fantasy, Independently Published)
This list is also on the ACFW blog. Check it out!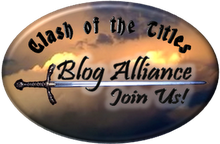 *guest post by
COTT
Sr. Editor,
April W Gardner
This week, it was my privilege to spend a few extra minutes with author Gail. Gail is one of the blog alliance correspondents at Clash of the Titles.
Her husband, Rick, says she's the only person he knows who can go in the grocery for a loaf of bread and come out with someone's life story. That's probably because she inherited her mother's love of people and enjoys talking to them. Working as an editor and freelance writer, Gail published a couple hundred articles. While some of them are in anthologies, two ended up in museums. In 2004, the American Christian Writers Association named Gail a regional writer of the year. She recently published her first romance, Love Turns the Tide. When she isn't writing she likes reading, swimming, and getting together with friends and family. Gail wants to write books of faith that show God's love. She and Rick live in Georgia. Just a couple hours north of me, actually! We're practically neighbors. 🙂
Every COTT staff member is a professed child of God. Gail, can you tell us about your relationship with Christ?
I can't remember when I didn't love Jesus. My father's father was a minister, so I grew up listening to Bible verses and references to Jesus. But my mother played a huge part in helping me establish a relationship with Christ. At bedtime she said prayers with me and told me stories from the Bible. First, she taught me "Now I Lay Me Down to Sleep," but even then I had a copy of "The Lord's Prayer" hanging on the wall above the headboard of my bed. She taught it to me a few lines at a time. We soon started saying it instead of "Now I Lay Me Down to Sleep." She also told me about the Crucifixion in her own words, explaining how much Jesus had to love me to die for me. She taught me to talk to Jesus, to say the things I was thankful for, to praise Him, and ask for things I needed. I did the same with my daughter. I'm so grateful for the many blessings Jesus has given me and that He's always there for me. I don't always get the answers I want to my prayers, but I get the answers I need to fulfill God's plan for my life. Whenever I've needed a miracle, Jesus has supplied one. There are several hymns that touch on how I feel about my relationship with Christ. "What a Friend We Have in Jesus," and "He Leadeth Me" are two. My daughter recently gave me a CD, Elvis, An Evening Prayer. The first song on it, "His Hand in Mine," conveys how I feel about my relationship with Christ. It's an old gospel song written by Mossie Lister. It's on YouTube. The URL is http://www.youtube.com/watch?v=ulTtL_YaC-w
Beautiful testimony! A mother's faith is essential in a child's life, and you're proof of that!
None of us are perfect though, so what's the craziest thing you did as a teenager? 
Gail Pallotta
I grew up at the foothills of the mountains. At a reunion a few years ago, many of us told our beloved biology teacher how much she meant to us. She replied, "Well, I had to teach biology. There was no one else in town that could." Teachers were scarce. We had a very old algebra teacher. He couldn't stay awake during class. Nope. He took the roll and told us to turn to the next chapter and work the problems. Then he pushed back his seat and propped his feet on the trash can. We'd give him about ten minutes, and he was out like a light. His classroom was in the basement with a window level to the ground. In the spring as soon as he started snoring, we went out the window, got in my friend's convertible (she had the only car) and went to the lake.
No way! That's so funny!! How long were you gone? What is something else people would be surprised to know about you? 
At age twenty-two when I graduated from college, I packed my clothes in a medium-sized suitcase and moved to a large city with eighty dollars in my pocket. Had no car, no job, and nowhere to live. 
Wow! You can't leave us hanging, lol! How did that work out for you?
On a slightly more serious note, what is the nearest book to where you're sitting? 
I love to read anything, non-fiction, fiction, any genre, Christian and many secular. But the book closest to me, probably because I also write as well as read, is Essentials of English.
I'd imagine that covers grammar? Forms of writing? Sounds like a must-have for every writer! What are three things you can't live without?   
Faith, family, fun
Three very important f's! Makes me wonder though, when I say the word "fun," what's the first thing to pop into your mind?
What is the message you most want to convey to readers with your writing? God loves you. Accept His love and let the greatness of it overcome the imperfections of this world. 
That brings to mind. John 16:33 "These things I have spoken to you, so that in Me you may have peace. In the world you have tribulation, but take courage; I have overcome the world." NAS (©1995)
Anything else you'd like to add? 
I was honored when asked to be part of the Clash of the Titles Staff. I love helping to promote Christian books and writers.
And we love having you!!
***
Get to know Gail better by visiting her website or her blog.
Well, this is new! I'm so excited to present Desert Breeze author June Foster with you. She is a gifted writer and I'm blessed to have her in my Scribes critique group. June's blog today features an interview with—me! It's a swap, and I love it. Please leave her a comment today! Want to read my interview on her blog? Go here.
***
The things I'm thankful for each year change as circumstances change. But one thing which remains consistent is my gratitude to the Lord. I am thankful for salvation through Jesus Christ, for Christian fellowship, and at my age I'm especially thankful for good health. If you ask me next year, I'll say the same thing.
But I do have a story to share for which I am indebted to the Lord, something I never thought would happen to me. Only the Almighty God could've orchestrated it.
For seven or eight years I had a story incubating in my mind. I even visualized the scenes and the characters. You may not think that so unusual, but I've never had an interest in writing—much less a romance. End time prophesies intrigued me. I read every single one of The Left Behind Series.
All this retired school teacher wanted to do was travel in an RV with her husband doing all the touristy things. But God had a different plan. In November of 2009, I told my daughter about the story. She made a remark which was the spark the Lord used. "Why don't you write it, Mom?"
I went home that day and knew my life had changed forever. I got a new Toshiba laptop, a Sprint air card, and a printer. My husband and I set out on our latest RV adventure on January 1, 2010. My dear spouse took the couch out of the RV and replaced it with a writing table and file cabinets. I purchased every "how to" book I could get my hands on, and joined ACFW and Scribes.
I think at first, my husband scratched his head and figured I was going through a "phase," a post-midlife crisis. But when I continued to pound the keys of my computer, he became convinced. And supportive. He helps me considerably with facts, details and even plot ideas.
Now less than two years later, the Lord has blessed me with publication of four of my six novels. The first one, the story that lurked for so long, is not published yet. But I'm praying for God's open doors.
I think the reason I'm so thankful for this is the assurance that God does intervene in our lives. And when He wants to take us in the opposite direction from the way we were going, He gives us the grace to do it. He is sovereign. 
June Foster's debut novel is available Feb. 1 from Desert Breeze Publishing Company.
Give Us This Day – Feb. 1, 2012
As We Forgive – Sept. 1, 2012
Deliver Us – April 1, 2013
A Hometown Fourth of July – July 1, 2012