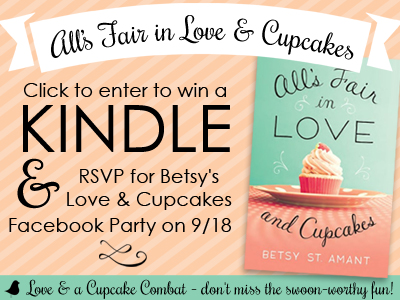 Don't miss Betsy St. Amant's latest fiction release, All's Fair in Love and Cupcakes. A "sweet" tale of two best friends and the choices they make between dreams and a possible "sure thing," St. Amant's novel is sure to satisfy your romantic-fiction craving.
Betsy is celebrating with a fun Kindle giveaway and a Love & Cupcakes Facebook party!
One winner will receive:
A brand new Kindle
All's Fair in Love and Cupcakes by Betsy St. Amant
Enter today by clicking one of the icons below. But hurry, the giveaway ends on September 18th. Winner will be announced at the "Love & Cupcakes" Author Chat Party on 9/18. Betsy will be hosting a "sweet" book chat, giving away prizes, and answering questions from readers. She will also share an exclusive sneak peek at her next book project!
So grab your copy of All's Fair in Love and Cupcakes and join Betsy on the evening of September 18th for a chance to connect and make some new friends. (If you haven't read the book, don't let that stop you from coming!)
Don't miss a moment of the fun; RSVP today. Tell your friends via FACEBOOK or TWITTER and increase your chances of winning. Hope to see you on the 18th!
Book Description
Kat Varland has had enough of chocolate, vanilla, and strawberry.

At twenty-six years old, Kat is still living in the shadows of her family in Bayou Bend, Louisiana. Still working shifts at her Aunt Maggie's bakery. Still wondering what to do with her passion for baking and her business degree. And still single.

But when Lucas Brannen, Kat's best friend, signs her up for a reality TV bake-off on Cupcake Combat, everything Kat ever wanted is suddenly dangled in front of her: creative license as a baker, recognition as a visionary . . . and a job at a famous bakery in New York.

As the competition heats up, Lucas realizes he might have made a huge mistake. As much as he wants the best for Kat, the only thing he wants for himself—her—is suddenly in danger of slipping away.

The bright lights of reality cooking wars and the chance at a successful career dazzle Kat's senses and Lucas is faced with a difficult choice: help his friend achieve her dreams . . . or sabotage her chances to keep her in Louisiana.
I'm a sucker for the best friends/will they become more plot. It's impossible not to root for Lucas and Kat. The odds are against them as they work together in a cupcake competition in NYC. Kat has issues, so does Lucas. He has reason to go back to Louisiana, she has reasons for wanting to win and stay in the Big Apple.
But as the competition continues, cooking isn't the only thing in the kitchen, there is chemistry. I loved reading Kat's story and adored Lucas.
This is a sweet romance that left me satisfied. I hope you put All's Fair in Love and Cupcakes on your reading list.
To purchase All's Fair in Love and Cupcakes, click here.
I received a copy of this book from the publisher in exchange for an honest review.