Prayer. The Bible tells us to pray without ceasing. Prayer is our means of communication with God and God's given requirement to watch him work. We read stories of men and women of prayer who pray(ed) 2 hours a day and feel like the disciples who couldn't spend an hour in prayer with Jesus in the garden.
All my life I've felt like such a stumbling fool when it comes to prayer. I struggle to fill a single page in mu prayer journal. And I use a prayer journal because it forces me to focus, unlike closing my eyes to daydream—or fall asleep.
I offer all this background so you understand why this—thing­—has me shocked, surprised, delighted.
God is answering my prayers. When asked. As asked. In very demonstrable ways.
I started to notice it a few months ago. I prayed that my granddaughter would either leave her live-in boyfriend—or get married. She moved out. (and back in—but she did move out!)
At our weekly Bible study, our leader asked us to requested that we pray for his voice and his health. We prayed that because God had given him the lesson to share, that He would give him the strength to finish the lesson. And he did.
Later, a phlebotomist showed up for a blood draw. I selfishly prayed it would go easily. At a recent hospital visit, they had needed three-plus attempts every time they drew blood or put in an IV.
I didn't even feel the needle go in.
A week ago, my vision was so blurry, I couldn't see the music to play hymns at Bible study. I asked for prayer—vision restored.
Of course I've always known God answered prayer. And I haven't had any significant "deposits" in the prayer bank. But I have never ever experienced this kind of clear, immediate answer. This feeling of—power?—had given me wings, a freedom to pray and actively expect an answer.
When I first starting writing devotionals, I found prayers the most difficult element to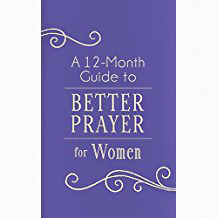 write. But recently, I completed 48 prayers to accompany the upcoming 12-Month Guide to Better Prayer for Women (TBR 2/1/18).  Here's the first one:
Lord God, the story of prayer might be the story of great achievements, but my personal journey reads more like a survival tale, lurching from one day's emergency to the next. Not everyone can be like Esther, who fasted, prayed, and wrested victory for her people from the hands of her enemy. I'm more like Hannah, who asked You for a son, and the Phoenician woman who beseeched Jesus to heal her child. I may not be like Lydia who offered her house as a place of worship, but I have often wept before You, like the woman who wiped Jesus' feet with her tears. As I rehearse Your gracious response to my prayers, open my eyes to the grandeur of Your achievements in my life. Amen.
I guess I absorbed the lessons as I wrote them!  Praise God for a very welcome transformation.
Bio: Darlene has been preparing to write devotionals all her life. She enjoyed the teaching of verse-by-verse teaching of the Bible three times a week in addition to her own private study all the way through school. At Northeastern Bible College, she majored in Bible and theology, and then attended Southwestern Baptist Seminary, where she graduated with a Master of Arts in Religious Education. When she began writing after her divorce, she started with a devotional project focused in about the lessons God had taught her, and her first ever published piece was a devotional in The Secret Place. Since then, Darlene has published over 300 devotionals in various publications as well as three stand-alone titles with Winged Publications.
Twitter: @darlenefranklin
Book blurb about 12 Months to Better Prayer:
Learn the art of prayer from the hearts of giants of the faith.
Prayer is simply talking with God—yet even the disciples asked Jesus to teach them to pray. Since then, godly men and women of the faith have given us guidance to a deeper prayer life—and their most insightful comments are included in A 12-Month Guide to Better Prayer for Women.
Featuring the words of giants of the faith such as Andrew Murray, E. M. Bounds, Charles Spurgeon, and Hannah Whitall Smith, it's arranged into 12 key topics.
Ideal for use on a year-long prayer journey, this book also includes prayer starters that will set you on a course of deeper, more personal times of conversations with God.
Book blurb about my fiftieth book, Mermaid's Song:
At last, the much anticipated 50th book by Darlene Franklin!
Noble Prescott is drawn to the scene of a shipwreck by a sweet song sung in a language he didn't understand. The songstress is barely alive, holding onto a piece of the ship's railing. Her dress wraps around her legs like a mermaid's tail.
Thus begins this imaginative retelling of Hans Christian Andersen's classic fairy tale.
Justine Battineaux, an Acadian forced from her homeland on Cape Breton Island by British decree, finds herself adrift in the Maine colony. She doesn't know the language and is distrusted as a foreigner.
Noble lives up to his name, providing shelter for Justine—and protection, as distrust turns into danger. For himself, his family—and the woman he comes to love.
How will Justine and Noble overcome the evil woman's schemes to find their own love everlasting?