Earlier this month Jennifer Dornbush shared the surrender story behind her screenplay and novel, God Bless the Broken Road. Her story was so interesting I decided to take a little more time to get to know her and the behind the scenes history with God Bless the Broken Road (GBBR.)
Jennifer was gracious enough to share more below.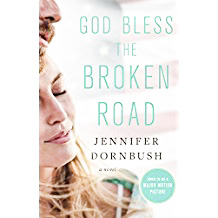 What inspired you to write this series, or this novel in particular?
God Bless the Broken Road (GBBR) actually began as a feature film script three years ago. My friend and director, Harold Cronk, who is best known for the God's Not Dead movies, called me one fine summer evening. He pitched me the seed of the idea and asked what I thought? I said I thought it sounded like a solid story. And then he asked if I wanted to write it with him. Of course, I said yes.
We finished the first draft of the script on Christmas Eve, 2014. Over the course of the next year we refined it while the producers rallied the funds. In the spring of 2016 Harold shot God Bless the Broken Road.
A few months earlier, as we finished the script version, I talked with the producers about penning a novel version. They thought it would be a great idea. So my agent, Julie Gwinn, put a pitch together and while we were filming I quickly wrote the first three chapters. Within two weeks Julie had procured a couple contracts. We happily chose Simon & Schuster. I spent last summer scribing the novel and here it is a year later.  The film version is also "in the can" as we say and will be releasing in 2018.
GBBR Novel Synopsis:

God Bless the Broken Road is a heartwarming story about a grieving army widow who finds her way back to her daughter, her faith, and a new love. Amber Hill never imagined she would find herself a war widow and single mom. She feels robbed and is angry at God, and she doesn't know how to help her nine-year-old daughter Bree through her grief. Where, Amber wonders, are the Sunday dinners, the picnics, the bike rides, the time together they should be enjoying as a family? Instead, Amber is left with a folded flag and an empty heart.

Cody Jackson has a death wish. Or at least that is what his manager thinks, as Cody pushes his race car and his luck in every race. Is he hiding something, or just daring God and other racers to end the path of destruction he finds himself on as he rounds the last turn? When Cody encourages Bree to join in a Derby car race for local youth, she finds a way to channel her grief into something good—and she likes that her mom and Cody are starting to become friends—or maybe something more.

Cody invites Amber and Bree to see him race, but as they watch Cody narrowly escape a devastating crash, she realizes she can't lose another person in her life. It's better to be alone than feel that type of grief again. But when Amber hits rock-bottom, she cries out to God and asks for help. With her faith, her life, her family, and her heart hanging in the balance, Amber is forced to decide between the broken road she knows so well and trusting that God will provide a new path.  Based on the Rascal Flatts song, God Bless the Broken Road is a moving, heart-stirring story about the power of faith to change a life. The movie version is coming 2018.