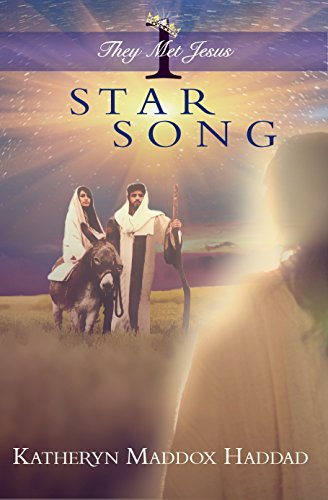 STAR SONG
Novel #1 of THEY MET JESUS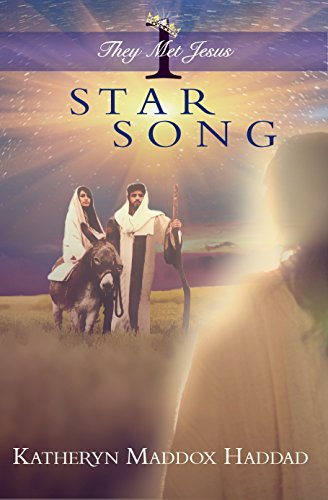 Star Song is the Christmas story, the first of eight lyrical novels on the life of Christ through the eyes of one hundred people who met and struggled with him.
What is a lyrical novel? It is one that is written to teach lessons.  To Kill a Mockingbird is a lyrical novel. So are Moby Dick and Grapes of Wrath.  A lyrical novel is about a person or persons with inner struggles.
In order to make these people come to life for you, I wrote them in present tense. It allows you to crawl inside the skin of the characters. I even give you, the reader, a chance to talk to the characters. When the angel appears to Mary, the reader chimes in and says, "Come on, Mary. You can do this. You believed part of what the angel said. Believe the rest. You can do this, Mary. Try. Really try."
Star Song is set in Palestine dominated by cruel King Herod who did not hesitate to kill family members to protect his throne. Amidst national turmoil, the Prince of Peace is born, and everyone involved in his birth has a personal struggle of their own: "Is he really the Son of God? If so, how do I tell other people who probably won't believe and will turn on me instead?"
Mary is visited by an angel who announces she's going to be the unwed mother of God's Son.  How long does it take him to convince her?
Elizabeth goes into seclusion when she becomes pregnant in her old age.  Will her shyness get in the way of raising a future prophet, especially with a husband who cannot talk?
Joseph's betrayal by Mary pierces his heart like nails. Can he make it through the night without cutting up every board in his workshop the way his dreams have been cut up?
Joseph struggles with those who taunt him for marrying a woman already pregnant, and his inability to even find a bed for Mary and her soon-coming baby in a strange city.
The Shepherds are dirty, smelly, and the dregs of society, but angels appear to them instead of holy people worshiping in the temple at Jerusalem. Will they even know how to act around baby Jesus?
Anna and Simeon live through decades of Roman slaughters right there in the temple, always looking for the Deliverer.  When old and tired, will their faith hold out?
The Wise Men in far-off Persia study a never-before-seen star.  Will the holy books of their gods help them find its meaning before the emperor throws them into the lions' den?
The Wise Men finally decide the star is a sign of a god being born in the west.  They are appointed ambassadors to pay homage.  Will they only attract the attention of the newborn's enemies?
Zechariah has a son born in his old age.  Will he be able to break little John's (the Baptist's) habit of taking after his shy and reclusive mother?
King Archelaus manages to be more savage than the Jews' cruelest king, his father Herod. The year Jesus is 11, he kills thousands in the temple.  Will the temple ever be safe?
Katheryn Haddad was born in the cold north, but now lives in Arizona where she does not have to shovel sunshine. She enjoys hot weather, palm trees and cacti in her yard, and a computer with the letters worn off.
With a bachelor's degree in English, Bible and social science from Harding University and part of a master's degree in Bible, including Greek, from the Harding Graduate School of Theology, she also has a master's degree in management and human relations from Abilene University.
Her newspaper column appeared for several years in newspapers in Texas and North Carolina ~ Little Known Facts About the Bible ~ and she has written for numerous Christian publications.
Currently she teaches English over the internet every morning, using the Bible as a text book. Most of her students are Muslims. She has taught some 6000 thus far, and has former students, now Christians, in hiding in Afghanistan, Iran, Iraq, Yemen, Somalia, Jordan, Uzbekistan, and Palestine. "They are my heroes" she declares.
She is a member of American Christian Fiction Writers, Christian Writers of the West, and is also an energetic public speaker who can touch the heart of audiences.
Website: http://inspirationsbykatheryn.com
Purchase Star Song HERE
Welcome to the 12 Pearls of Christmas blog series!
Merry Christmas from Pearl Girls™! We hope you enjoy these Christmas "Pearls of Wisdom" from the authors who were so kind to donate their time and talents! If you miss a few posts, you'll be able go back through and read them on this blog throughout the next few days.
We're giving away a pearl necklace in celebration of the holidays, as well as some items from the contributors! Enter now below! The winner will be announced on January 2, 2014, at the Pearl Girls blog.
If you are unfamiliar with Pearl Girls™, please visit www.pearlgirls.info and see what we're all about. In short, we exist to support the work of charities that help women and children in the US and around the globe. Consider purchasing a copy of Mother of Pearl, Pearl Girls: Encountering Grit, Experiencing Grace, or one of the Pearl Girls products (all GREAT gifts!) to help support Pearl Girls.
***
Do You Hear What I Hear?
by Cynthia Ruchti
To shepherds? Really, God? You crafted a birth announcement that was delivered first to shepherds? The story's become so familiar to us, so easy for us to visualize because of all the Christmas pageants we've witnessed over the years—all the fourth-grade boys in plaid robes with a homemade shepherd staff, carrying a cloth lamb from the toy department that plays "Jesus Loves Me" if you pull the ring where an umbilical cord should be.
Theologians speculate the reason for shepherds as the audience for the holy pronouncement could be as intricate as a genetic retracing of the Baby's heritage back through history to King David, who started his career as a shepherd.
Or it could have been simpler than that. Maybe shepherds were the only ones listening that night.
"Nearby shepherds were living in the fields, guarding their sheep at night," Luke 2:8, CEB. The biblical story tells us that the shepherds weren't sleeping but were on guard, watching, when the news about Jesus came to them.
Distractions were few. Hills, sheep, other shepherds, a low fire, and a wide expanse of sky overhead—a dark sky that held the same stars night after night, until this one.
I wonder if any of the shepherds brought their families to the fields. I wonder if in the tent was a hardworking woman nearing the end of an exhausting day. She'd barely gotten the evening meal cleaned up when she had to start thinking about what her family and the other shepherds would need for breakfast. Soak the grains. Check the progress on the sheep's milk cheese. And try to get those kids to settle down.
"Stop annoying your brother. Caleb! Last warning. Josh, get your fingers out of your sister's ears. Turn down that video game. You can't listen to the radio and watch TV at the same time. Turn one of them off. Better yet, both of them! Who's singing? What's that sound? Do you hear what I hear?"
What noise do I need to turn off in my life in order to hear the first notes of the angel's song?
Another noisy Christmas party. Another trip to the department store for stocking stuffers. Another round of Christmas CDs. Another Christmas special on TV. Another Facebook post to share—the true meaning of Christmas. A text about the practice time for the Christmas program at church. Another phone call about travel plans. Brain waves clanking into each other, making a cacophony of noise.
Shutting down one layer at a time. Unplugging. Keeping even "Silent Night" low so I can silence my night and hear the downbeat of "Glory to God in the highest."
***
Cynthia Ruchti is an author and speaker who tells stories of Hope-that-glows-in-the-dark through her novels and novellas, devotions, nonfiction, and through speaking events for women and writers. Of seven books on the shelves currently, her latest releases are the novel When the Morning Glory Blooms (Abingdon Press Fiction), the nonfiction Ragged Hope: Surviving the Fallout of Other People's Choices (Abingdon Press Christian Living), and several dozen of the devotions in Mornings With Jesus 2014 (Guideposts). Spring of 2014 will see the release of another novel—All My Belongings, also from Abingdon Press Fiction. You can connect with her at www.cynthiaruchti.com or on Facebook.
a Rafflecopter giveaway