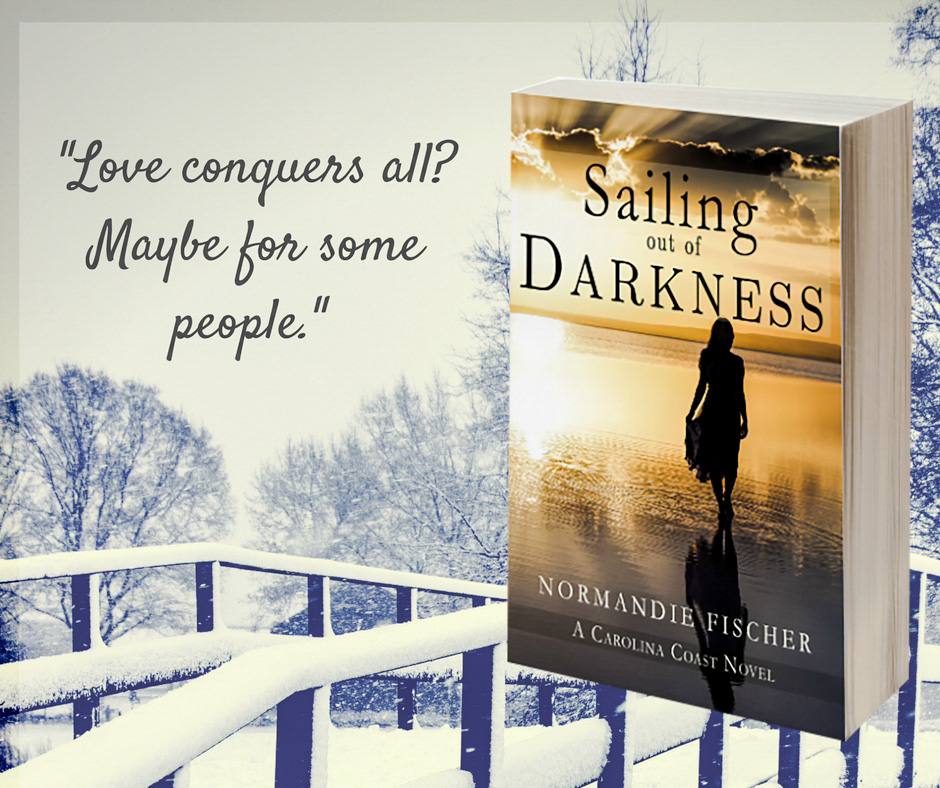 GRATEFUL FOR THE PAIN
Normandie Fischer
Pain can shatter us, toss us off a cliff, and render us immobile. Or it can hone and refine us. I recently read the words of a man who discovered he had a horrible form of cancer. Although his disease was incurable and soon-to-be terminal, he rejoiced. He knew the end of the story.
How did he get from the pain to the joy?
One of my worst rejections forced me into the new and frightening role of Single Mother. I thought my world destroyed that day, my years of clinging to faith a mockery. I didn't leap, as that man with cancer had, to show myself strong and full of grace. Instead, it took days and months and years before I could look up and declare a true thank You for the pain, one that I actually meant. The first thanks had been obligatory: one is supposed to praise, no matter what. To say, "Thank You," before one feels the truth of it.
Have you ever been there? Been at the place where all you can do is question why? Felt unlovely, unwanted, ignored, cast out? Hurt physically or mentally beyond what you thought you could endure? And wondered what celestial game had tossed you out with the garbage?
What did you do about it?
Some of us dump God. Or church. Or men or women or friendships or….  The list goes on. We find anything and everything to blame.
And some, some few, grab the hem of His garment and hold on. Stand at the Red Sea, as it roils in front of us and the Egyptian Army gathers behind, and we say, "Thank You. Praise You. I trust You in the middle of this mess."
And something happens. Maybe not immediately, but one day something happens. We may have to walk through days where failures abound and the world's tilt leans away from us, but one day we do wake to find the pain easing, the hurt less, the heart full, and the New Plan unfolding in our life.
I'm living another New Plan now. But if I hadn't faced the pain of that rejection, if I hadn't become a leftee from marriage, I might never have known the joy that the Father had in store for me. A new day, a new life, and a best friend of my very own. We're fifteen years into a life lived together with the God Who turned our mourning into joy.
Part of my New Plan was also publication. My agent actually sold two of my books, and now I have six on the shelves. My pain and my failures not only provided fodder for my made-up worlds, but they allowed me to climb into my stories and hurt with my characters, and I'm that much richer for the journey.
What about you? What are you doing with the hard places in your life?
Normandie Fischer is a sailor who writes and a writer who sails. After studying sculpture in Italy, she returned to the States, graduated suma cum laude, and went to work in the publishing field, moving from proofreader up the ladder to senior editor, honing technical tomes, creative non-fiction, and, later, fiction.
She and her husband spent a number of years on board their 50-foot ketch, Sea Venture, sailing from San Francisco to the Sea of Cortez, Mexico, and on through the Panama Canal. They now live in coastal North Carolina, where she takes care of her aging mother and, whenever possible, enjoys her two grown children and two grandchildren. She is the author of six novels.
Sailing Out of the Darkness
Love conquers all? Maybe for some people.
When Samantha flies to Italy to gain distance from a disastrous affair with her childhood best friend, the last thing on her mind is romance. But Teo Anderson is nothing like her philandering ex-husband or her sailing buddy, Jack, who, despite his live-in girlfriend, caught her off guard with his flashing black eyes.
Teo has his own scars, both physical and emotional, that he represses by writing mysteries—until one strange and compelling vision comes to life in the person of Sam. Seeking answers, he offers friendship to this obviously hurting woman, a friendship that threatens to upend his fragile peace of mind.
Journey with Sam over the cobalt waters of the Mediterranean. Sip and sup with Sam and Teo in Italian cafes. What happens next will keep you turning the pages as consequences escalate, and the fallout threatens them all.
Normandie's links:
Website: www.normandiefischer.com
Twitter: https://twitter.com/WritingOnBoard
Facebook: https://www.facebook.com/NormandieFischer/
Amazon Author Page: https://www.amazon.com/Normandie-Fischer/e/B00BSIF2NI/
Sailing out of Darkness links:
https://www.amazon.com/Sailing-out-Darkness-Carolina-Coast/dp/0997185538/
https://www.audible.com/pd/Romance/Sailing-out-of-Darkness-Audiobook/B076KZQ1H2
Tags: author, Grateful for the Pain by Normandie Fischer, guest blogger, Julie Arduini, November, pain, rejection, Sailing out of the Darkness, thankful
About Me:

Wife. Mom. Author. Reader. Blogger. Amateur nature photographer. Chocolate eater. Encouraging you to surrender the good, the bad, and---maybe one day---the chocolate.

Find me across social media @JulieArduini, and follow me on my Amazon Author Page.

Where Else You Can Find Me

Step Into the Light Blog Talk Radio Show


Contributor: Jasmine's Place

Contributor: Patient Worthy

iRun4
Rare Mom

Every Other Wednesday: Christians Read

Surrendering Time Series & Recent Releases

Join the Fun

My Instagram

iBloom Resources

Member

Archives