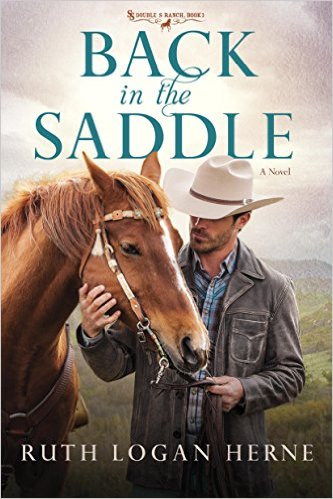 The Prodigal Is Coming Home

It's been a long time since Colt Stafford shrugged off his cowboy legacy for shiny Manhattan loafers and a promising career on Wall Street. But when stock market manipulations leave him financially strapped, the oldest son of legendary rancher Sam Stafford decides to return to the sprawling Double S ranch in Gray's Glen, Washington. He's broke, but not broken, and it's time to check in with his ailing father, and get his legs back under him by climbing into the saddle again.
 
He doesn't expect to come home to a stranger pointing a loaded gun at his chest— a tough yet beautiful woman that Sam hired as the house manager. Colt senses there's more to Angelina Morales than meets the eye and he's determined to find out what she's hiding…and why.
 
Colt's return brings new challenges. Younger brother Nick has been Sam's right-hand man at the ranch for years and isn't thrilled at having Colt insert himself into Double S affairs. And the ranch's contentious relationship with the citizens of Gray's Glen asks all the Stafford men to examine their hearts about what it truly means to be a neighbor.  And as Wall Street recovers, will Colt succumb to the call of the financial district's wealth and power—or finally the courage to stay in the saddle for good?
Ah, I'm a sucker for a cowboy romance and BACK IN THE SADDLE doesn't disappoint. Colt comes back to the Double S ranch after a time away on Wall Street. He didn't leave under the best of terms with his dad, and his dad isn't the same. There's talk about God, his dad isn't feeling great, and there's Angelina.
Angelina is the glue that keeps the ranch house running and the Stafford men in line. She has secrets of her own and is torn between where she used to be, and where she is now.
I loved that the author made all the characters strong, not just Colt and Angelina. I loved getting to know Sam, Nick, and the others. There's a lot of hurt to explore, and I think BACK IN THE SADDLE does it justice. The chemistry between Colt and Angelina is on target, too. It didn't take me long to read the book, I really enjoyed diving into the romance and the mystery between the characters.
Even if cowboy romances aren't your thing, I still challenge you to give BACK IN THE SADDLE a try. I really enjoyed it, and I think you will, too.
To purchase BACK IN THE SADDLE, click here.
I received BACK IN THE SADDLE from the publisher in exchange for an honest review.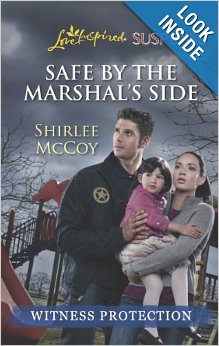 HER LIFE IS ON THE LINE 

For a year, U.S. marshal Hunter Davis has protected witness Annie Delacorte and her toddler daughter. But now, someone is determined to stop Annie from testifying against the men who killed her husband. To guard Annie, by-the-book Hunter will have to break a promise to himself: to not get emotionally involved. After all, he already cares more deeply than he ever imagined for the sweet family of two…a family he'll do anything to keep safe and sound by his side. 

Shirlee McCoy is on my list of romantic suspense authors to keep an eye on for new releases. Safe by the Marshal's Side is a promise Hunter Davis makes, but it is near impossible to keep. The people who most likely murdered Annie's husband are after her, and they are relentless. Their tactics kept me turning the pages. Great suspense.

What I loved about Safe by the Marshal's Side is it isn't typical suspense, and it would be tempting. Law enforcement and the woman he protects. You'd think it could write itself. But Shirlee McCoy casts doubt on characters that I couldn't figure out. Kept the suspense going. Yet, threw just enough romance to make me root for the characters even though I knew that was going to create problems for the task at hand.

Safe by the Marshal's Side was a fast read, and a great one. I definitely recommend.

To purchase Safe by the Marshal's Side, click here.

I received a copy of this from the publisher and NetGalley in exchange for an honest review.