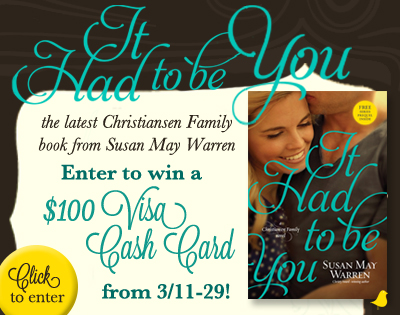 Susan May Warren is celebrating the release of her newest Christiansen Family novel, It Had To Be You, with a $100 Visa cash card giveaway and offering readers a free book club kit.
One winner will receive:
$100 Visa cash card
Take a Chance on Me and It Had to Be You by Susan May Warren
Enter today by clicking one of the icons below. But hurry, the giveaway ends on March 29th. Winner will be announced April 1st on Susan's blog. Also, visit her website to learn more about the It Had To Be You backstory and Susan's free book club kit.
Don't miss a moment of the fun; enter today and be sure to stop by Susan's blog on April 1st to see if you won.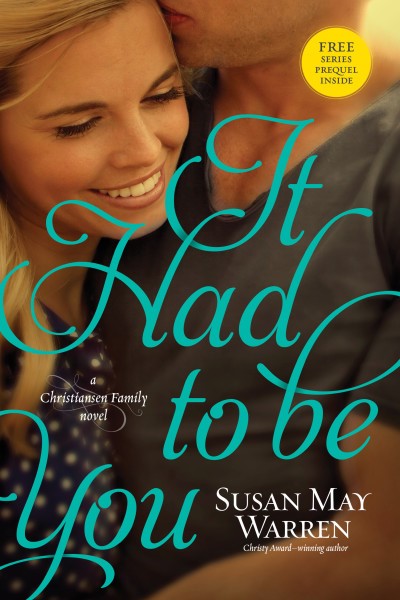 Book Description:
Eden Christiansen never imagined her role as her younger brother Owen's cheerleader would keep her on the sidelines of her own life. Sure, it feels good to be needed, but looking after the reckless NHL rookie leaves little time for Eden to focus on her own career. She dreamed of making a name for herself as a reporter, but is stuck writing obits—and starting to fear she doesn't have the chops to land a major story. If only someone would step up to mentor Owen . . . but she knows better than to expect help from team veteran and bad-boy enforcer Jace Jacobsen.
Jace has built his career on the infamous reputation of his aggressive behavior—on and off the ice. Now at a crossroads about his future in hockey, that reputation has him trapped. And the guilt-trip he's getting from Eden Christiansen isn't making things any easier. But when Owen's carelessness leads to a career-threatening injury and Eden stumbles upon a story that could be her big break, she and Jace are thrown together . . . and begin to wonder if they belong on the same team after all.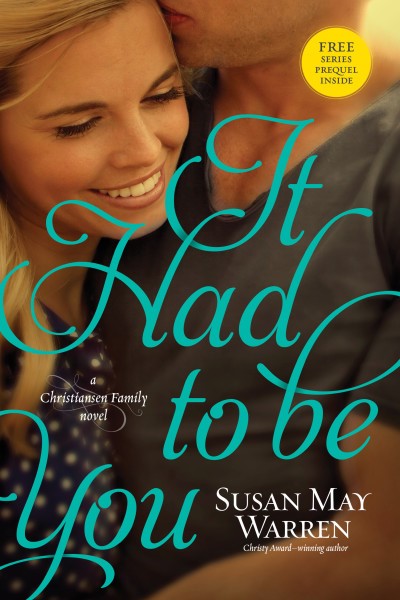 It Had to Be You is Book #2 in the Christiansen series, but I believe it could be a standalone. However, I also believe you're going to fall in love with the Christiansen family and want to read the series.
This book is about Eden Christiansen, who longs to be a serious reporter but spends most of her time chasing her hotshot hockey playing brother around. He's reckless on and off the ice and she's doing everything she can to keep him from harm.
Jace is a NHL player at a crossroads and Eden thinks he needs to be involved in Owen's life. No one is really happy about any of their roles, but as Owen finds himself in a crisis, she and Jace find themselves together, like it or not.
I enjoyed It Had to be You because Susan May Warren is a master at creating heartfelt Midwest characters. In this particular book she uses hockey as a backdrop, something I haven't seen before. I found this realistic given the dangers of the sport and really enjoyed reading about it and how the characters interact because of hockey.
I also enjoy stories that take you through consequences without beating you over the head about it. It's great romance, and I think redemption, too.
I recommend you check out It Had to be You.
I received It had to be You from the publisher in exchange for an honest review.