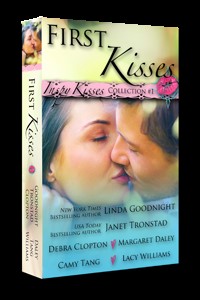 Book Description:
A new anthology from some of your favorite inspirational authors–no reprints here!

Enjoy this collection of love stories with a theme of FIRST KISSES. The First Kisses collection includes:

From New York Times and USA TODAY Bestselling Author Linda Goodnight comes a new historical romance The Rambler's Bride
In 1870's Kansas, Widow Esther North will do most anything to save her land from her powerful cousin and the coming railroad-even kiss a stranger! The kissing cowboy, Jericho North is bent on revenge from his brother's widow, and the will hidden in his pocket is all he needs to make it happen. But he hadn't reckoned on a baby…and neither he nor Esther had reckoned on love.

From USA TODAY and Publisher's Weekly Bestselling Author Janet Tronstad comes a new retro romance Lovebirds at the Heartbreak Cafe
Janet pens a brand-new Retro Café Sweet Romance starring a 1950's truck driver (Buddy) and a waitress (Penny) who both have enough trouble without everyone in Webster's Crossing thinking they are falling in love.

From #1 Amazon Bestselling author Debra Clopton comes a new contemporary romance Her Mule Hollow Cowboy
Rescuing a beautiful cowgirl from being trampled has professional bull rider, Cliff Masterson, dreaming of romance, home, hearth and that first kiss…but Maddie Rose has had enough people in her life leave and she's not willing to risk her heart on a rambling cowboy—Sparks fly when these two are near. Can the Matchmakin' Posse of Mule Hollow help this couple find their happily ever after?

From #1 Amazon Bestselling Author Margaret Daley comes a new romance suspense Deadly Hunt
All bodyguard Tess Miller wants is a vacation. But when a wounded stranger stumbles into her isolated cabin in the Arizona mountains, Tess becomes his lifeline. When Shane Burkhart opens his eyes, all he can focus on is his guardian angel leaning over him. And in the days to come he will need a guardian angel while being hunted by someone who wants him dead.

From fan favorite Camy Tang comes a new romantic suspense Necessary Proof
Alex Villa became a Christian in prison, and because of his efforts to help stop a gang producing meth in Sonoma, he has been set up for the death of a cop. Can computer expert Jane Lawton find the evidence that will prove his innocence before the gang eliminates them both?

From fan favorite Lacy Williams comes a new contemporary romance Kissed by a Cowboy
Former shy-girl Haley Carston is back in Redbud Trails, Oklahoma, to care for her dying aunt. She didn't count on cowboy Maddox Michaels, her high school crush and the man who might just bring her dreams of marriage and family back to life…
I love the concept of this anthology series, all around those first kisses. What made this extra enjoyable beyond the dynamic pool of author talent was it crossed different genres. There was humor. Westerns. Suspense. And through it all, romance. First Kisses were fast reads that still had full stories complete with multi-dimensional characters. I couldn't pick a favorite, I truly enjoyed them all.
Whether you're familiar with these Inspirational romance or not, I think you're going to enjoy reading all about First Kisses.
To purchase First Kisses, click here.
I received a copy of this book from the authors in exchange for an honest review.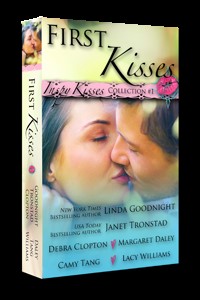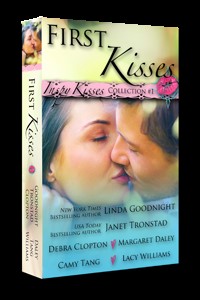 For a limited time only – Six unforgettable love stories 
Julie's Note: Stay tuned for my review of First Kisses. You can read it tomorrow.
99 cents! 
Buy now at Amazon – Barnes & Noble – Kobo – iBooks – Google Play
A brand new anthology from six of your favorite inspirational romance authors – no reprints here!

About the novellas:
From New York Times bestselling author Linda Goodnight, historical romance The Rambler's Bride: The kissing cowboy Jericho is bent on revenge, but discovers the truth and falls in love with widow Esther.
From USA Today bestselling author Janet Tronstad, retro romance Lovebirds at the Heartbreak Cafe: Truck driver Buddy wasn't looking for love, but waitress Penny and her quirky family take over the cafe and his heart.
From bestselling author Debra Clopton, contemporary cowboy romance Her Mule Hollow Cowboy: Independent cowgirl Maddie swears she doesn't need help from bull rider Cliff. But the Mule Hollow Matchmakers seem to have other plans…
From bestselling author Margaret Daley, romantic suspense Deadly Hunt: Bodyguard Tess rescues wounded businessman Shane from dying in the wilderness, but can she protect her heart when Shane gets too close?
From fan favorite Camy Tang, romantic suspense Necessary Proof: Reformed ex-con Alex is on the run from those who have set him up to take the blame for a cop-killing. Will tech-expert Jane be able to prove him innocent?
From fan favorite Lacy Williams, contemporary cowboy romance Kissed by a Cowboy: Maddox has given up all his big dreams to care for his niece. When Haley returns to her hometown, will Maddox find a new dream with her?
Special promo – March 17-19 – #SENDAKISS
If you purchase First Kisses during our promo dates and send a special tweet, we'll gift a copy to a friend, absolutely free! Find out more at bit.ly/sendakiss .
What readers are saying:
 Six amazing books from six different authors. They are all Christian fiction set from the 1800's to present time. Each is a stand alone book with great settings, story lines and characters. All the books had family and faith. Some of the authors were known to me and some I was unfamiliar with. I really enjoyed each book. I can not wait to check out books from these new authors. – Amazon reader


 I didn't know what to expect – I am not a fan of anthologies. Usually I find that the stories are too brief and the plots move too fast and don't go into any detail and don't make a lot of sense. Well, let me tell you that this anthology is not like this, not at all. It is wonderful! I enjoyed each of the novellas immensely. Each one has well developed, thought out characters and detailed plots that move at exactly the right pace. You have suspense, romance – everything in each of the novels. I enjoyed reading each of the novellas and couldn't put the book down. Even though I have about 15 other books waiting to be read – I plan on reading this book all over again in the next week or so – it is just that good. – Amazon reader

A visual look at the collection:
https://www.youtube.com/watch?v=GMoqdn-x03Y
Interact with the authors:
Buy now at Amazon – Barnes & Noble – Kobo – iBooks – Google Play