Author Spotlight: Liz Tolsma
1.       How did you get your start as an author?
I always loved writing and wanted to be an author since my 5thgrade teacher encouraged me that way. But practicality won out, and I became an elementary school teacher instead. After 9/11, I realized that my life could end any moment. I didn't want to get to the end of it and have regrets about not trying to write. It took nine years after that, but my dream came true!
2.       What is the title of your book and what is it about?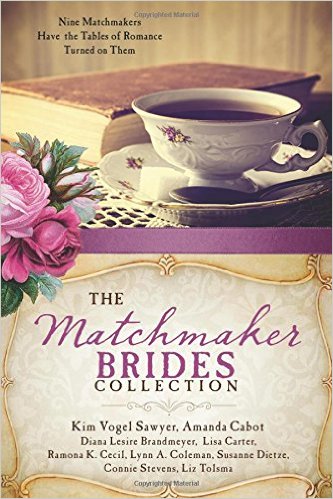 My story is title A Match Made in Heaven in the novella collection Matchmaker Brides. Len Montgomery is a young Iowa pastor who receives a letter from a widowed farmer asking if there are any young women in the congregation who would be interested in marrying him. The town's newspaperman gets a hold of the letter, publishes it, and it gets picked up by several big city papers. Letters requesting matches pour in. But the match he most wants to make, the one with the town's sweet, charming, and Shakespeare-quoting postmistress, may be out of his reach.
3.       What was your favorite part about writing this book? Hardest part?
I loved the break from my usual WWII stories to write something lighter. It was fun to give my characters permission to laugh. I loved looking up Shakespeare quotes for my heroine and baffling the hero as to what she was saying. The hardest part was keeping tension in the story. WWII is naturally filled with suspense. I learned a lot about using tension even in a light-hearted story.
4.       What are you hoping readers will take away from your story?
I hope they have fun with the story while remembering that God is a God who forgives and heals.
5. Is there another vocation you have besides writing?
Yes, I'm also a freelance fiction editor and I run a writer's retreat and an online writer's academy. It keeps my fingers in writing and publishing, but supplements my income. I love helping new writers learn how to write better and get published.
 6. What is something readers would be surprised to learn about you?
I talk to myself. All. The. Time. It helps to keep me focused, so especially if I have a hard or busy day, I find myself talking out loud with no one but the dog and cat to hear me.
 7. If you were having a chocolate craving, what would you want to satisfy it?
Um, chocolate LOL! Seriously, good European-style chocolate. Lindt, Ghirardelli, something along those lines. Sometimes dark, sometimes milk, depending on my mood.

8. Tell us about your family.
I've been married to my high school sweetheart for 28 years. We have three children. Brian is about to turn 22. We adopted him from Vietnam when he was 5 months old. He's currently serving as a U.S. Marine in North Carolina. Alyssa is 17 and came home from Korea at 3 months old. She's a junior in high school, as well as a lifeguard and class president. We never see her! She hopes to major in International Studies with an emphasis in Arabic and counterterrorism. Our youngest, Jonalyn, is 14. We adopted her from the Philippines when she was 5. She has a host of cognitive and physical disabilities, as well as a sunny disposition and a fondness for Olaf from Frozen.
9. What has been your biggest achievement as an author?
My first full-length novel, Snow on the Tulips, was a Carol Award finalist and a Selah Award finalist in 2013.
10.How can readers find this book? How can they connect with you?
Buy links:
Amazon
Barnes and Noble
Christianbook.com
Facebook: https://www.facebook.com/liz.tolsma.9
Twitter: https://twitter.com/LizTolsma
LinkedIn: https://www.linkedin.com/in/liz-tolsma-64992ab7?trk=hp-identity-name
Pinterest: https://www.pinterest.com/liztolsma/
Instagram: https://www.instagram.com/authorliztolsma/
Blurb: Pastor Len Montgomery receives an unusual letter from an Omaha farmer that turns him into the matchmaker he never wanted to be. But the match he most wants to make, the one with the town's sweet, charming, and Shakespeare-quoting postmistress, may be out of his reach.
Liz Tolsma is the author of several WWII novels and prairie romance novellas. She is a popular speaker and an editor and resides next to a Wisconsin farm field with her husband and their two daughters. She enjoys reading, walking, working in her large perennial garden, kayaking, and camping. Please visit her blog, The Story behind the Story, at www.liztolsma.com and follow her on Facebook, Twitter(@LizTolsma), and LinkedIn. She is also a regular contributor to the Pencildancer blog and the Midwest Almanac blog.
Tags: author, Author Spotlight: Liz Tolsma, Interview, Julie Arduini, Match Made in Heaven, The Matchmaker Brides Collection
About Me:

Wife. Mom. Author. Reader. Blogger. Amateur nature photographer. Chocolate eater. Encouraging you to surrender the good, the bad, and---maybe one day---the chocolate.

Find me across social media @JulieArduini, and follow me on my Amazon Author Page.

Where Else You Can Find Me

Step Into the Light Blog Talk Radio Show


Contributor: Jasmine's Place

Contributor: Patient Worthy

iRun4
Rare Mom

Every Other Wednesday: Christians Read

Surrendering Time Series & Recent Releases

Join the Fun

My Instagram

Member

Archives