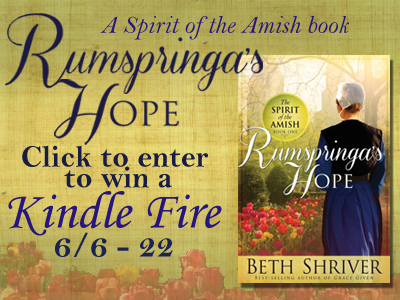 Don't miss the first book, Rumspringa's Hope, in Beth Shriver's new Spirit of the Amish series.
Beth is celebrating the series launch with a Kindle Fire Giveaway!
One winner will receive:
A Kindle Fire
Rumspringa's Hope by Beth Shriver
Enter today, but hurry! The giveaway ends on June 22nd. Winner will be announced June 23rd on Beth's blog.
Don't miss a moment of the fun; enter today and be sure to stop by Beth's blog on June 23rd to see if you won.
Tags: Amish author, Amish Fiction, author, Beth Shriver, books, Julie Arduini, Kindle Fire, Rumspringa's Hope
If you enjoy Amish fiction and contemporary romance, Laura Hilton is an award winning author with a long future in the business. She's adept in both genres, and I think you're going to enjoy her work. Laura shares the inspiration behind her latest release, Surrendered Love, and a lot more with this great interview.
Is there one particular message or "moral of the story" you hope readers walk away with?
I try leave the message they walk away with up to God and the reader. But the message that I walked away with made me cry. I'm accepted in the beloved.
 Both of your lead characters have "baggage" that keeps them from wanting to pursue a new relationship. Do you think sometimes we let our past get in the way of what God has planned for our futures?
Yes, definitely. I know sometimes I think I'm not good enough due to some things I've done. And Troy especially struggled with acceptance after his mistakes in Surrendered Love.
Do you think there's any reason in particular some people have one reaction versus the other when something bad happens in their life?
Well, I'm not really a psychologist, so I can't answer this professionally, but I think it depends on the person, maybe on where they are in life, and where they are with God.  When I had breast cancer and had to go through treatments I had a three year old. I was homeschooling. I told the doctor I didn't have time for cancer and I did a lot of praying. At the end – the doctor told me I was on the harshest treatment out there and he had never in his entire career seen anyone sail through treatment the way I did.  I told him it was all God.
Has there been a time in your own life where you could really sense God was putting you in a situation for a reason?
Yes.  Several. One that comes to mind was when I was pregnant with one of my daughters. My mom came up to help out and she had a severe stroke when she was there. Three days before my daughter was born. I was there to help Mom and get her medical attention – and if she'd been home, who knows how long she would've laid there before someone noticed. She might not have even lived.
Surrendered Love is set in Seymour, Missouri.  What's so special about Seymour? 
Nothing. Small town, about an hour outside of Springfield.  But it has a very large Amish community there.
What's on the horizon for you?  What will you be writing next?
I am currently working on a book for Abingdon Press' Quilts of Love series. It is not Amish, but is contemporary, and is set in West Virginia.  I hope to have another Amish series contracted soon. I am anxious to write another Amish story.
Where can readers find you online?
Twitter:  Laura_V_Hilton
Facebook: Author Laura V. Hilton
And my blog http://laurav.hilton.blogspot.com
Surrendered Love
Janna Kauffman loves grocery shopping for the homebound in her Amish community. When Janna's sister washes her hands of her rebellious daughter, Meghan, and sends her to live with her Amish relatives, Janna is spending less time shopping and more time explaining Meghan's actions to police officer Hiram "Troy" Troyer. Formerly Amish Troy becomes a regular part of Janna and Meghan's lives as Meghan continues to act out due to her Englisch mother's rejection. Could God tame a headstrong teenager and help Janna and Troy find love in the midst of it all?
About Laura Hilton:
Award winning author, Laura Hilton, her husband, Steve, and their five children make their home in Horseshoe Bend, Arkansas. She is a pastor's wife, a stay-at-home mom and home-schoolsthree of her children. Her two oldest children are homeschool graduates and are in college. Laura is also a breast cancer survivor.
Purchase the book: here 
Tags: Amish author, contemporary romance, faith, Julie Arduini, Laura V. Hilton, surrender, Surrendered Love, writing
About Me:

Wife. Mom. Author. Reader. Blogger. Amateur nature photographer. Chocolate eater. Encouraging you to surrender the good, the bad, and---maybe one day---the chocolate.

Find me across social media @JulieArduini, and follow me on my Amazon Author Page.

Where Else You Can Find Me

Step Into the Light Blog Talk Radio Show


Contributor: Jasmine's Place

Contributor: Patient Worthy

iRun4
Rare Mom

Every Other Wednesday: Christians Read

Surrendering Time Series & Recent Releases

Join the Fun

My Instagram

iBloom Resources

Member

Archives