May 2017 New Releases
More in-depth descriptions of these books can be found on the ACFW Fiction Finder website.
Contemporary Romance:
Amish Brides by Jennifer Beckstrand, Molly Jebber, Amy Lillard — Under bright blue skies, wedding bells ring–fulfilling sweet dreams, impossible wishes, and joyous new beginnings among these three new stories. (Contemporary Romance from Kensington Publishers)

Sprouts of Love by Valerie Comer — An overzealous community garden manager delivers more than the food bank manager can handle. Can love sprout amid the tsunami of vegetables? (Contemporary Romance, Independently Published)
Summer Dreams by Delia Latham — God's love…reflected in the waters of the Pacific, and in the eyes of a young couple who walk its moonstone shores. (Contemporary Romance from White Rose Publishing [Pelican])

Right Where We Belong by Deborah Raney, Melissa Tagg, Courtney Walsh — Three sweet stories of small-town romance by three tried-and-true authors. Whether in a quaint home bakery in Langhorne, Missouri, a cozy boho coffee shop in Maple Valley, Iowa, or a charming lakeside cottage in Sweethaven, Michigan, love grows best in small towns just like this! (Contemporary Romance, Independently Published)
A Spring of Weddings by Toni Shiloh and Melissa Wardwell — Two Spring wedding novellas, "A Proxy Wedding," and "Hope Beyond Savannah." (Contemporary Romance from Celebrate Lit Publishing)

True to You by Becky Wade — Former Navy SEAL John Lawson hires genealogist Nora Bradford to help him to uncover the identity of his birth mother. As they work side-by-side, this pair of opposites begins to suspect that they just might be a perfect match. (Contemporary Romance from Bethany House [Baker] Publishing)
Cozy Mystery:
What the Bishop Saw by Vannetta Chapman — A fire blazes out of control in the San Luis Valley of Colorado, leaving an elderly, Amish bachelor dead. Bishop Henry Lapp rushes to the scene, and he learns the fire was no accident. When the police point the finger at a suspect Henry knows is innocent, the bishop must decide whether or not to use his mysterious, God-given gift—one he's tried desperately to ignore all these years—to try and set the record straight. (Contemporary Romance from Harvest House Publishers)
General Contemporary:
A Season to Dance
by
Patricia Beal
— The heart wrenching love story of a small town professional ballerina who dreams of dancing at the Met in New York, of the two men who love her and of the forbidden kiss that changed everything. (General Contemporary from Lighthouse Publishing of the Carolinas)
Looking Glass Lies by Varina Denman — A poignant and relatable novel, Looking Glass Lies captures the war women wage against themselves, and the struggle to see beauty reflected in a mirror not distorted by society's unrelenting expectations. (General Contemporary from Waterfall Press)
Historical:

Blind Ambition by Carol Ashby — What began as a bored man's decision to try a different road turns into an emotional and spiritual quest that changes the direction of his entire life. (Historical from Cerrillo Press)
Wings of the Wind by Connilyn Cossette — A broken and bitter Canaanite woman dresses as a man to fight against the invading Hebrews, never expecting that she would live to be captured and married to one of her enemies, and certainly not to find love and healing among the very people who killed her family. (Biblical/Historical from Bethany House [Baker] Publishing)
Historical Romance:

The Secret Admirer Romance Collection by Amanda Barratt, Lorraine Beatty, Molly Noble Bull, Anita Mae Draper, CJ Dunham, Jennifer Uhlarik, Becca Whitham, Kathleen Y'Barbo, Penny Zeller — Shy expressions of love lead to nine historical romances. Declaring one's love can be hard–even risky–especially when faced with some of life's greatest challenges. (Historical Romance from Barbour Publishing)
The Noble Servant by Melanie Dickerson — She lost everything to an evil conspiracy . . . but that loss may just give her all she ever wanted. (Historical Romance from HarperCollins Christian Publishing)

My Heart Belongs in Ruby City, Idaho: Rebecca's Plight by Susanne Dietze — It's a mail-order disorder when newlyweds realize they've married the wrong partners with similar names. An annulment seems in order–and fast. But when the legalities take longer than expected, Rebecca Rice wonders if Tad Fordham wasn't the right husband for her all along. . . . (Historical Romance from Barbour Publishing)
A Love So True by Melissa Jagears — They begin with the best of intentions, but soon the complications pile up and Evelyn and David's dreams look more unattainable every day. When the revelation of a long-held secret creates a seemingly insurmountable rift between them, can they trust God still has a good plan for them despite all that is stacked against them? (Historical Romance from Bethany House [Baker] Publishing)

Road to Harmony by Sherry Kyle — When Jonas returns to Harmony, Elena's heart is torn between her secret love, and the storeowner her parents hope she marries. (Historical Romance, Independently Published)
Hills of Nevermore by Janalyn Voigt — Can a young widow hide her secret shame from the Irish preacher bent on helping her survive? (Historical Romance from Mountain Brook Ink)
Romantic Suspense: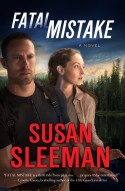 Fatal Mistake
by
Susan Sleeman
— Each day could be her last…but not if he can help it. An FBI agent must protect the woman who can identify a terrorist bomber in bestselling author Susan Sleeman's riveting romantic suspense novel. (Romantic Suspense from Faith Words [Hachette])
Completing his three years in the Continental Army, Daniel Reid still has no desire to return home-not after losing the woman he loves to a British Captain-so he volunteers to ride south through enemy lines and deliver a message to Colonel Francis Marion, the Swamp Fox. With his temper needing a release and a dark haired beauty finding her way into his broken heart, Daniel decides to join the Swamp Fox's efforts against the British. Little does he know the British still have the upper hand.
Lydia Reynolds has learned that love comes at a price, and she refuses to pay. Better to close her heart to everything and everyone. When her brother-in-law won't grant her passage to England, where she hopes to hide from her pain, New Englander, Daniel Reid, becomes her only hope-if she can induce him to give her information about the notorious Swamp Fox and his troops. When the British grow impatient and Daniel evades her questions, Lydia must decide how far to take her charade. The poor man, already gutted by love, hasn't grown as wise as she. Or so she supposes. . .
Until the truth is known, the muskets are loaded. . .and it is time to decide where true loyalties lie.
Bio:
To keep from freezing in the Great White North, Angela K Couch cuddles under quilts with her laptop. Winning short story contests, being a semi-finalist in ACFW's Genesis Contest, and a finalist in the International Digital Awards also helped warm her up. As a passionate believer in Christ, her faith permeates the stories she tells. Her martial arts training, experience with horses, and appreciation for good romance sneak in there, as well. When not writing, she stays fit (and warm) by chasing after three munchkins.
Buy links: