Autumn leaves are falling from the
trees, and we've raked in some great books for this month's Clash of the
Titles!
Vote for your Fave!
Scroll through these releases and cast your vote for your fave.
It's a tough choice, but it's up to you to determine our Clash
Champion!
Love's Faithful Promise
by
Susan Anne Mason
Widower Dr. Matthew Clayborne is devoted to two things: his work with
wounded soldiers and his four-year-old daughter, Phoebe. When Deirdre
O'Leary, a feisty New Yorker, arrives requesting he use his skills to
help her stricken mother, he has no idea how his life is about to
change.
~~~~~~

Feta and Freeways by Susan M.
Baganz

Nikolos Action is the lead singer of the band and doesn't
realize love is right in front of him until their manager, Tia, is
almost killed trying to save his life. After years of ignoring her is it
too late to earn her trust…and her love?
Dangerous Alternative
by Kelli
Hughett
Hollywood grip, Levi Boulter unknowingly puts himself in
the crosshairs of a murder plot. Now, he'll do anything to keep the
woman he loves safe, even if it means losing her forever.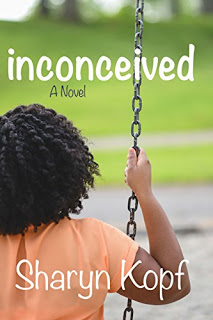 Inconceived by Sharyn Kopf
Realizing you're a spinster is one thing; understanding what that means
and how to handle it is another. And, it would seem, Jolene, Uli and
Catie still have a ways to go before they truly comprehend what God is
trying to show them not only in their desire to marry but in their
longing to have children of their own.
Child of Dust by Shoba Sadler
After the sudden death of her parents, Vietnamese
socialite Cao Kim Lye steps out of a world of crystal and chandelier to
enter the dust and chaos of working-class Hanoi when she goes to live
with her Amerasian chauffeur and his adoptive family at a shop cum
living quarters.
If you
have trouble viewing the entire survey, CLICK HERE to load a dedicated page to the survey.
—
Tags: authors, books, Child of Dust, Clash of the Titles, Dangerous Alternative, Feta and Freeways, fiction, inconceived, Julie Arduini, Kelli Hughett, love, loves faithful promise, reading, Sharyn Knop, Shoba Sadler, Susan Anne Mason, Susan M. Baganz
Let's hear it for this week's clash winner, A WORTHY HEART! Way to go,
Susan!
Here's what her readers are saying:
A Worthy Heart by Susan Anne Mason is on the already at the top of my
TBR!!
Love love love Susan Mason books! Can't wait for the next one!
Susan Anne Mason's historical fiction has well developed stories and
fascinating characters. I hate it when they end!
On top of the beautiful stories in Susan Anne Mason's Courage to Dream
series, they are also some of the most intriguing and gorgeous book covers.
I'm very excited to read the second book in this series.
As her readers know, there's so much more to this book than an intriguing
blurb and a beautiful picture on the front. Let's peek behind the cover and
learn a little more about it.
Susan, what was your inspiration for this book?
I guess the loose inspiration was the biblical story of the prodigal son.
Adam personifies the prodigal son who betrays his father with a life of sin
and returns home with nothing, willing to work at the lowest job in the
stables. Yet unlike the prodigal son in the Bible, Adam is not met with joy
from his father, but rather anger and distrust — which puts a whole new
spin on the story. And, of course, adds great conflict!
Talk about the theme. What can readers hope to learn from reading this
novel?
I believe the theme is worthiness. Adam struggles with feelings of
unworthiness because of his past mistakes. During his prison stay, the
prison chaplain rekindles Adam's faith and allows him to believe he is a
worthy child of God. Even so, Adam's main goal upon his release from prison
is to prove his worthiness to his mother and father in order to earn back
their respect. Once he meets Maggie, however, he longs to be worthy of her
heart, a goal that seems impossible given all the obstacles in their
way.
Interested? Here's the full description:
The answer to Maggie Montgomery's dream of seeing America has arrived at
just the right time. Not only will she be reunited with her beloved brother
Rylan, but she'll finally be able to escape Neill Fitzgerald and his
increasingly unwanted attentions. She's intent on never returning to
Ireland, hoping to build her future in the land of opportunity and perhaps
find the love of her life.
While visiting Irish Meadows, she meets an intriguing man she thinks is a
stable hand. Only when her brother demands she stay away from Adam O'Leary
does she learn he's Rylan's brother-in-law, recently released from prison.
Nonetheless, Maggie can't seem to make her stubborn heart conform to her
brother's request.
Adam O'Leary has never felt worthy of his place in the family. Now a free
man, Adam's only desire is to earn back his family's trust. Falling in love
with the newly arrived Maggie, however, was never in his plans. Despite
everyone's efforts to keep them apart, the two develop a bond it seems
nothing can break–but they soon discover the past isn't easy to
overcome.
ABOUT SUSAN:
Susan Anne Mason describes her writing style as "romance sprinkled with
faith." She loves incorporating inspirational messages of God's
unconditional love and forgiveness into her characters' journeys. A Worthy
Heart is her second historical novel in the Courage to Dream series. Irish
Meadows won the Fiction from the Heartland contest sponsored by the
Mid-American Romance Authors chapter of RWA.
Susan lives outside Toronto, Ontario, with her husband, two children, and
two cats. She loves red wine and chocolate, is not partial to snow even
though she's Canadian, and is ecstatic on the rare occasions she has the
house to herself. In addition to writing, Susan likes to research her
family history on-line, and occasionally indulges in scrapbooking. Learn
more about Susan and her books at

www.susanannemason.com
.
People can contact me through my website:
http://www.susanannemason.com/
Or my author page on Facebook:

https://www.facebook.com/susan.anne.mason.333/
Tags: A Worthy Heart, authors, Clash of the Titles, COTT: A Worthy Heart by Susan Anne Mason Wins Clash, fiction, Julie Arduini, Susan Anne Mason
With four great contenders and a week of voting, we welcome you to the February clash!! Step up and browse the covers, voting for the one you'd love to add to your reading pile. Scroll to the bottom for voting, and support your favorite title! Be sure to leave words of encouragement for your author, including his or her name!
**For those viewing on smart phones and devices that don't display the
survey monkey below, follow this link to cast your vote: January Release
Survey **
Happy voting!!!
Finding Love in Sun Valley Idaho
by Angela Ruth Strong
Emily Van Arsdale returns to her home state of Idaho to film her latest
movie, but will finding love with rafting consultant Tracen Lake be enough
to make her stay?
Salsa and Speed Bumps
by Susan M. Baganz
Sometimes God allows speed bumps on the road to redemption.
Find
it here
A Worthy Heart
by Susan Anne Mason
Adam O'Leary, newly released from prison, wishes to make amends to his
family and start a new life, only a certain Irish lass gets in the way!
Just Kin
by Caryl McAdoo
Torn apart by war, rejection, and a letter with news she never wanted,
Lacey Rose takes her shredded heart and runs. Charley figures something
isn't right, but is duty-bound to the Confederacy until a deathbed order
sets in motion a series of events that test his love, honor, and commitment
to the breaking point.
The Healer's Rune
by Lauricia Matuska
To save Humanity from extinction, Sabine Rhyonselle must overcome centuries
of lies and prejudice to forge an alliance between warring races and learn
how to manage a dangerous secret that could get her killed.Find
it here
Tags: A Worthy Heart, Angela Ruth Strong, authors, Caryl McAdoo, Clash of the Titles, COTT, COTT: Vote for Your Favorite Read, favorite, fiction, Finding Love in Sun Valley Idaho, Julie Arduini, Just Kin, Lauricia Matuska, romance, Salsa and Speed Bumps, Susan Anne Mason, Susan M. Baganz, The Healer's Rune
About Me:

Wife. Mom. Author. Reader. Blogger. Amateur nature photographer. Chocolate eater. Encouraging you to surrender the good, the bad, and---maybe one day---the chocolate.

Find me across social media @JulieArduini, and follow me on my Amazon Author Page.

Where Else You Can Find Me

Step Into the Light Blog Talk Radio Show


Contributor: Jasmine's Place

Contributor: Patient Worthy

iRun4
Rare Mom

Every Other Wednesday: Christians Read

Surrendering Time Series & Recent Releases

Join the Fun

My Instagram

iBloom Resources

Member

Archives