Book Description:

In the Amish town of Sugarcreek, love comes in many forms. But will it come at all for Miriam?

Miriam Zehr has worked at the Sugarcreek Inn longer than she cares to admit. The restaurant is a favorite of town residents as well as the many tourists who come to taste the famous Amish fare. Though she always tries to have a smile for every customer, deep down Miriam knows something's missing: a family of her own.

Miriam has never felt particularly beautiful, especially because she's always been a bit heavier than other girls her age. When Junior, the man she's pined for all her life, suddenly seeks her out, she's thrilled to be noticed . . . until she realizes he's only asking her to help get the attention of Mary Kathryn Hershberger, her pretty friend.

If Miriam helps Junior court Mary Kathryn, she'll get to spend a lot of time with him, but she might lose him in the process. Are these few stolen moments worth a lifetime of sacrifice? Is Miriam right to even hope for the life she dreams of?

I personally know the ache of getting attention from a boy so they can get to know your friend. Shelley did a great job making Miriam a heroine we can relate to. Miriam isn't a natural beauty. She's had her eyes on Junior forever and his attention has her family all excited. Thing is, Junior wants to get to know her friend Mary Kathryn, not Miriam.

This is a sweet story where true friendship and love are explored against the backdrop of Sugarcreek, Ohio. I wanted a bit more of Sugarcreek, but that's me being selfish because I don't live too far from the area and I love reading about it.

Mary Kathryn has her own story as well, and the ending is full of suspense.

Overall,reading about Miriam's heart and how excited her parents are for her and Junior's affections is heartbreaking to read, but impossible to put down. I hope you'll give Hopeful a chance.

To purchase Hopeful, click here.

I received a copy of Hopeful from the publisher in exchange for an honest review.
Last week I let you know that I plan to utilize a new feature on my site, the featured video sidebar. Last week was Dog Tags by Heidi Glick.
This week I'm thrilled to feature award winning author Laura V. Hilton and her book trailer for Healing Love. I've read this book and the trailer does the book amazing justice. If you love Amish fiction, you'll enjoy Healing Love.
Enjoy!
Purchase Healing Love here.
Visit Laura Hilton's blog here.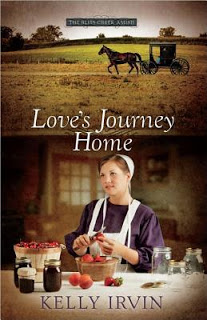 Love's Journey Home, by Kelly Irvin
And a special thank-you to the competing authors for taking part in this sparring match:
Traci Hilton, author of Good, Clean, Murder: A Plain Jane Mystery
Lena Nelson Dooley, author of Catherine's Pursuit
Anne Patrick, author of Wounded Heroes Book Three: Betrayal
and Matthew Horn, author of Nothing Good is Free   
Believe me when I say, it was a tight race! Everyone did great!
I love reading Kelly Irvin's books.
Keep up the good work. Love to read about the Amish.
Love Amish reads and mysteries, but the Amish is my personal winner!!!
Love the way Kelly Irvin makes her characters so real! No cookie cutter Amish here.
Kelly is one of my favorite authors. She has an interesting, informative and entertaining style.
RT Reviews calls Kelly Irvin's new book

Love's Journey Home a delight!

"Irvin's warmth and authenticity shines through in her latest novel. She brings back her heartwarming characters that reside in the Amish community of Bliss Creek. She touches on values that bind family and community together and the conflicts that arise when individuals rebel against them. Irvin's knack for good storytelling makes this book a delight."
About Love's Journey Home :
It's been seven years since her husband died, but Helen Crouch is doing just fine. She's selling her jams and canned goods at the bakery and making a tidy living. But her whole world goes topsy-turvy when a new family moves to town. Gabriel Gless has brought his children to Bliss Creek to escape the worldly influences in Indiana. Helen and Gabriel have so much in common—the loss of their beloved spouses, the experience of raising their families alone, their rock-solid faith—so why can't they seem to speak without arguing?
And that's not all that's going on in Bliss Creek this summer. In the middle of a punishing drought, the community is faced with the decision to uproot their families and establish a new settlement. As families struggle to say goodbye, each one must find the faith to follow the Lord's direction.
Join the families of Bliss Creek in the dramatic conclusion to their story, and discover with them the joy of finding home.
***
About the author:
Kelly Irvin is the author of the Bliss Creek Amish series, which includes To Love and To Cherish, A Heart Made New, and Love's Journey Home, published by Harvest House. Her new series, New Hope Amish, debuts with Love Still Stands, on September 1.
Kelly has also penned two romantic suspense novels, A Deadly Wilderness and No Child of Mine, published by Five Star Gale in 2010 and 2011.
The Kansas native is a member of American Christian Fiction Writers and Sisters in Crime. She also serves as secretary of the ACFW San Antonio local chapter Alamo City Christian Fiction Writers.
A graduate of the University of Kansas William Allen White School of Journalism, Kelly has been writing nonfiction professionally for thirty years. She studied for three semesters at the University of Costa Rica, learning the Spanish language. As a journalist, she worked six years in the border towns of Laredo and El Paso.
She has worked in public relations for the San Antonio Parks and Recreation Department for 19 years. Kelly has been married to photographer Tim Irvin for twenty-five years, and they have two young adult children. In her spare time, she likes to write short stories and read books by her favorite authors.
***