Posts by Julie:
Thankfulness is a gift from God. Knowing the magnitude of the awesome sacrifice that our Father in heaven made in giving His son Jesus humbles our hearts and makes us grateful.  Jesus was the gift of atonement for our sins of the past, present, and future, and true understanding of the magnitude of that gift makes us grateful for everything in our lives. Our values change when we humble ourselves before God, and He opens our eyes to every little gift, the changing of the seasons, the smile of a child, the warmth of friends.
Just this week I drove my husband Jim home from Duke Hospital where he had undergone his second brain surgery. I found myself being so grateful for the success of the procedure, for his being able to stick out his tongue and roll his eyes in ICU, for the kindness of the attendant who wheeled him to the car, for the parking space near the elevator, for the glorious color of the trees along I-85, for smooth highways, and I could go on and on. That gift of gratitude opened my eyes to God's providence and calmed my heart.
But I was also mindful that I had also sat in the waiting room throughout the day of the surgery seeing surgeon after surgeon come out to speak to families until 8:15 pm, leaving me as the only person waiting for news. I was grateful for the opportunity my husband had to travel from Greensboro to a world-class facility where he could receive care from the best of the best. I was grateful for safe travel, for the pleasant young woman at the coffee bar, for the sweet lady at the registration desk who spoke so kindly to me knowing I had been there most of the day and had been the only family member left in the waiting room. She could have been impatient knowing I was probably preventing her from going home for dinner. I was also grateful for the comfort and peace that I knew I would have if the surgery did not go well. The knowledge that my husband had followed Christ in his life was assurance that I could persevere even without him if God had chosen to take him home. What a blessing, what a gift to be grateful, not in my own strength, but in the "blessed assurance" that comes only from God through His gift of Jesus Christ!
Jim's third great grandmother Henrietta Hall Shuck had traveled to China in 1835 as the first American woman missionary to China trusting in God's providence through disease, poverty, robbers, disagreements with the mission board, and all during the dangers of the First Opium War. On her 200th birthday, her descendants are still strengthened by the gift of perseverance that comes through thankfulness for the blessings of Christ.
Tethered begins in 1835 as Henrietta and Jehu Lewis Shuck set off on a 19,000 mile voyage from Virginia to China to establish the first Baptist mission. In Tethered Henrietta must hold a leather strap nailed to the railing of their ship to keep from falling overboard, but her life is also tethered to her husband, to their mission board, and to God. Their relationship is marked by humor and unflinching determination despite illness, poverty, danger, and opposition from the mission board at home in the volatile years of conflict in the First Opium War.  By the end of her story, she has come to a full faith relationship with God and has become an icon in Baptist missions for American and Chinese Christians across two centuries.
Purchase TETHERED HERE
Brenda H. Cox is a life-long English educator at the high school and university levels. She earned a BA at The University of South Carolina, an MAT from The Citadel, and a PhD at The University of Georgia where she served as the Assistant Director of the Freshman English Program. She was affiliated with the National Writing Project site at Clemson University where she led a Writing in the Humanities Institute and is a member of the North Carolina Writers' Network. She has taught numerous writing workshops and delivered papers at state and national conferences and directed The Young Writers Conference at The University of North Carolina at Greensboro where she was an Assistant Professor of English Education. She has published articles in English leadership and in 18th century rhetoric. In addition, she has served as a writing consultant in numerous school systems in the Southeast and in the American and International Schools in Kuwait. She also served as a Reader of Advanced Placement exams for The College Board, and her students have won numerous local, state, and national awards in writing. Brenda lives in Greensboro, NC and is married to Jim Cox.  They have one son and daughter in-law and two perfect grandsons.
Thanksgiving and Praise
Enter His gates with thanksgiving; go into His courts with praise. Give thanks to Him and bless His name. Psalm 100:4
November is a beautiful month in East Texas. The trees begin to sport their fall colors in full. Autumn comes to our area a month later than in the northern states. Thanksgiving is a colorful time. Many years we have spent Thanksgiving with our family at our camp in the pretty woods near Lake Sam Rayburn. The day holds promises of good food, too much to eat, watching parades on television, and great fellowship. It will be a good day, and I will praise the Lord for His many blessings in my life.
The Psalmist said when you praise God, giving thanks to Him for His goodness, you enter His gates and are ushered into His presence. What a wonderful place to be, in the presence of God. He listens to the praise of His people and you bless Him. Blessing means to make happy. Praising God is something you do for Him out of the fullness of your heart, because He has blessed you.
Praise is a sacrifice to God. It is a sweet aroma in His holy nostrils. The ancient Jews burned incense on the temple altar daily. The incense was made from a specific formula given to Moses by God. The sweet odor traveled heavenward, reaching the very presence of the Lord. Knowing His children were obediently carrying out His command pleased God. Their obedience meant they were thinking about Him.  God is blessed by your praise, because you are obedient, and He is taking first place in your thoughts and mind. He tells you to praise Him and be thankful in all circumstances.
Revelation 5:8 says your prayers are incense offered to God. He keeps them close and is reminded of your petitions, answering each request in His own time and way. Your prayers never leave His presence. They are a sweet aroma that He loves. Praise is a type of prayer we offer to our Lord. Thanksgiving is a type of praise. Be thankful and praise Him in all circumstances of life, because He is there with you, keeping you close and listening to your prayers. Hold tightly.
Cornbread Dressing with Chicken
3 packages of cornbread mix, prepared as directed
3 chicken breasts, boiled and chopped
3 cups chicken broth from the boiled breasts or from a can
3 ribs celery, chopped
1 bunch green onion, chopped
½ package Pepperidge Farms Cornbread Stuffing
4 large eggs, boiled and chopped
4 slices of white bread, toasted, cooled, crumbled
Salt to taste
Pepper to taste
Sage to taste
Preheat oven to 350.
Prepare cornbread mix as directed. When cool, crumble in a large pan along with toasted bread. Add seasonings and mix well.
Sauté celery and onions together in a small amount of oil, and then add to mixture.
Add chopped eggs, chopped chicken, and then chicken broth. More broth may be added to make a moist mixture. Mix well.
Spray a 9*12 baking pan or large casserole dish with cooking spray. Put dressing mixture in the pan and bake at 350 until top is brown – about ½ hour.
Dressing may be frozen until needed.
May be served with baked turkey for your Thanksgiving dinner, or with a salad and green peas and rolls for another meal.
Praise the Lord this Thanksgiving and thank Him for all His blessings.
A Highland Emerald
I will give away an ebook copy of A Highland Emerald to a commenter.
Blurb:
Aine MacLean is forced into an arranged marriage with Sir William, Chief of Clan Munro, yet her heart belongs to a handsome young warrior in her father's guard. She must leave Durant Castle, the home of her birth on the Isle of Mull, and travel across Scotland in a perilous journey to her husband's home on Cromarty Firth. William agrees to a year and day of handfasting, giving Aine an opportunity to accept him and his clan. He promises her the protection of Clan Munro, however, Aine experiences kidnapping, pirates, and almost loses her life in the River Moriston. She doubts the sincerity of William's promises and decides to return to Durant Castle when the handfasting ends. William determines to win Aine's heart. Will the brave knight triumph in his fight for the bonnie lass?
A Highland Emerald is the third book in the award-winning Highland Treasures series. It tells the story of Aine MacLean and William Munro, and is the prequel to A Highland Pearl.
Excerpt:
Isle of Mull
Scotland, 1486
My father sat in his usual chair in front of the crackling fire, staring at the flame with dim eyes and a fur robe wrapped around his broad shoulders, the deerhound curled at his feet.
"Where are you going, Aine?" he asked with his back turned toward the stone, spiral staircase where I stood. "Come, sit with me for awhile."
I pushed the arisaid from my shoulders, letting it drop to the floor, then stepped over the wrap. Making my way to the stool where my mother's embroidery frame stood, I took a seat and watched the flame.
Without turning his head, my father, Lachlan Og MacLean, eighth chief and fourth Laird of Durant Castle, asked, "Where are you going?"
"How did you ken 'twas I?" He never ceased to amaze me with his uncanny knowledge of events  around him although his eyes, so dimmed by injury, saw very little.
"I heard the rustle of your skirts." He extended his hand for me, so I rose and hugged his neck.
He smiled, embracing my arms. "And I ken your scent, lass. 'Tis so like your mither's. You use the same scented soap as she."
"Aye, but from so far away and with the smell of burning wood and dog in your nostril's?"
"Your odor is a different pleasantry among the usual burning wood and dog. It stands out in my memory as does the pleasant odor of your mither." He smiled broadly, showing still straight, white teeth beneath a greying beard. I could almost feel his penetrating gaze upon me as in the days before his sight was taken in battle. He asked, "Where are you going this dreary night?"
"Here, Da. To sit beside you and talk of the feast on the morrow."
"Don't try to deceive me, lass. I heard the sound of your arisaid dropping to the floor. You are planning a tryst, I feel certain." His dimmed gaze pierced through to the depths of my soul. "I could see the turn of your head toward him each time he spoke at the evening meal." A line formed between his brows and a shadow darkened his face. "You are to marry the Munro."
"I dinna love William Munro." My voice began to rise, and I struggled to control the cry climbing from the depths of my heart. "I wanna marry him, Da. You promised I could wed for love, not convenience." The cry emerged from my lips. I buried my head on his shoulder and sobbed.
Book Trailer:  https://youtu.be/5-mYnAJd_Hc
Buy Links: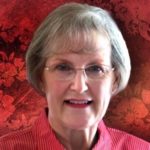 Author Bio:
The desire to write historical fiction has long been a passion with Brenda B. Taylor. Since elementary school, she has written stories in her spare time. Brenda earned three degrees: a BSE from Henderson State University, Arkadelphia, Arkansas; a MEd from Sam Houston State University, Huntsville, Texas; and an EdD from Texas A&M University, College Station, Texas; then worked as a teacher and administrator in the Texas Public School system. Only after retirement could she fulfill the dream of publication.
Brenda and her husband make their home in beautiful East Texas where they enjoy spending time with family and friends, traveling, and working in Bethabara Faith Ministry, Inc. She crafts stories about the extraordinary lives of ordinary people in her favorite place overlooking bird feeders, bird houses, and a variety of blooming trees and flowers. She sincerely thanks all who purchase and read her books. Her desire is that the message in each book will touch the heart of the reader as it did hers in the writing.
Author Contact Information:
I'M THANKFUL
I try to be thankful every day, but this month of Thanksgiving provides a time to truly focus on what we've been given. I can never thank God enough for his saving grace and all the benefits that come with being his child. Family, church, friends and God's provision for our daily needs are something I never want to take for granted. I'm also thankful for the imagination he's given me and the opportunity to share the stories that want to be told. I hope readers will be entertained, while seeing God in all of life's situations.
LIGHTER THAN AIR
When Elena Bishop lost her mother at age twelve, her father lost his purpose for living. Now they'll lose their home unless he can pay his gambling debts by the end of the summer. After praying, Elena believes God has given her the idea to have a family camp on the grounds of their estate.
Justin Ramsay, Elena's neighbor, dreams of going to America to write a book. His older brother believes Justin should join the military, but offers him a deal. If Justin can keep Elena and the neighborhood safe until he returns with his American bride, he'll pay for the trip. Elena might be impulsive and accident-prone, but Justin believes she's nothing he can't handle.
Elena and Justin disagree over the camp, even as an attraction ignites between them. Within the first two weeks a little boy falls into the cold-water spring, and problems escalate to vandalism and threatening letters. As more money is needed, Elena goes to Brighton to see a man who gives gas balloon rides. What she finds lands both her and Justin in a situation beyond their control. With the deadline for the debt looming, will their insistence on doing things their way give them both a happy ending, or destroy everything they've hoped for?
ABOUT THE AUTHOR
Linda Hoover lives in west-central Ohio with her husband, son, and grandson. She earned a degree in psychology at Anderson University where she learned the voices in her head were actually characters from stories waiting to be told.
By day, Linda works as a library assistant at a branch of the county's public library system where two of her duties include choosing books for the young adult and Christian fiction areas. As a result, she has a very long "To Read" list. In her spare time she writes the stories her voices tell her.
You can find her at:
https://www.Facebook.com/lindahooverauthor
https://www.LindaHooverBooks.com