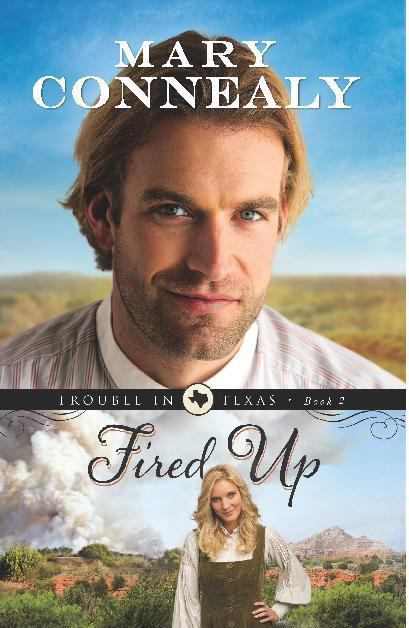 Julie's Note:
This week's featured video on the right sidebar is Mary Connealy's latest, Fired Up. Mary has a webcast coming up featuring a chance to win a Kindle Fire HD, and right here you can have a chance to win a copy of Fired Up.
Enjoy!
Fired Up: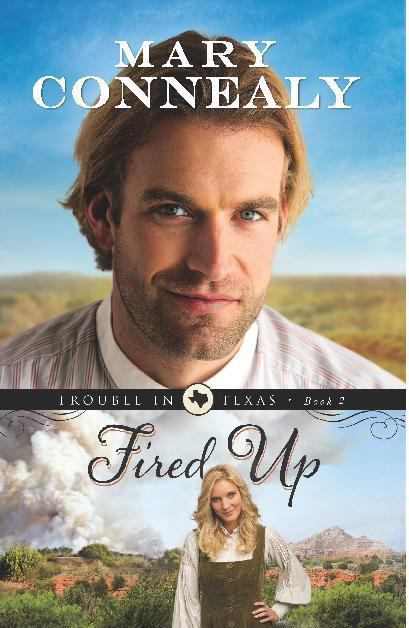 When a doctor who attracts danger falls for a cook determined to make it on her own, there's going to be trouble in Texas! Glynna Greer came west as a mail-order bride and ended up in a bad situation. Now her husband, Flint, is dead, and she's determined to make a go of it on her own. In a town full of men, Glynna decides she can support her two children by opening a diner–never mind that cooking is not her greatest talent. Dare Riker is a doctor who saves lives, but someone seems determined to end his. It may have something to do with the traitors he dealt with during the Civil War, or it might be related to the recent incident with Flint Greer and the ranch. Whoever the culprit is, he or she seems really fired up, and Dare can't let his guard down for a moment–which is a challenge, since right now he's trying to win the heart of the recently widowed Glynna. Though his doctoring business is booming due to Glynna's questionable cooking, Dare seems to encounter unexpected dangers wherever he goes. There's the avalanche. And the fire. And then the shadowy figure with a knife. Can Dare survive it all long enough to convince Glynna to take another chance on love?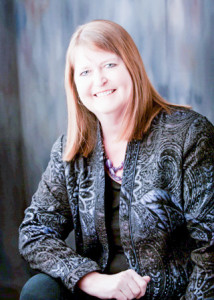 Mary Connealy writes romantic comedy with cowboys. She is a Carol Award winner, and a Rita, Christy and Inspirational Reader's Choice finalist. She is the author of Swept Away, book #1 of the Trouble in Texas series, also the bestselling Kincaid Brides Series: Out of Control, In Too Deep, Over the Edge, and Lassoed in Texas Trilogy, Montana Marriages Trilogy and Sophie's Daughters Trilogy. Mary is married to a Nebraska rancher and has four grown daughters and two spectacular grandchildren.
Mary will be hosting a Webcast on Thursday, October 8 at 8:00 PM EDT, where she will be introducing readers to her latest release, Fired Up, a rollicking Wild West adventure and romance. Fired Up is the second book in Connealy's Trouble in Texas series.
During the live online event, Connealy will be discussing the series, previewing her upcoming releases and answering reader questions. Throughout the hour, readers will have an opportunity to chat with other fans, answer trivia about the book and submit their own questions for Connealy to answer during the evening. A number of prizes will be given away to those participating in the discussion, including copies of Connealy's books and gift cards. At the end of the webcast, the winner of a Kindle Fire HD will be announced. The Kindle giveaway is being held in conjunction with the Fired Up blog tour being coordinated by Litfuse Publicity Group.
"A webcast like this is a great chance to connect with readers in a new and fun way. I'm really looking forward to it," Connealy states. "Just remember that whatever nonsense comes out of my mouth at a live event . . . that doesn't change the fact that I think I write a pretty good book!"
Here is the link to RSVP to the webcast
And if you're not on Facebook you can still join in. RSVP here:
Leave a comment to get your name in a drawing for a signed copy of Fired Up.
Find me online at:
Seekerville
Petticoats & Pistols
My Blog
My Website
My Newsletter
Facebook
Twitter 
Tags: author, cowboys, fiction, Fired Up, Julie Arduini, Kindle Fire HD, Mary Connealy, webcast
About Me:

Wife. Mom. Author. Reader. Blogger. Amateur nature photographer. Chocolate eater. Encouraging you to surrender the good, the bad, and---maybe one day---the chocolate.

Find me across social media @JulieArduini, and follow me on my Amazon Author Page.

Where Else You Can Find Me

Step Into the Light Blog Talk Radio Show


Contributor: Jasmine's Place

Contributor: Patient Worthy

iRun4
Rare Mom

Every Other Wednesday: Christians Read

Surrendering Time Series & Recent Releases

Join the Fun

Member

Archives