What a great bunch of books to take on vacation or read under a shady tree
this summer. Selections include a Regency romance, a thriller, the story of
an abandoned child found by the shore and two Westerns. Peruse below and
let us know which one you'll put on top of the stack in your beach bag.
Scroll down and vote in the survey box. Then let your friends know about
these interesting reads.
Unmasked Heart by Vanessa
Riley
A young woman reconciling the lies of her birth must learn her true worth,
unmasking her heart to true love, but will she find her soul mate in a duke
running from scandal? With everything she knows to be true evaporating
before her spectacles, can the mulatto passing for white survive being
exposed and shunned by a powerful duke who has taken an interest in
her?
Rodeo Reunion by Shannon Vannatter
Slade Walker, the bronco-riding rodeo chaplain breaks all of widowed
Raquel's rules—find a father for her son with a safe occupation, who's home
every night. He can't turn his back on the cowboys who need him, but Raquel
and her boy need him, too.
Two Days in Caracas by Luana Ehrlich
In this pulse-racing Christian thriller, Titus Ray, travels from Costa Rica
to Venezuela in an effort to stop Ahmed, a Hezbollah assassin, from
murdering a high-profile government official.
Finding Mia by Dianne J. Wilson
Isobel is on the beach hunting for her muse. What she finds is a toddler,
sunburnt and close to death.
The Rancher Takes a Cook by Misty Beller
When their South Carolina home burns to the ground, Anna Stewart's only
choice is to move with her younger brother to the wilds of a Texas ranch.
When danger escalates in the form of a band of cattle thieves with deadly
intent, can Anna learn to release control to God's capable hands…and
those of the blue-eyed cowboy who's stolen her heart?
Congratulations to Gloria Clover, winner of the August New Releases Clash, with her novel, The Fire Starter!
Thank you so much to our competitors. This competition was amazing!
A Sense of Mission by Ann Gaylia O'Barr
Her Good Name by Ruth Axtell
Living in Harmony by Mary Ellis
Rodeo Ashes by Shannon Taylor Vannatter
Three generations ago, wooded Celosia Island burned in a fire storm. Now the government keeps the island safe through limited trade and rare immigration. So it is unsettling to Princess Amaryllis Filippopoulos to learn her father has invited an off-island prince into residence to translate some ancient scrolls and to marry her, his youngest daughter and heir to the throne.
Prince Valryan Molan has been sent to present to the people of Celosia the reality of the King, even though He is not readily perceived by the five senses or logic, the Stoic beliefs of Celosia's ancestors. Valryan finds his mission hampered by his bride's reluctance to marry and the immediate need to protect the people from illegal fire weapons.
But none of that compares to the unexpected fire storm Amaryllis ignites in his heart.
The Fire Starter is book two in this exciting speculative fiction series entitled Children of the King. Check out Gloria Clover's other works at her

website

.
Thank you all for joining in and casting your vote! Here are some of the kind words you had to share.
Gorgeous cover, Gloria, for your wonderful story.

All five books are intriguing, both covers and short blurb. Alas, I could only choose one.

When God gives the gift, it is our duty to use it wisely. Thank you all for doing so!

All the books sound very intriguing. Nice job.
Praise for The Fire Starter:
Excitement, adventure, mystery, and undiluted romance make Fire Starter another winner!
                                                 ~Karen Witemeyer, CBA Bestselling author of Short-Straw Bride
I'm butter in Gloria Clover's hands as this master of words doles out
another inspiring story that draws me into the life of her characters and
God's arms.                           ~Ellen List
Gloria Clover, Christ-follower and Truth-seeker, writes romantic fiction with the hope of showing God's love and our need in both humorous and haunting ways.  The Children of the King series is her first foray into e-book publishing and her first speculative fiction. Washed Under the Waves (book 1) and The Fire Starter (book 2) are currently available from Desert Breeze Publishing.  From the Frozen Depths (book 3) is under construction and will be available next August.Gloria's contemporary romances, published by Barbour Books and Son-Rise Publications, include:  The Remaking of Moe McKenna in the Race to the Altar anthology, Brianna's Pardon, Tangled Truths, and ten volumes of Penned From the Heart, a compilation of 365 daily devotions.
She is a member of Emmanuel Christian Church, active in prayer ministry, women's ministries, American Heritage Girls, and various other projects.  She directs a One Day Writing Conference each April, participates in writing/book days in local schools, and enjoys giving and receiving from her various writing critique groups.  She is a member of American Christian Fiction Writers, participating in the ACFW book club and prayer loops.
Married, she writes from her little white box in western PA.
Visit her at http://www.gloriaclover.com where you can find both her site pages and blog topics.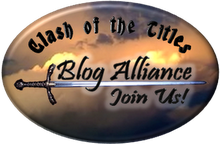 October is here and Clash of the Titles is ready with five more awesome releases ready to vie for top spot in our August Releases Clash!  This month's offering is a unique blend of books from several genres where you're sure to find something that peaks your interest.

We have harrowing missions and a parent's legacy, princely heroes, the dangerous love of a baron, healing for a widow's heartache, and fledgling love in Lancaster. Whew!  
Remember…vote for the book you'd most like to add to your favorite reads pile, and share the news with your friends and family! Vote today through next Tuesday when the polls close at Midnight EST; then come back on THURSDAY to find out which book received the most votes. The winner will tour with our Clash of the Titles blog alliance, so have fun being a roadie without all the heavy lifting if you want to go along. 
And now…Peruse, Ponder, Press the button of your choice.
A Sense of a Mission by Ann Gaylia O'Barr
Kaitlin is driven to succeed in the mission denied her mother. Can she redeem that mission if she discovers another calling?
The Fire Starter by Gloria Clover
Amaryllis Filippopoulos was raised to rule the island of Celosia.  Alone.  So what's she to do with an off-island prince who tempts her to surrender her life's purpose for him?
Her Good Name by Ruth Axtell
In the 1890 thriving coastal town of Holliston, Maine, the leading lumber baron's son, Warren Brentwood, fights his attraction for Esperanza Estrada, daughter of an immigrant fisherman. Espy discovers that catching Warren's eye is a far cry from capturing his heart because when rumors circulate about her, Warren believes the worst, forcing Espy to flee
Living in Harmony by Mary Ellis
Amy King–young, engaged, and Amish–faces difficult challenges in her life when she suddenly loses both of her parents in a house fire. Her fiancé, John Detweiler, persuades her and her sister Nora to leave Lancaster County and make a new beginning with him in Harmony, Maine, where the ultra-conservative district becomes more than either bargained for.
Rodeo Ashes by Shannon Taylor Vannatter
Lacie Gentry, a young widow and mom, is struggling with the aftermath of her husband's tragic death. Quinn Remington, her former classmate always had eyes for her, but will his involvement in her husband's demise keep them apart?