It was one of those God taps that I wanted to ignore. Late last year I felt I was supposed to write a devotional using the surrender themes explored in my contemporary romance series, Surrendering Time. Not only that, but write it from the characters point of view. I'd never heard of such a thing, and by obeying, I knew I was delaying book 3, ENGAGED, even more.
But obey I did. It took longer than I thought with unexpected travel and child sickness, but it's done.
FINDING FREEDOM THROUGH SURRENDER-A 30 Day Devotional, features short readings on surrendering fear, loss, change, regret, and the future. If you've read ENTRUSTED or ENTANGLED, you will visit with beloved characters like Ben, Jenna, Carla, Will, Sara, and more. If the series is new to you, no worries. The devotional will introduce you to the characters without spoilers. Then, once ENGAGED is released this spring, you will be ready to jump in.
It's in eBook format, so download the free Kindle app and you can read on your phone, tablet, desktop, laptop, and of course, Kindle. It's only available on Amazon.
I'd love for you to spread the word. Early feedback showed that many of the readings were exactly what readers were struggling with at that time. That's God, and I'm grateful He allows me to write for Him.
Take a look!
Book Description:
Gwen Marcey takes death in stride. Until she's faced with her own mortality.

Forensic artist Gwen Marcey is between jobs when she accepts temporary work in Pikeville, Kentucky—a small town facing big-city crime. But before Gwen can finish her first drawing of the serial rapist who is on the loose, the latest witness vanishes. Just like all the others.

Gwen suspects a connection between the rapist and the "accidental" deaths that are happening around town, but the local sheriff has little interest in her theories. When her digitally-obsessed teenage daughter joins her, Gwen turns her attention to a second assignment: going undercover in a serpent-handling church. She could get a handsome reward for uncovering illegal activity—a reward she desperately needs, as it seems her breast cancer has returned. But snakes aren't the only ones ready to kill. Can Gwen uncover the truth—and convince anyone to believe her—before she becomes a victim herself?

In a thrilling race against time, When Death Draws Near plunges us into cold-case murders, shady politics, and a den of venomous suspects.
This was a ride, and a wild one at that. I am deathly afraid of snakes. I can't look at stuffed animal snakes, cartoon ones, none of it. So I wasn't sure how I would do with this book that tackles snake-handling in church.
I confess, I couldn't read it at night. There was only one scene that was scary for me, but the thought of it made me read during the day, and I really enjoyed it. It is obvious the author thoroughly researched this book. The characters were so well-developed, especially Gwen. This is not the first book in her series, but it definitely can stand alone. I learned a lot about her. Single mom. Cancer Survivor. Forensic Artist.
I enjoyed her daughter working with her, and that I could not figure out why was good, and who was evil. As Gwen kept saying, "Trust no one."
I hope you trust me, though. When Death Draws Near is a suspenseful plot I've never run across before that keeps you on edge. It's dynamic, humorous at times, and full of action.  I definitely recommend it.
To purchase When Death Draws Near, click here.
I received a copy of this book from the publisher in exchange for an honest review.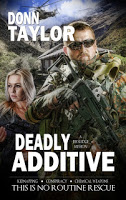 Clash of the Titles hopes you had a wonderful Thanksgiving full of food and fellowship! Today, we are thrilled to talk to you about Donn Taylor's newest book, Deadly Additive. What an exciting book!
************
To soldier-of-fortune Jeb Sledge it seems like a simple job: Rescue an heiress and her journalist friend Kristin Halvorsen from their kidnapping by Colombian guerrillas and collect a sizable paycheck. But Kristin has other plans. After stumbling onto a mass of dead bodies, she wont leave Colombia without the proof she needs for the story of a lifetime. While she and Jeb wrangle over her obstinacy, they discover a hidden factory where the guerrillas build a new and deadly type chemical weapon for the international black market. Their discovery triggers a raid on the factory, followed by a desperate search through the Caribbean and the U.S. to prevent a catastrophic attack by weapons the factory has produced. But who is behind that attack, and what are the planned targets? Finding out brings Jeb and Kristin again into peril for their lives and leads them both into an unexpected spiritual Odyssey.
What others are saying:
An edge-of-the-chair plot in prose that reads like satin, with a nails-tough hero who still has time for introspection.
-Donna Fletcher Crow, author of A Darkly Hidden Truth, The Monastery Murders
I loved Deadly Additive! In this wonderfully written story, Donn Taylor offers up a perfect blend of suspense, intrigue, humor, romance, and inspiration. I savored every page and didnt want it to end.
-Ann Tatlock, award-winning author of Travelers Rest
Donn Taylor continually thrusts his two leading characters into impossible situations, but their escape is always believable. His characters are well drawn, authentic.  You find yourself physically trying to help them out of a certain-death trap.  I recommend it without reservation.
-James Callan, award-winning author of Cleansed by Fire
reached the level of making me forget I was reading. It was an intellectual action novel with likable charactersreminded me of Tom Clancy's novels.
author Rose Munevar on Goodreads
Sounds good to us! Want to take a peek?
Opener from Chapter 1: 
By habit, Jeb Sledge disapproved of people who pointed weapons at him. The present offenders tuxedo did not qualify him for an exception, and the silencer on his pistol only aggravated the offense
View the video book trailer: http://www.youtube.com/watch?v=doMqtrIKOMw&feature=youtu.be
Preview Deadly Additive and other suspense novels on Donns Web site: www.donntaylor.com.
A bit about the author:
Donn Taylor led an Infantry rifle platoon in the Korean War, served with Army aviation in Vietnam, and worked with air reconnaissance in Europe and Asia. Afterwards, he completed a PhD degree at The University of Texas and taught English literature (especially Renaissance) at two liberal arts colleges. His novels The Lazarus File and Rhapsody in Red have received excellent reviews, and he has also authored Dust and Diamond: Poems of Earth and Beyond. He is a frequent speaker at writers conferences such as Glorieta and Blue Ridge. He and his wife live near Houston, Texas, where he continues to write fiction, poetry, and articles on current topics. His Web site is www.donntaylor.com.
Clash of the Titles always wants to know what YOU think.