Civil War has robbed Margaret Logan of all she holds dear, including her beloved New Orleans home and her fiancé. When her family moves to the desolate Bolivar Peninsula to manage a lighthouse that is no longer there, all her hopes for a normal future are dashed. Her world is rocked once again when a wounded Yankee soldier washes ashore needing her help. Despite her contempt for the North, Margaret falls in love with Thomas Murphy. As their love blooms, Margaret's sister is overcome with neurosis, and her mind slowly slips away. Bitterness, psychosis and depression yield a decision fueled by contempt. Will one fatal choice cause Margaret to lose the man she loves and condemn Thomas to death?
I wish I could write historical romance, because I love to read it. When I learned that there was a review opportunity for a civil war romance, I jumped at it because that's my favorite time period.
Northern Light did not disappoint.
Margaret is a single young woman living in Bolivar Peninsula grieving the loss of her fiancé who died in the war. It's not her only loss. Her family had to leave New Orleans and her sister is falling ill, a consequence of the war. The last thing she wants to do is get involved in any aspect of the war, especially when it comes to anything yankee.
She then comes across a Yankee solider who is near death. Her family takes him in and nurses him back to health, something Margaret struggles with despite her Christian upbringing. Thanks to her parent's example and their prayers, she overcomes her grief and bitterness, only to be threatened to go through it all over again.
This is a solid story that put me smack dab in the south during the war. It felt authentic and I could feel Margaret's pain and conflict. The characters were all well-developed and well-researched, including Margaret's attempt to make a meal for Thomas that is ripe of his Irish history. The secondary story of Margaret's story is one I never thought about when it came to the war. It's moving and heartbreaking and enhances an already great story.
If you love historicals, are a fan of the Civil War, and read romance, Northern Light is a must read.
To purchase Northern Light, click here. 
I received Northern Light in exchange for an honest review.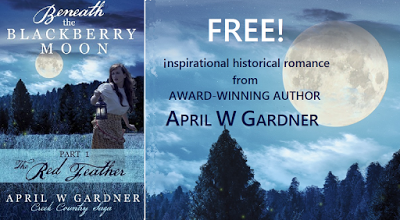 The first three books in April W Gardner's
Creek
Country Saga
have just hit the Amazon shelves! They are now available
for purchase, but every subscriber to her newsletter gets the first in the
series for
FREE
!
Scroll to nab your copy!
Beneath the Blackberry Moon will sweep you away to another time,
then make you sigh and wish you could stay just a little longer.
I cannot put this book down! April Gardner crafts the scenes and
character interactions so well, you are there! What a powerful
story.
~Amazon reviewer
This newsletter goes out only a handful of times each year to announce new
releases, so no worries–your inbox won't be bombarded. April is generous
to her email subscribers. Next month, each will receive another novel,
absolutely free! See below to learn more about Better Than
Fiction.
About the book:
War, captivity, hunger that will not be denied. And a blackberry moon
with enough pull to endure the test of time.
Frontierswoman Adela McGirth has never feared her neighbors, the Creek
Indians, but a suspicious encounter with a steely-eyed warrior shakes her
confidence. As dreaded, a skirmish with the natives sends her family
fleeing into a hastily constructed fort. But no picket is strong enough to
hold off a party of warriors who fear nothing but the loss of their ancient
ways.
Totka Lawe, a Red Stick bound by honor to preserve his heritage, will do
what he must to expel the whites from Muscogee soil. But in the midst of
battle, he is assigned to protect those he's expected to hate and kill. One
of whom is the copper-haired woman who has haunted his thoughts since that
strange night under the blackberry moon. The war was simpler before his
enemy became a beautiful face with a gentle warrior's spirit he cannot
resist.
But what woman would have a warrior whose blood-soaked hands destroyed her
life?
Then again…does she have a choice?
PREVIEW BOOK BY CLICKING IMAGE


Learn more about this saga at
and Like her on
Coming soon…
To
get your FREE copy of Better Than Fiction,
(releases April 2016)
Better than
Fiction
by
April W Gardner and Michelle Massaro
Romance novelist Meghan Townsend's marriage is slipping, and no amount of
prayer seems to help. She aims to recapture her husband's waning attention
by getting in shape and finds escape by crafting her own fictional love
story. Taking inspiration for the hero from a new friend—the attractive,
spiritual, and attentive Curtis Jameson—she pours her yearnings onto the
page, and craves the kind of pulse-pounding romance found in her book,
Racing Hearts…
In 1916 Corona, California, motorcars are all the rage, and racing them is
what Meghan's hero, Russell Keegan, does best. But when his competition
vandalizes his car, the only mechanic available is a greasy woman in a
man's overalls.
After a racing accident claimed her father's life, Winifred became the sole
breadwinner for her family. She is disdained as a female mechanic, but her
daddy's trade is all she has left. Can she swallow her hatred of the races
and take up Russell's offer of big bucks to fix his car, or will she lose
everything to mounting debt?
Under Meghan's skillful pen, these two embark on a thrilling, adventurous
romance. But she finds that writing those love scenes with Curtis's face in
mind takes her heart places it shouldn't go. Will she realize in time that
real life can be better than fiction?