As a "surrendered scribe," I believe in the power of words. I believe what we say can bring people up, and I know they can tear down. If you can use this story for any reason, please copy it for your use, as long as you keep my name as the author. For more stories like this, visit my FaithWriters reprint page.
Mr. Ralph Melon's eighth grade art room was a mixture of glue, stale air, paint, and teen spirit. Cliques formed faster than our class folded origami figures. The gossip mill churned out more rumors than I could produce charcoal drawings. I'll never forget that October when tittle-tattle surrounded our art teacher.
His marriage disintegrated that summer and he tried to hide his pain with a new hair color and a modified name complete with French accent: Raphael Melon. Both my merciful best friend Cheri and I were fixated with Mr. Melon and his plight. His altered life changed his attitude. The top students only received brief grunts. Mediocre students received a blistering critique. Cheri and I believed he was grading himself as a husband.
My own family was on the fringe of divorce, and as annoying as I found school, home was no picnic. My dad was in the throes of alcoholism. Mom threatened divorce daily, placing "Hope for the Alcoholic" brochures all over the house in rhythm to her warnings. Dad responded by rotating his stash of beer to new hiding places around the house. My fifteen year old brother, Matt, and I walked on eggshells hoping to avoid a confrontation with either parent. Only Cheri, my best friend since kindergarten, knew the tension and fragility I was living under.
Mr. Melon, or "Mel-Own" as he pronounced it those autumn days, seemed as unenthusiastic as I was when he announced open house night. He asked that we organize all our work for parent display. I winced. Although my pastel tissue paper mosaic jar was pretty impressive for non-artsy me, my silhouette self- portrait was a horror. The project reflected a perfect storm of sub-standard crafting skills and three hours of sleep. Even whittling scissors around that black paper was too big of a task that day, and the finished product showed how inept I was. I found it pretty symbolic that I botched my own self-portrait.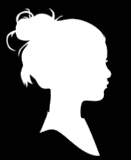 Cheri remained my lone encourager. "Did you do your best?"
I nodded.
Cheri shrugged. "Then that's all that matters."
I took Cheri's words to heart over all things in my life, not just my wretched self-portrait. When Mr. Melon called me to his desk the day of the open house, he caught me off guard. Cheri eyed us as Mr. Melon gestured with a stubby finger that I take the seat next to him. Before he spoke, he ran his hand through his newly touched up roots.
"Justine, I want you to know I looked over your displays for your parents and I'm going to remove the self-portrait. It must be hidden because it's a disgrace. The mosaic is your best work, so we'll use that and let it speak for you. It's best for everyone. Most of all, you." His words were without emotion, his eyes never meeting mine.
I nodded and stood. My lip quivered and tears slid down my tired face.
"Did he just say what I think he said?" Cheri's her ears turned red.
I waved her off, knowing she had a heart for the underdog.  Suddenly, she stood and held her mosaic jar above her head. The fast movement captured Mr. Melon's attention, just in time for Cheri to let the jar drop and shatter.
"Miss Lockhart just what ARE you doing?"
Cheri folded her arms and addressed him as if they were the only ones in the room. "Just because you're hiding your own self-portrait under hair dye and a foolish name don't put that on us. Like the jar, you feel like your life is in a thousand pieces that can't possibly be put back together. The thing is, it can. Pick up the pieces. Use glue that will put things in place, not like before, but better somehow. And when you look at your silhouette, when you examine who you really are, you'll be okay. Because Mr. Melon, you'll know you did your best. Justine did her best. Don't hide her work, and don't disguise the real you. God will help you, really."
Mr. Melon stood and left the room without a word.
Cheri met me at the school entrance on open house night, both our families in tow. She motioned for all of us to follow her to the art room. All work was on display, including my portrait.
When he introduced himself to my parents, he warmly shook their hands and looked them in the eye. "I'm Ralph Melon. Come see your daughter's precious work."
Photobucket image used to complement story. This is not a botched art project.